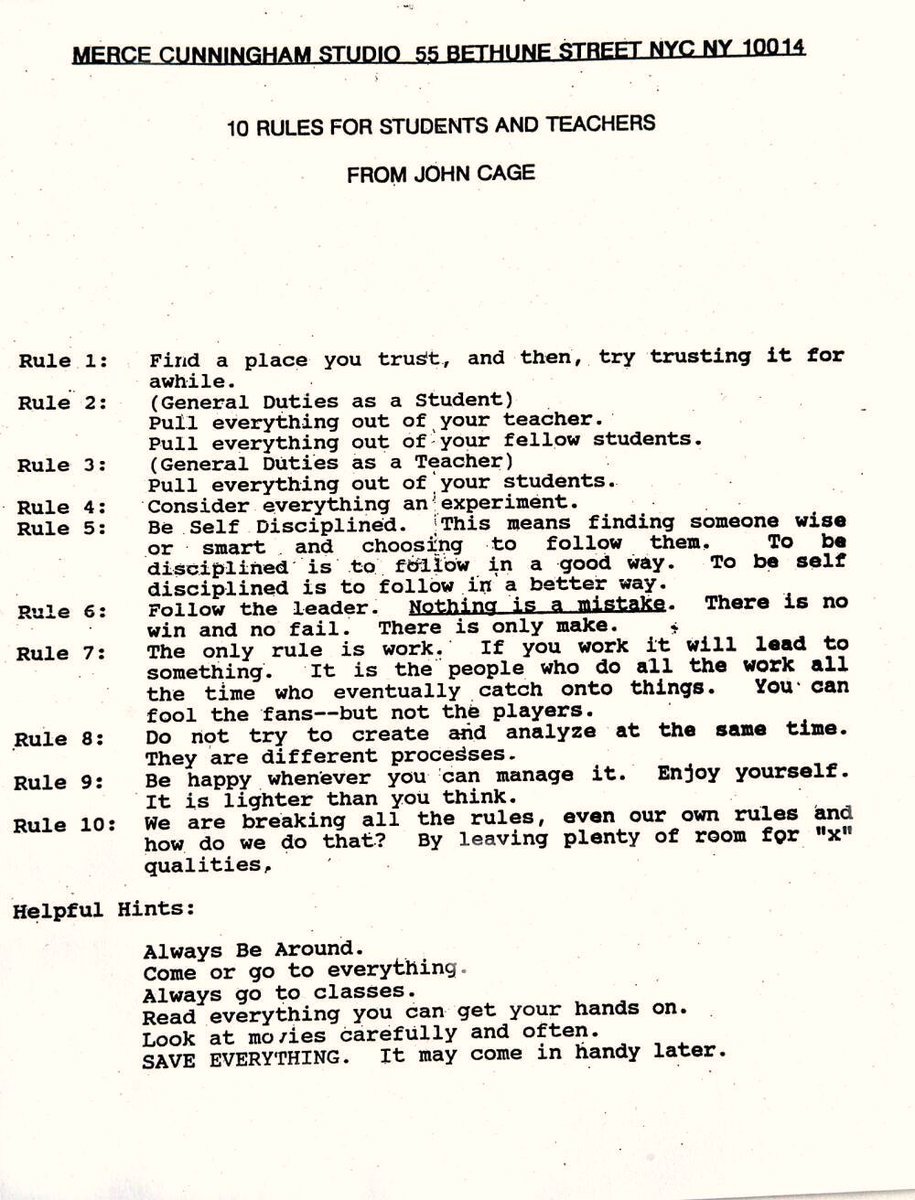 The Bri­an Eno archive More Dark than Shark recent­ly post­ed on its Twit­ter account a list of twelve rules for stu­dents and teach­ers used by John Cage. Though much has been writ­ten about the artis­tic affini­ties between Eno and Cage, both of whose com­po­si­tions have pushed the bound­aries of how we think about music itself, they also both have a deep con­nec­tion to the idea of using rules to enhance the expe­ri­ence of cre­ation. Where Eno has his deck of cre­ative process-enhanc­ing Oblique Strate­gies cards, Cage had this list of rules first com­posed by an edu­ca­tor, silkscreen artist, and nun named Sis­ter Cori­ta Kent.
Kent came up with the list, writes Brain­pick­ings' Maria Popo­va, "as part of a project for a class she taught in 1967–1968. It was sub­se­quent­ly appro­pri­at­ed as the offi­cial art depart­ment rules at the col­lege of LA's Immac­u­late Heart Con­vent, her alma mater, but was com­mon­ly pop­u­lar­ized by Cage, whom the tenth rule cites direct­ly."
That tenth rule, more of a meta-rule, reminds the read­er that "we're break­ing all the rules" by "leav­ing plen­ty of room for X quan­ti­ties." But one can eas­i­ly imag­ine how the pre­vi­ous nine, hav­ing as much to do with the enjoy­ment of the work of learn­ing, teach­ing, and cre­at­ing as with its rig­or­ous per­for­mance, might appeal to Cage as well. The com­plete list runs as fol­lows:
RULE ONE: Find a place you trust, and then try trust­ing it for a while.

RULE TWO: Gen­er­al duties of a stu­dent: Pull every­thing out of your teacher; pull every­thing out of your fel­low stu­dents.

RULE THREE: Gen­er­al duties of a teacher: Pull every­thing out of your stu­dents.

RULE FOUR: Con­sid­er every­thing an exper­i­ment.

RULE FIVE: Be self-dis­ci­plined: this means find­ing some­one wise or smart and choos­ing to fol­low them. To be dis­ci­plined is to fol­low in a good way. To be self-dis­ci­plined is to fol­low in a bet­ter way.

RULE SIX: Noth­ing is a mis­take. There's no win and no fail, there's only make.

RULE SEVEN: The only rule is work. If you work it will lead to some­thing. It's the peo­ple who do all of the work all of the time who even­tu­al­ly catch on to things.

RULE EIGHT: Don't try to cre­ate and ana­lyze at the same time. They're dif­fer­ent process­es.

RULE NINE: Be hap­py when­ev­er you can man­age it. Enjoy your­self. It's lighter than you think.

RULE TEN: We're break­ing all the rules. Even our own rules. And how do we do that? By leav­ing plen­ty of room for X quan­ti­ties.

HINTS: Always be around. Come or go to every­thing. Always go to class­es. Read any­thing you can get your hands on. Look at movies care­ful­ly, often. Save every­thing. It might come in handy lat­er.
Some of the rules on Ken­t's list, which has now exert­ed its influ­ence for half a cen­tu­ry, sound faint­ly like the Oblique Strate­gies Eno and the painter Peter Schmidt would come up with in the 1970s. Take rule num­ber six, "Noth­ing is a mis­take," which brings to mind the Oblique Strat­e­gy "Hon­or thy error as a hid­den inten­tion." But we're all on the same field when it comes to tech­niques to move our minds in worth­while new direc­tions, as Cage, Kent, Eno, Schmidt, and most oth­er seri­ous stu­dents, teach­ers, and cre­ators might agree. They'd cer­tain­ly agree that, all rules aside, every­thing ulti­mate­ly comes down to doing the work itself, day in and day out. "Craft," as Eno once said," is what enables you to be suc­cess­ful when you're not inspired."
Relat­ed Con­tent:
An Impres­sive Audio Archive of John Cage Lec­tures & Inter­views: Hear Record­ings from 1963–1991
How to Get Start­ed: John Cage's Approach to Start­ing the Dif­fi­cult Cre­ative Process
Lis­ten to John Cage's 5 Hour Art Piece: Diary: How To Improve The World (You Will Only Make Mat­ters Worse)
Nota­tions: John Cage Pub­lish­es a Book of Graph­ic Musi­cal Scores, Fea­tur­ing Visu­al­iza­tions of Works by Leonard Bern­stein, Igor Stravin­sky, The Bea­t­les & More (1969)
Jump Start Your Cre­ative Process with Bri­an Eno's "Oblique Strate­gies" Deck of Cards (1975)
Based in Seoul, Col­in Mar­shall writes and broad­casts on cities and cul­ture. His projects include the book The State­less City: a Walk through 21st-Cen­tu­ry Los Ange­les and the video series The City in Cin­e­ma. Fol­low him on Twit­ter at @colinmarshall or on Face­book.