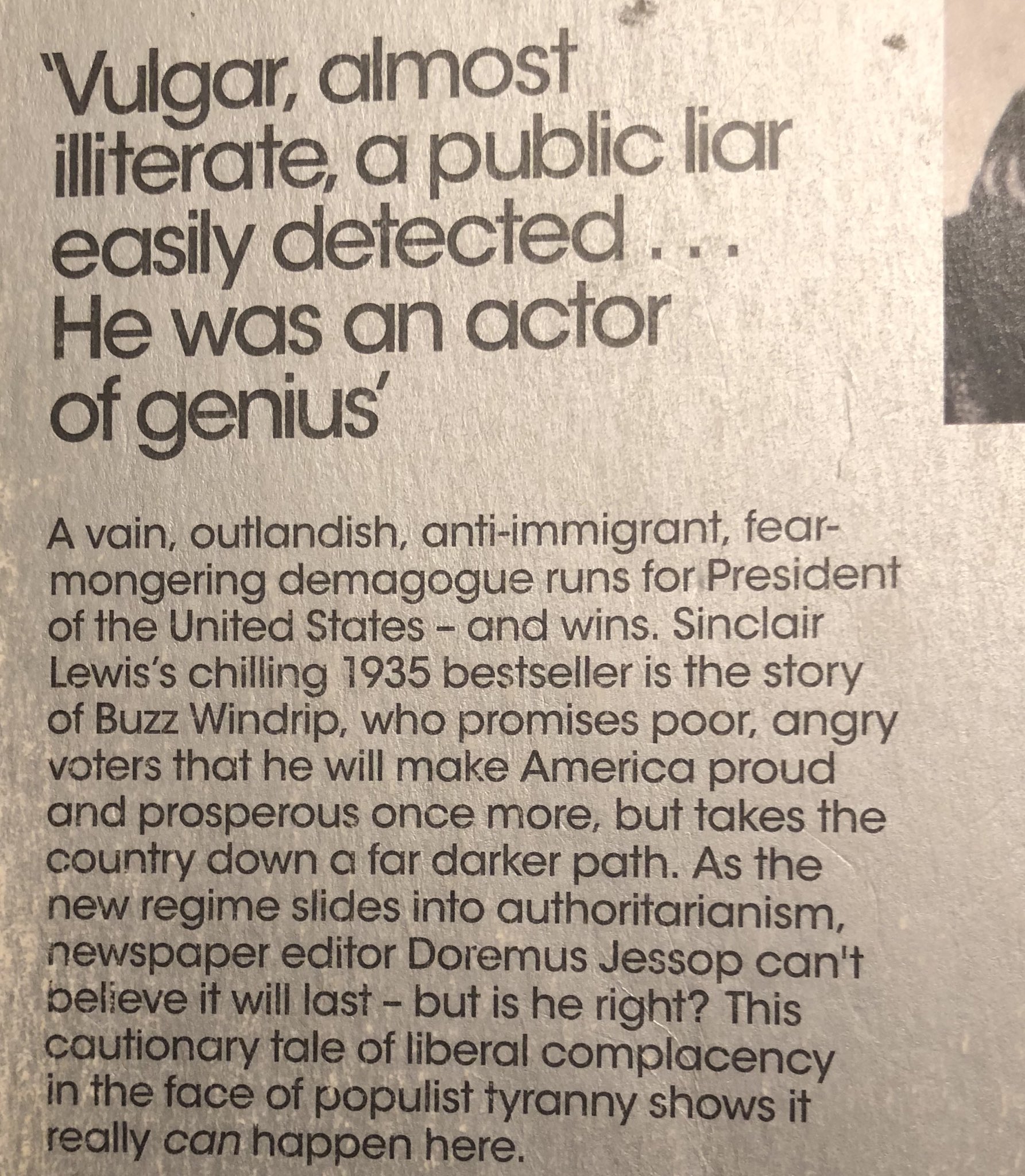 Cam­er­ap­er­son Steve Yedlin sur­faced this on Twit­ter: "Pen­guin Classic's back-cov­er blurb for Sin­clair Lewis's 1935 nov­el It Can't Hap­pen Here." I'll let this pic­ture, speak for itself…
If you would like to sign up for Open Culture's free email newslet­ter, please find it here.
If you would like to sup­port the mis­sion of Open Cul­ture, con­sid­er mak­ing a dona­tion to our site. It's hard to rely 100% on ads, and your con­tri­bu­tions will help us con­tin­ue pro­vid­ing the best free cul­tur­al and edu­ca­tion­al mate­ri­als to learn­ers every­where. You can con­tribute through Pay­Pal, Patre­on, and Ven­mo (@openculture). Thanks!
Relat­ed Con­tent:
Sin­clair Lewis' Chill­ing Play, It Can't Hap­pen Here: A Read-Through by the Berke­ley Reper­to­ry The­atre
How to Rec­og­nize a Dystopia: Watch an Ani­mat­ed Intro­duc­tion to Dystopi­an Fic­tion
George Orwell's Final Warn­ing: Don't Let This Night­mare Sit­u­a­tion Hap­pen. It Depends on You!
Philoso­pher Richard Rorty Chill­ing­ly Pre­dicts the Results of the 2016 Elec­tion … Back in 1998