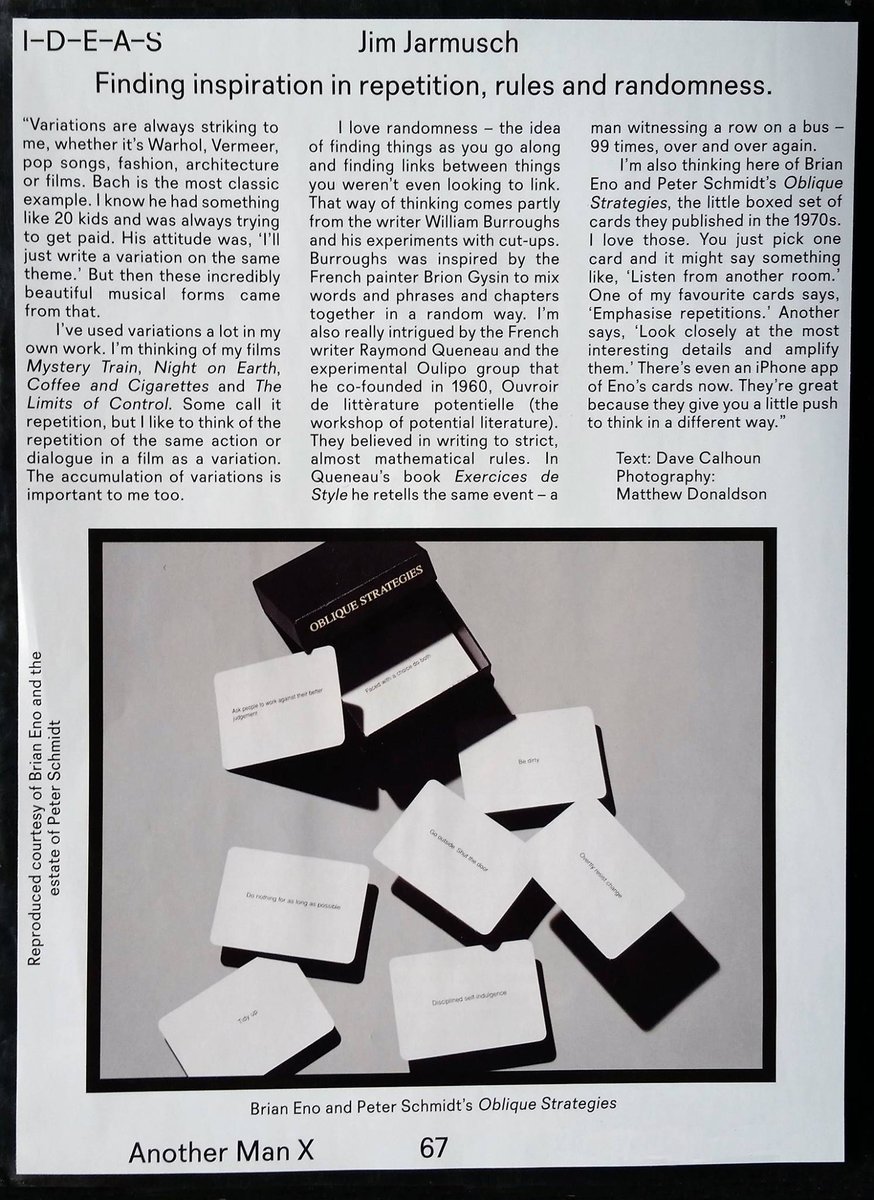 As the name­less assas­sin pro­tag­o­nist of Jim Jar­musch's The Lim­its of Con­trol makes his way through Spain, he meets sev­er­al dif­fer­ent, sim­i­lar­ly mys­te­ri­ous fig­ures, each time at a dif­fer­ent café. Each time he orders two espres­sos — not a dou­ble espres­so, but two espres­sos in sep­a­rate cups. Each time his con­tact arrives and asks, in Span­ish, whether he speaks Span­ish, to which he responds that he does­n't. Each con­ver­sa­tion that fol­lows ends with an exchange of match­box­es, and each one the assas­sin receives con­tains a slip of paper with a cod­ed mes­sage, which he eats after read­ing, con­tain­ing direc­tions to his next des­ti­na­tion.
All these ele­ments remain the same while every­thing else changes, a struc­ture that show­cas­es Jar­musch's inter­est in theme and vari­a­tion as clear­ly as any­thing he's ever made. "Some call it rep­e­ti­tion," he says in the page above from fash­ion and cul­ture bian­nu­al Anoth­er Man, "but I like to think of the rep­e­ti­tion of the same action or dia­logue in a film as a vari­a­tion. The accu­mu­la­tion of vari­a­tions is impor­tant to me too." But to enrich the rep­e­ti­tion and vari­a­tions, he also makes use of ran­dom­ness, "the idea of find­ing things as you go along and find­ing links between things you weren't even look­ing to link."
Jar­musch cred­its this way of think­ing to William S. Bur­roughs (author, inci­den­tal­ly, of an essay called "The Lim­its of Con­trol"), and specif­i­cal­ly the "cut-up" tech­nique, which Bur­roughs and the artist Brion Gysin came up with, lit­er­al­ly cut­ting up texts in order to then "mix words and phras­es and chap­ters togeth­er in a ran­dom way." He's also found a source of ran­dom­ness in the Oblique Strate­gies, the deck of cards pub­lished in the 1970s by artist and music pro­duc­er Bri­an Eno and painter Peter Schmidt. "You just pick one card and it might say some­thing like, 'Lis­ten from anoth­er room.' One of my favorite cards says, 'Empha­size rep­e­ti­tions.' " That last comes as no sur­prise, and he sure­ly also appre­ci­ates the one that says, "Rep­e­ti­tion is a form of change."
Those who know both the Oblique Strate­gies and Jar­musch's fil­mog­ra­phy — from his break­out indie hit Stranger Than Par­adise to recent work like Pater­son, the sto­ry of a bus-dri­ving poet in William Car­los Williams' home­town — could think of many that apply to his sig­na­ture cin­e­mat­ic style: "Dis­con­nect from desire," "Empha­size the flaws," "Use 'unqual­i­fied' peo­ple," "Remove specifics and con­vert to ambi­gu­i­ties" (or indeed "Remove ambi­gu­i­ties and con­vert to specifics"). His next project, which will fea­ture reg­u­lar col­lab­o­ra­tors Bill Mur­ray and Til­da Swin­ton as well as such new­com­ers to the Jar­musch fold as for­mer teen pop idol Sele­na Gomez, should offer anoth­er sat­is­fy­ing set of vari­a­tions on his usu­al themes. And giv­en that it's about zom­bies, it will no doubt come with a strong dose of ran­dom­ness as well.
Relat­ed Con­tent:
Jump Start Your Cre­ative Process with Bri­an Eno's "Oblique Strate­gies" Deck of Cards (1975)
Mar­shall McLuhan's 1969 Deck of Cards, Designed For Out-of-the-Box Think­ing
How to Jump­start Your Cre­ative Process with William S. Bur­roughs' Cut-Up Tech­nique
How David Bowie, Kurt Cobain & Thom Yorke Write Songs With William Bur­roughs' Cut-Up Tech­nique
Jim Jar­musch Lists His Favorite Poets: Dante, William Car­los Williams, Arthur Rim­baud, John Ash­bery & More
Based in Seoul, Col­in Mar­shall writes and broad­casts on cities and cul­ture. His projects include the book The State­less City: a Walk through 21st-Cen­tu­ry Los Ange­les and the video series The City in Cin­e­ma. Fol­low him on Twit­ter at @colinmarshall or on Face­book.