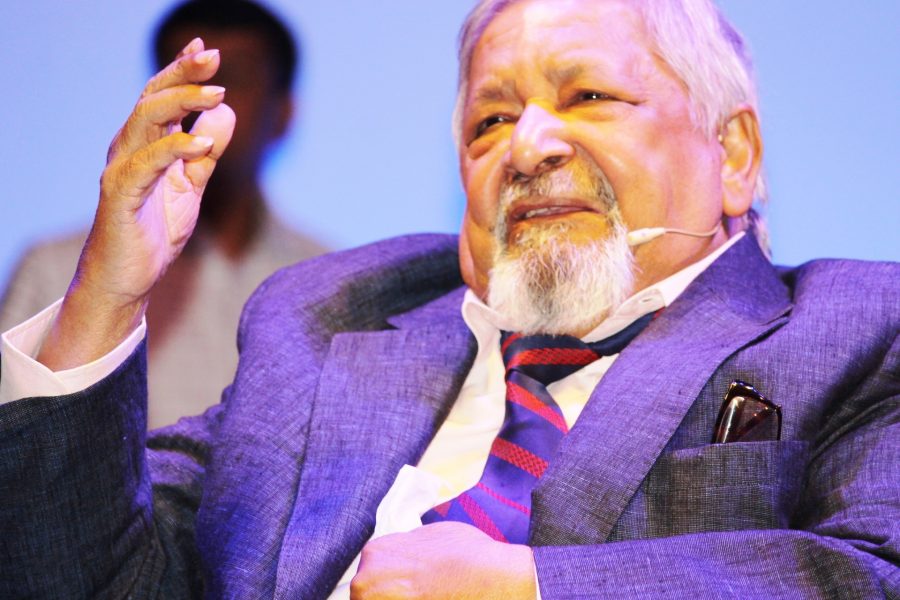 Photo by Faizul Latif Chowdhury, via Wikimedia Commons
There are many ways for travel writers to get their subject badly wrong. Perhaps the worst is solely relying on uninformed observation rather than seeking the wisdom and experience of knowledgeable locals. To his credit, celebrated Nobel prize-winning novelist V.S. Naipaul—who passed away on August 11th at age 85—met, mingled, and spoke freely with individuals from every walk of life (including Eudora Welty) in the process of writing A Turn in the South, a travelogue of his sojourn through the much-mythologized and maligned Southern states of the U.S.
Naipaul's voice alone might have overwhelmed the work with the extremely harsh, some have said bigoted, judgments he became known for in novels like A Bend in the River, Guerillas, and The Enigma of Arrival. Instead, he won praise from reviewers like Southern historian C. Vann Woodward, who wrote that Naipaul "brings new understanding of the subject to his reader." Woodward also noted that Naipaul "confesses to 'writing anxieties' about undertaking this book on people unknown to him."
Though he consulted and quoted local voices in his survey of the South, it is ultimately Naipaul's voice that organizes the work, and his precise, erudite prose the reader hears. It was a voice he took great pride in, as he should. For his many faults, Naipaul was a masterful literary stylist. One wonders, then, why a copy editor at Knopf would feel it necessary to make extensive revisions to the manuscript of A Turn in the South before its publication.
Copy-editing is an essential function, writes Letters of Note, without which many books would go to print "peppered with redundant hyphens, needless repetition, misplaced semicolons," etc. But it is also a task that should interfere as little as possible with the matters of diction, style, and syntax that characterize an authorial voice. Like a conscientious backpacker, a good copy editor should endeavor to leave almost no trace unless the text is full of serious problems.
Clearly, as Naipaul's irritated letter below shows, something went wrong. Upon receiving the copy-edited text, he writes, he was obliged to restore the original from memory. Naipaul assures Knopf's editor-in-chief Sonny Mehta that he understands the English language and its history very well, and knows that, unlike French, it has no "court rules," and can be bent any number of ways without breaking. He implies it is the job of every "serious or dedicated" writer in English to use the language as they see fit, and the job of an editor to mostly get out of the way.
No doubt this relationship can prove complicated and frustrating for both parties. Still, though we only get Naipaul's side of the story, it's hard not to take it when he points out he had written 20 books by that time, all of them acclaimed for the quality of their writing. "My name goes on my book," he declares. (So does the name "Knopf," Mehta might have replied.) "I am responsible for the way the words are put together." Read the letter in full below. And see Literary Hub for Naipaul's Ten Rules of Writing if you're interested in his prescriptions for clear English prose—advice he had earned license to take or leave in his own work.
10 May 1988

Dear Sonny,

The copy-edited text of A Turn in the South came yesterday; it is such an appalling piece of work that I feel I have to write about it. This kind of copy-editing gets in the way of creative reading. I spend so much time restoring the text I wrote (and as a result know rather well). I thought it might have been known in the office that after 34 years and 20 books I knew certain things about writing and didn't want a copy-editor's help with punctuation or the thing called repetition; and certainly didn't want help with ways of getting round repetition. It is utterly absurd to have someone pointing out to me repetitions in the use of "and" or "like" or "that" or "she". I didn't want anyone undoing my semi-colons; with all their different ways of linking.

It happens that English – the history of the language – was my subject at Oxford. It happens that I know very well that these so-called "rules" have nothing to do with the language and are really rules about French usage. The glory of English is that it is without these court rules: it is a language made by the people who write it. My name goes on my book. I am responsible for the way the words are put together. It is one reason why I became a writer.

Every writer has his own voice. (Every serious or dedicated writer.) This is achieved by the way he punctuates; the rhythm of his phrases; the way the writing reflects the processes of the writer's thought: all the nervousness, all the links, all the curious associations. An assiduous copy-editor can undo this very quickly, can make A write like B and Ms C.

And what a waste of spirit it is for the writer, who is in effect re-doing bits of his manuscript all the time instead of giving it a truly creative, revising read. Consider how it has made me sit down this morning, not to my work, but to write this enraged letter.

Yours 

Vidia
via Letters of Note
Related Content:
Kurt Vonnegut Explains "How to Write With Style"
Cormac McCarthy's Three Punctuation Rules, and How They All Go Back to James Joyce
Oscar Wilde Offers Practical Advice on the Writing Life in a Newly-Discovered Letter from 1890
Josh Jones is a writer and musician based in Durham, NC. Follow him at @jdmagness