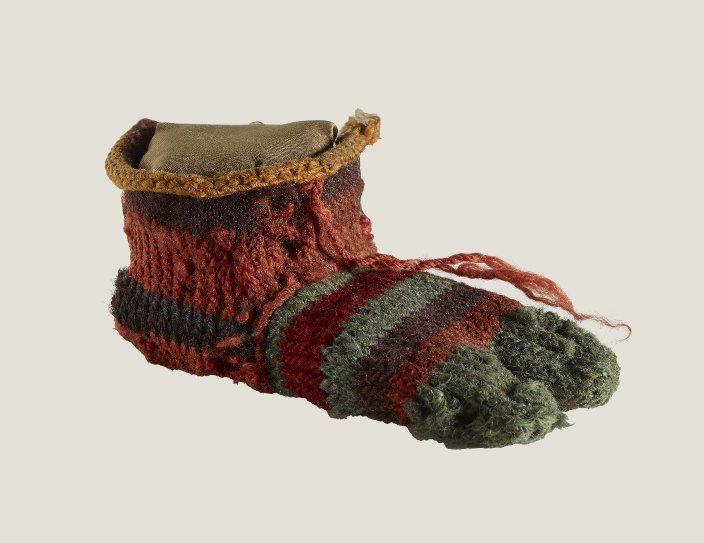 If you grew up in certain decades of the 20th century, you almost certainly spent your childhood wearing striped socks, and you may even have returned to the practice in recent years as they've regained their sartorial respectability. But new research has revealed that this sort of multicolored hosiery has a more distant historical precedent than we may imagine, one going all the way back to ancient Egypt. The subject of that research, the small sock pictured above, evidences the fashionability of striped socks among the Egyptian youth of more than 1700 years ago, though its own stripes have only recently been revealed by the most modern imaging technology.
"Scientists at the British Museum have developed pioneering imaging to discover how enterprising Egyptians used dyes on a child's sock, recovered from a rubbish dump in ancient Antinoupolis in Roman Egypt, and dating from 300AD," writes The Guardian's Caroline Davies. "New multispectral imaging can establish which dyes were used – madder (red), woad (blue) and weld (yellow) – but also how people of the late antiquity period used double and sequential dying and weaving, and twisting fibers to create myriad colors from their scarce resources."
This and other similarly advanced research, such as the use of ultraviolet light and infrared and x-ray spectroscopy that found the bright colors of ancient Greek sculpture, no doubt has us all rethinking the broadly monochromatic fashion in which we've long envisioned the ancient world.
We may also have to start imagining it a little less elegantly than we have been. "The ancient Egyptians employed a single-needle looping technique, often referred to as nålbindning, to create their socks," writes Smithsonian's Katherine J. Wu. "Notably, the approach could be used to separate the big toe and four other toes in the sock — which just may have given life to the ever-controversial socks-and-sandals trend." It brings to mind the archaeological research that came out a few years ago suggesting that the Romans in Britain two millennia ago may have worn socks with their sandals as well. That information has made it to the Wikipedia page specifically dedicated to socks and sandals; an enterprising reader might have a look at the British Museum scientists' paper, "A multispectral imaging approach integrated into the study of Late Antique textiles from Egypt," and add in a bit about the ancient wearing of striped socks with sandals as well.
via Smithsonian
Related Content:
How Did the Egyptians Make Mummies? An Animated Introduction to the Ancient Art of Mummification
How the Egyptian Pyramids Were Built: A New Theory in 3D Animation
Try the Oldest Known Recipe For Toothpaste: From Ancient Egypt, Circa the 4th Century BC
The Turin Erotic Papyrus: The Oldest Known Depiction of Human Sexuality (Circa 1150 B.C.E.)
The Met Digitally Restores the Colors of an Ancient Egyptian Temple, Using Projection Mapping Technology
Based in Seoul, Colin Marshall writes and broadcasts on cities, language, and culture. His projects include the book The Stateless City: a Walk through 21st-Century Los Angeles and the video series The City in Cinema. Follow him on Twitter at @colinmarshall or on Facebook.