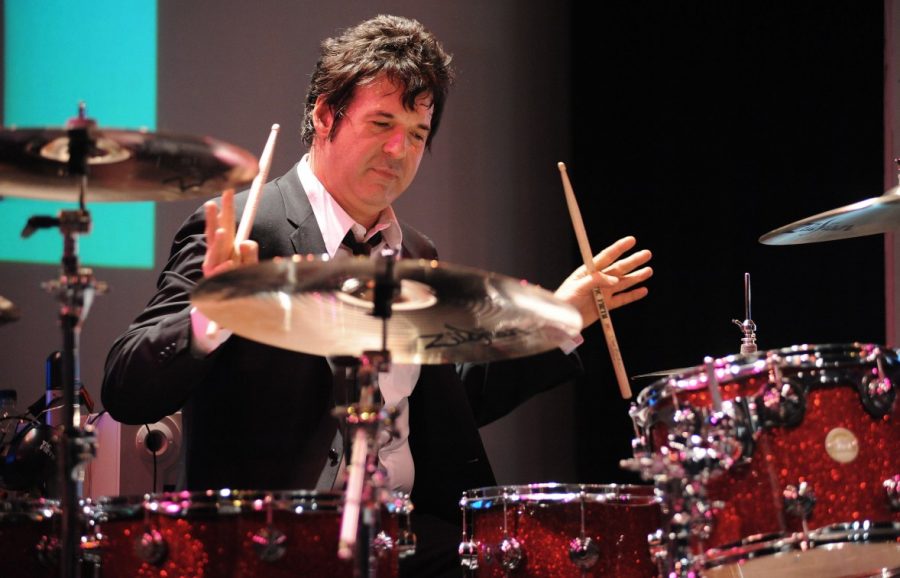 Photo via the Clem Burke Drumming Project
Musicians from classic bands take all sorts of unexpected paths in their late careers. We've seen Grateful Dead drummer Mickey Hart collaborate with NASA, Talking Heads frontman David Byrne take on—among a dozen other roles—the mantle of librarian, and Bruce Springsteen guitarist Steven Van Zandt become a curriculum developer. Turning musical experience to consciousness-expanding avocation has produced very admirable results—perhaps no more so than in the case of two musicians who have used the latest research on music therapy to help kids with autism.
We've previously featured Cheap Trick bassist Tom Petersson's "Rock Your Speech" project, inspired by his autistic son Liam's positive response to music. Now reports from the University of Chichester describes how drummer Clem Burke of Blondie fame has invested his celebrity into research on how drumming can help kids on the spectrum improve learning and enhance social interactions. It must be noted that Burke has not come lately to the science. His Clem Burke Drumming Project (CBDP), an association of academics, drummers, university partners, and honorary "Doctor of Rock" Burke, just celebrated its 10-year anniversary.
The project has previously researched "the physical demands of drumming; enhanced health and wellbeing of drumming; enhanced brain structure and function following drumming practice," and other drumming-related subjects, including a drumming video game for stress relief. The latest findings, from the University of Chichester and University Centre Hartpury, show that "drumming for 60 minutes a week can benefit children diagnosed with autism." The University of Chichester notes that preliminary results of a ten-week drumming intervention comprising two 30-minute drumming sessions per week showed:
A vast improvement in movement control while playing the drums, including dexterity, rhythm, timing.
Movement control was also enhanced while performing daily tasks outside the school environment, including an improved ability to concentrate during homework.
A range of positive changes in behaviour within school environment, which were observed and reported by teachers, such as improved concentration and enhanced communication with peers and adults
These significant benefits do not apply only to students with autism; "Rock drumming," says lead researcher and CBDP co-founder Marcus Smith, can be "a potent intervention for individuals experiencing brain disorders" of all kinds, and can also improve dexterity, rhythm, and timing (naturally).
Although a number of studies over the years have made headlines with similar claims, the Clem Burke Project's ten years of research into the effects of drumming on brain health and behavior give this study particular weight. Still, as always in scientific research, more evidence can help refine the applications. Another researcher in the study, Dr. Ruth Lowry, sounds both excited and cautiously optimistic in her assessment of the findings, expressing hopes that more research will "provide further evidence that not only does rock drumming have positive benefits in terms of changes in dexterity and concentration but that wider social and behavioural conduct benefits can be observed."
Maybe Dr. Clem Burke and his team should start a side project with Tom Petersson, whose musical interventions in the lives of kids with autism seem to be finding exactly such wider benefits.
Related Content:
Cheap Trick's Bassist Tom Petersson Helps Kids With Autism Learn Language With Rock 'n' Roll: Discover "Rock Your Speech"
The Neuroscience of Drumming: Researchers Discover the Secrets of Drumming & The Human Brain
Steven Van Zandt Creates a Free School of Rock: 100+ Free Lesson Plans That Educate Kids Through Music
Josh Jones is a writer and musician based in Durham, NC. Follow him at @jdmagness