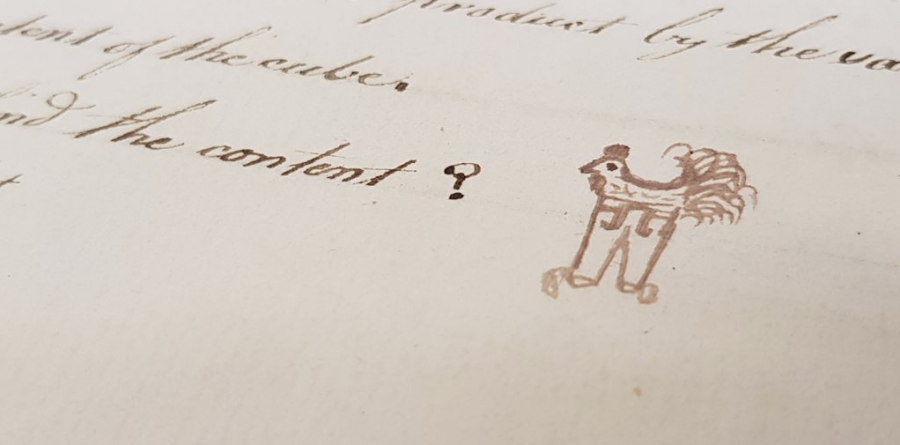 We are trained by tra­di­tion to think of his­to­ry as a series of great men's (and some women's) lives, of great wars and roy­al suc­ces­sions, con­quests and trag­ic defeats, rev­o­lu­tions and world-chang­ing dis­cov­er­ies. The ordi­nary, every­day lives of ordi­nary, every­day peo­ple seem tedious and unre­mark­able by com­par­i­son. But archivists know bet­ter. Their jobs are not glam­orous, but what they lack in fame or aca­d­e­m­ic sinecures, they make up for with chance dis­cov­er­ies of the kind that we see here—doodles in the 1784 math note­book of one Richard Beale, a 13-year-old farm boy from rur­al Kent, Eng­land.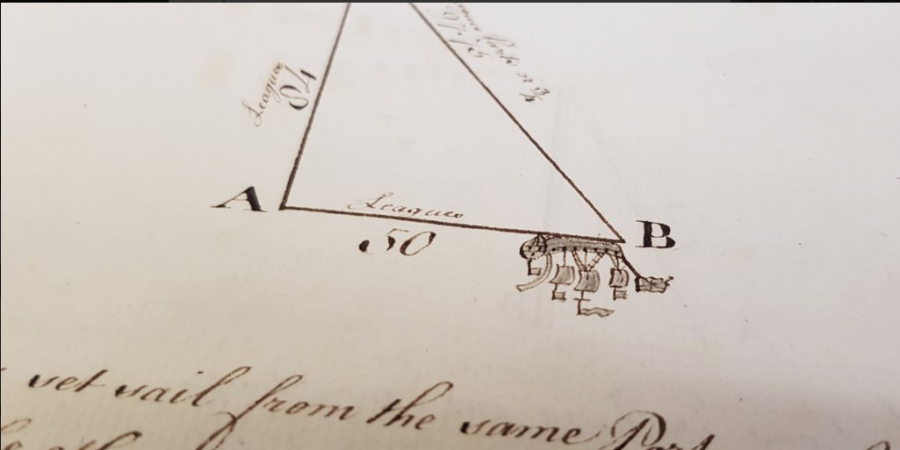 The archivists at the Muse­um of Eng­lish Rur­al Life (MERL) were so excit­ed about this find they made a Twit­ter thread about it, explain­ing its prove­nance in a bun­dle of eigh­teenth-cen­tu­ry farm diaries, which "are a lot like nor­mal diaries but with more cows."
The museum's pro­gram man­ag­er, Adam Koszary, has a good ear for the medi­um, tweet­ing out oth­er wit­ti­cisms about Richard's adven­tures in tak­ing notes: "But, like every teenag­er, math­e­mat­ics couldn't fill the void of Richard's heart. Richard doo­dled." He drew pic­tures of his dog, incor­po­rat­ed draw­ings of ships into his equa­tions, and impec­ca­bly illus­trat­ed his word prob­lems.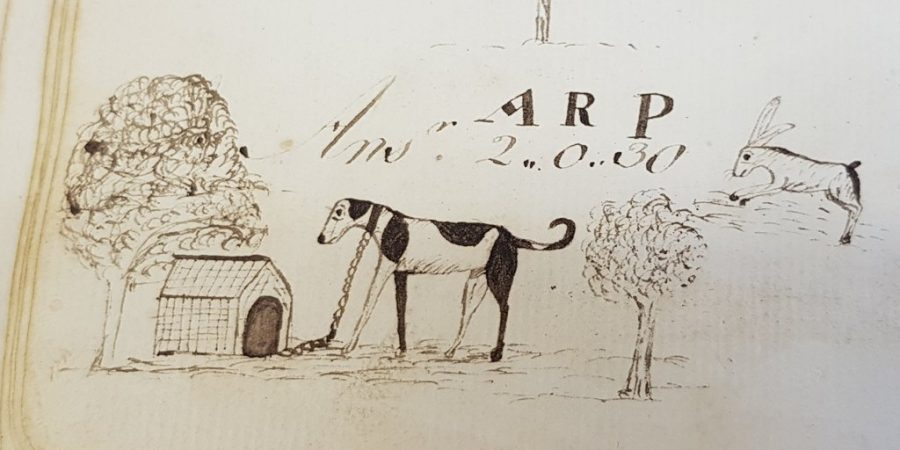 One can almost imag­ine the lis­ti­cle: "Rur­al 18th-Cen­tu­ry Eng­lish Folk: They're Just Like Us!" They think about their pets a lot. They draw when they get bored. They doo­dle tiny sketch­es of chick­ens in pants…Wait what? Yes, a chick­en in trousers appears among Richard's doo­dles, one of the many charm­ing fea­tures that land­ed MERL's sto­ry in The Guardian and gar­nered famous fans like JK Rowl­ing. Like seem­ing­ly every­thing on the inter­net, the chick­en in pants has sparked con­spir­a­cy the­o­ries, such as "Why do the trousers appear to be sol­id like Wallace's in The Wrong Trousers?" and "Was Richard Beale acquaint­ed with the town of Hens­broek in the Nether­lands?"

These ques­tions, writes Guy Bax­ter, asso­ciate direc­tor of archive ser­vices at MERL, are only part­ly tongue-in-cheek. The Dutch town of Hens­broek, does indeed have a coat of arms fea­tur­ing a chick­en in pants that bears a very close resem­blance to Richard's draw­ing, though it is entire­ly unlike­ly that Richard ever trav­eled to the Nether­lands. The arms of Hens­broek "are a famous exam­ple of 'cant­i­ng', which uses a pun on a name to inspire the design," notes Bax­ter. (Hens­broek lit­er­al­ly means "hens pants.") The ori­gin of Richard's design is more mys­te­ri­ous. "It is pos­si­ble that he knew about cant­i­ng arms," Bax­ter admits. "Or maybe he just had a vivid imag­i­na­tion."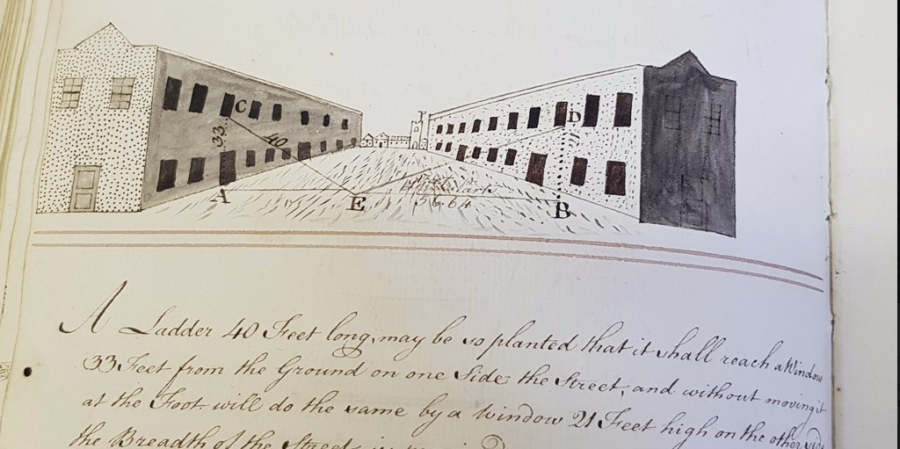 The lit­tle sto­ry of Richard Beale and his math home­work doo­dles shows us some­thing about our frac­tured, frag­ment­ed world and the anx­ious, divid­ed lives we seem to lead online, says Ollie Dou­glas, cura­tor of MERL's object col­lec­tions: "Social media is awash with high­ly per­son­al­ized engage­ments and com­men­taries on the world…. You only need to look through the respons­es to this sin­gle Twit­ter thread (and that fact that a ready­made chick­en-in-trousers gif was avail­able for us to shame­less­ly retweet) to see that the messy com­plex­i­ty of our world is still being shared and that we are all still doo­dlers at heart."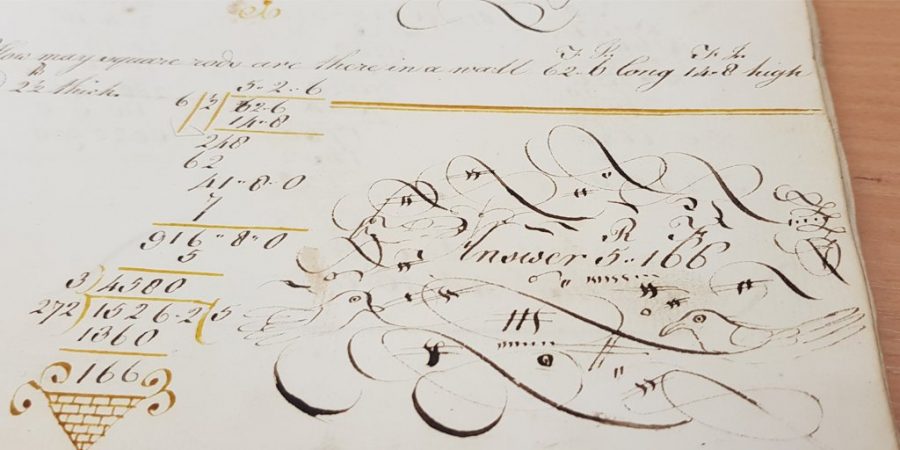 Fol­low the Muse­um of Eng­lish Rur­al Life for updates to this sto­ry.
Relat­ed Con­tent:
Fyo­dor Dos­to­evsky Draws Elab­o­rate Doo­dles In His Man­u­scripts
The Doo­dles in Leonar­do da Vinci's Man­u­scripts Con­tain His Ground­break­ing The­o­ries on the Laws of Fric­tion, Sci­en­tists Dis­cov­er
Woody Guthrie Cre­ates a Doo­dle-Filled List of 33 New Year's Res­o­lu­tions (1943): Beat Fas­cism, Write a Song a Day, and Keep the Hop­ing Machine Run­ning
Josh Jones is a writer and musi­cian based in Durham, NC. Fol­low him at @jdmagness