Two of the books that most shaped American culture both happened to bear the nickname "The Big Book." While the second of these, the A.A. Manual, published in 1939, changed the country with 12-Step recovery groups, the first of these, the Sears Catalog, transformed America with mass consumption, offering customers in every part of the country access to modern conveniences and retail goods of all kinds at unheard of prices. Beginning in 1908, Sears started selling entire houses, in approximately 25-ton kits transported by railroad, consisting of 30,000 pre-cut parts, plumbing and electrical fixtures, and up to 750 pounds of nails.
"In an era before commercial aviation and long-haul trucking," Curbed marvels, "Sears, Roebuck & Co. set up an operation that would package and ship more than 400 different types of homes and buildings to anybody who had the cash and access to a catalog."
They started small, and just as they didn't come up with the concept of the mail order catalog, Sears didn't invent the kit house, though they suggest as much in their telling of the story. Instead they may have taken the idea from another company called Aladdin. Aladdin houses have been forgotten, however, and even Sears' main competitor, Montgomery Ward, didn't catch up until 1921 and only lasted ten years in the kit house business.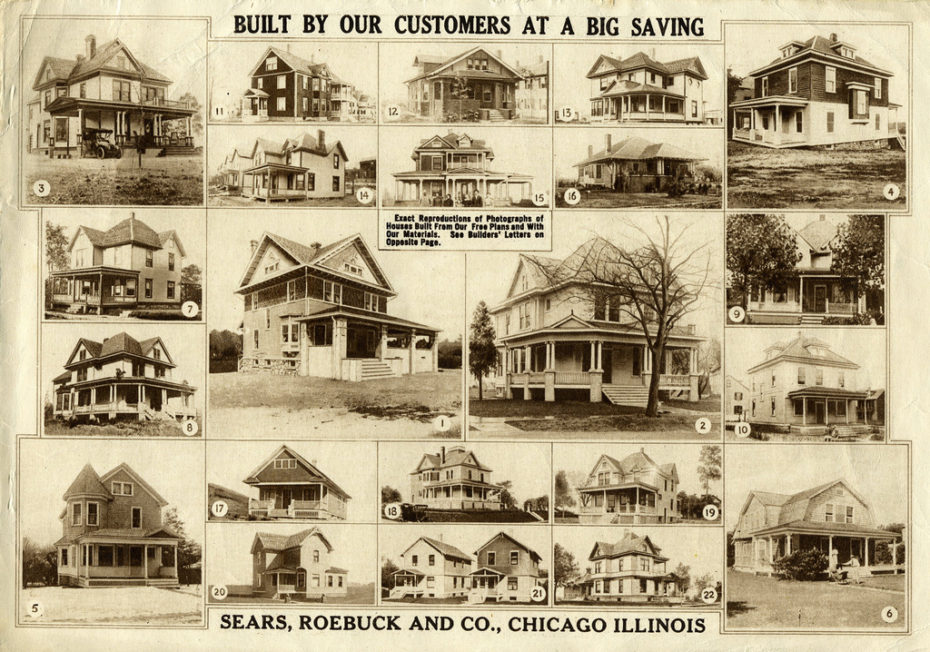 Sears houses, on the other hand, are celebrated and sought out as models of the early 20th century American home, and for good reason. Between 1908 and 1939, Sears sold 70-75,000 houses in 447 different styles all over the country. "From Craftsman to Cape Cods, they offered a custom home at budgets and sizes that could accommodate any size family," writes Popular Mechanics.
These Sears homes weren't cheap low-end houses. Many of them were built using the finest quality building materials available during that time. It's not uncommon to find Sears homes today with oak floors, cypress siding, and cedar shingles.
What's even more extraordinary is that 50% of these were built by the homeowners themselves, usually, as in a barn-raising, with the generous help of family, friends, and neighbors. The other half sold were built professionally. "Often," writes Messy Nessy, "local builders and carpentry companies purchased homes from Sears to build as model homes and market their services to potential customers."
These houses could have a significant effect on the character of a neighborhood. Not only could potential buyers see firsthand, and participate in, the construction. They could order the same or a similar model, customize it, and even—as the company tells us in its own short history of the "Sears Modern Home"—design their own homes and "submit the blueprints to Sears, which would then ship off the appropriate precut and fitted materials."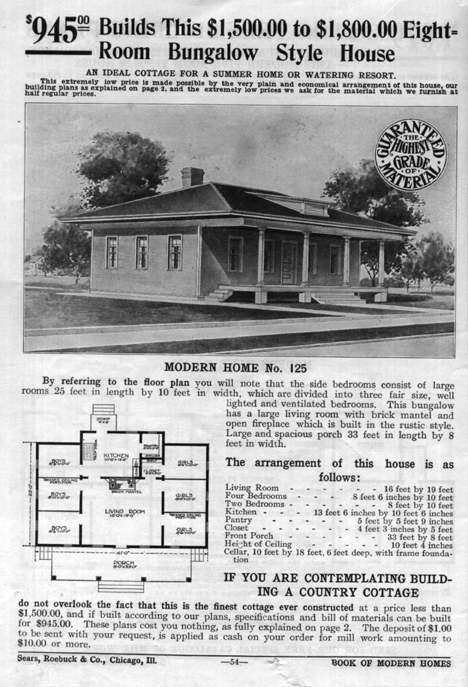 Sears sounds modest about its impact. The company writes it was not "an innovative home designer" but instead "a very able follower of popular home designs but with the added advantage of modifying houses and hardware according to buyer tastes." Yet Sears houses aren't beloved for their forward-looking designs, but for their sturdiness and variety, as well as for their impact on "the emotional lives of rural folk," as Messy Nessy puts it.
"The Sears mail-order catalogues were sitting on kitchen countertops inside millions of American homes, allowing potential homeowners to both visualize their new home and purchase it as easily as they might have bought a new toaster." Building a house required a little more investment than plugging in a toaster, and required a 75-page instruction book, but that's another part of why Sears house hunters are such a dedicated bunch, awestruck at each still-standing model they're able to photograph and match up with its catalog illustrations and floor plans.
In its first year of production, 1908, Sears sold only one model, number 125, an Eight-Room Bungalow Style House for $945, advertised as "the finest cottage ever constructed at a price less than $1500." In 1918, the company moved from a numbering system to named models, most of which sound like the names of cozy small towns and bedroom communities: Adeline, Belmont, Maplewood, Avalon, Kilbourne, Del Ray, Stone Ridge…. (See a full list of these models at The Arts & Crafts Society website.)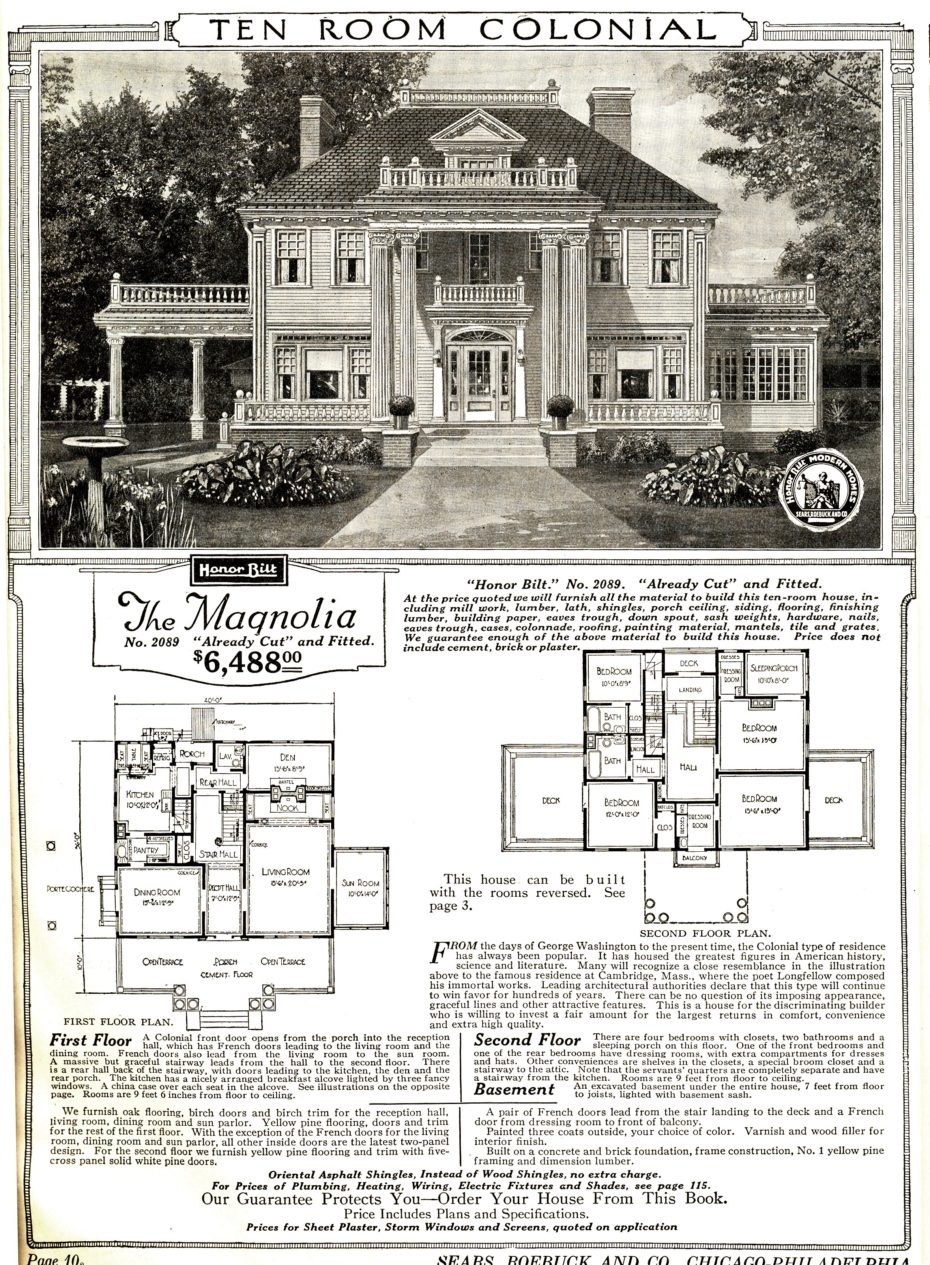 In the years Sears sold houses, between 54 and 44 percent of Americans lived in rural areas, and these constituted Sears' most loyal customers, given that the catalog allowed them to purchase things they could buy nowhere else, including ten room colonial mansions like The Magnolia, available from 1913 to 1922 for $6,488, or roughly $88,000—a steal if you can put in the work. This was the largest and most expensive model the company offered, "a three-story, eight room neo-Georgian with a two-story columned portico, porte-cochere, and sleeping porches." (Mint juleps and servants' quarters not included.)
Sears eventually offered three build qualities, Honor Bilt, Standard Built, and Simplex Sectional. At the lowest end of the price and build spectrum, the company notes, "Simplex houses were frequently only a couple of rooms and were ideal for summer cottages." Many of its low-end and early models did not include bathrooms, and the company sold outhouses separately. But due to innovative construction methods, even the least expensive houses held up well.
Because the company lost most of the records after its kit house business folded, it can be difficult to identify a Sears house. And because even the "youngest of Sears homes," Popular Mechanics points out, is now going on eight decades old, they all require a significant amount of care." The blog Kit House Hunters has found over 10,000 Sears Houses still standing across the country, most of them in the Northeast and Midwest, where they sold best. (One community in Elgin, IL has over 200 verified Sears homes.)
In the video at the top, you can see a few of those well-built Sears houses still lived in today. The short How to Architect short video above points out that "Sears had a massive impact on the business of home-building, and… the business of pre-fabrication, is alive and well today." For a look at the variety and intricacy of the Sears Modern Home designs, see this Flickr gallery with over 80 images of catalog pages, illustrated homes, and floor plans. And if you think you might be living in one of these houses, many of which have been granted historic status, find out with this handy 9-step guide for identifying a Sears Kit Home.
Related Content:
How the Sears Catalog Disrupted the Jim Crow South and Helped Give Birth to the Delta Blues & Rock and Roll
1,300 Photos of Famous Modern American Homes Now Online, Courtesy of USC
A Quick Animated Tour of Iconic Modernist Houses