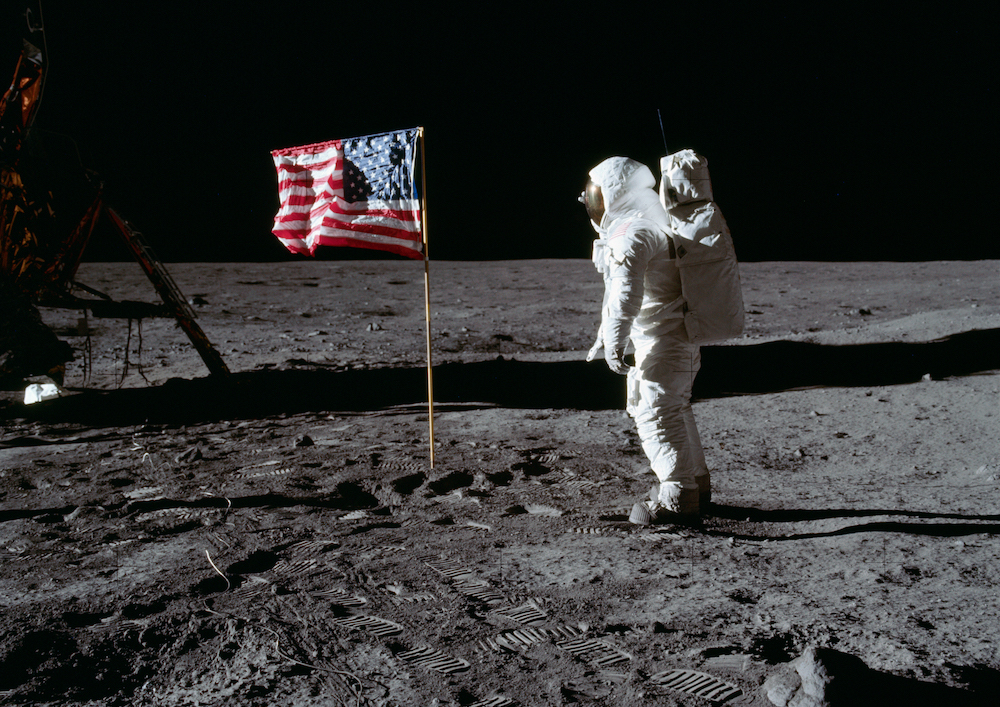 When we think of the Apol­lo mis­sions, we tend to think of images, espe­cial­ly those broad­cast on tele­vi­sion dur­ing the Apol­lo 11 moon land­ing in 1969. And if we think of the sounds of Apol­lo, what comes more quick­ly to mind — indeed, what sound in human his­to­ry could come more quick­ly to mind — than Neil Arm­strong's "one small step for a man, one giant leap for mankind" line spo­ken on that same mis­sion? But that's just one small piece of the total amount of audio record­ings made dur­ing the Apol­lo pro­gram, which ran from the mid-1960s to the ear­ly 1970s. Now, with near­ly 20,000 hours of them dig­i­tized, they've begun to be made avail­able for lis­ten­ing and down­load­ing at the Inter­net Archive.
"After the Apol­lo mis­sions end­ed, most of the audio tapes even­tu­al­ly made their way to the Nation­al Archives and Records Admin­is­tra­tion build­ing in Col­lege Park, Mary­land," writes Astron­o­my's Cather­ine Mey­ers. But even after get­ting all the record­ings in one place (eas­i­er said than done giv­en the vast size of the archives in which they resided), a much larg­er chal­lenge loomed.
"The exist­ing tapes could be played only on a machine called a Sound­Scriber, a big beige and green con­trap­tion com­plete with vac­u­um tubes. NASA had two machines, but the first was can­ni­bal­ized for parts to make the sec­ond one run."
Refur­bish­ing the very last Sound­Scriber to play these 30-track tapes required the help of a retired tech­ni­cian, and then the research team need­ed to "play all 30 tracks at once to min­i­mize the time required to dig­i­tize them, as well as to avoid dam­ag­ing the almost 50-year-old tapes by play­ing them over and over." What with the 50th anniver­sary of the Apol­lo 11 moon land­ing approach­ing next sum­mer — and with First Man, Damien Chazelle's biopic of Neil Arm­strong cur­rent­ly in the­aters — NASA has cleared that mis­sion's audio record­ings for pub­lic release.
You can lis­ten to the Apol­lo 11 tapes direct­ly at the Inter­net Archive, or you can make your way through them at Explore Apol­lo, a site designed by stu­dents at the Uni­ver­si­ty of Texas at Dal­las that high­lights the most his­tor­i­cal­ly sig­nif­i­cant of the thou­sands of hours of audio record­ed dur­ing Apol­lo 11: not just Arm­strong's first step, but the launch from Kennedy Space Cen­ter, the lunar land­ing itself, and the astro­nauts' walk on the moon's sur­face. But space explo­ration is about much more than astro­nauts, as you'll soon find out if you spend much time at the Inter­net Archive's col­lec­tion of Apol­lo 11 record­ings, on which appear not just Neil Arm­strong, Buzz Aldrin, and Michael Collins, but the hun­dreds and hun­dreds of oth­er NASA per­son­nel who made the moon land­ing pos­si­ble. We may nev­er have heard their names before, but now we can final­ly hear their voic­es.
Relat­ed Con­tent:
Watch the Orig­i­nal TV Cov­er­age of the His­toric Apol­lo 11 Moon Land­ing: Record­ed on July 20, 1969
Hear the Declas­si­fied, Eerie "Space Music" Heard Dur­ing the Apol­lo 10 Mis­sion (1969)
8,400 Stun­ning High-Res Pho­tos From the Apol­lo Moon Mis­sions Are Now Online
NASA Puts 400+ His­toric Exper­i­men­tal Flight Videos on YouTube
The Best of NASA Space Shut­tle Videos (1981–2010)
NASA Puts Online a Big Col­lec­tion of Space Sounds, and They're Free to Down­load and Use
NASA Releas­es a Mas­sive Online Archive: 140,000 Pho­tos, Videos & Audio Files Free to Search and Down­load
Based in Seoul, Col­in Mar­shall writes and broad­casts on cities, lan­guage, and cul­ture. His projects include the book The State­less City: a Walk through 21st-Cen­tu­ry Los Ange­les and the video series The City in Cin­e­ma. Fol­low him on Twit­ter at @colinmarshall or on Face­book.