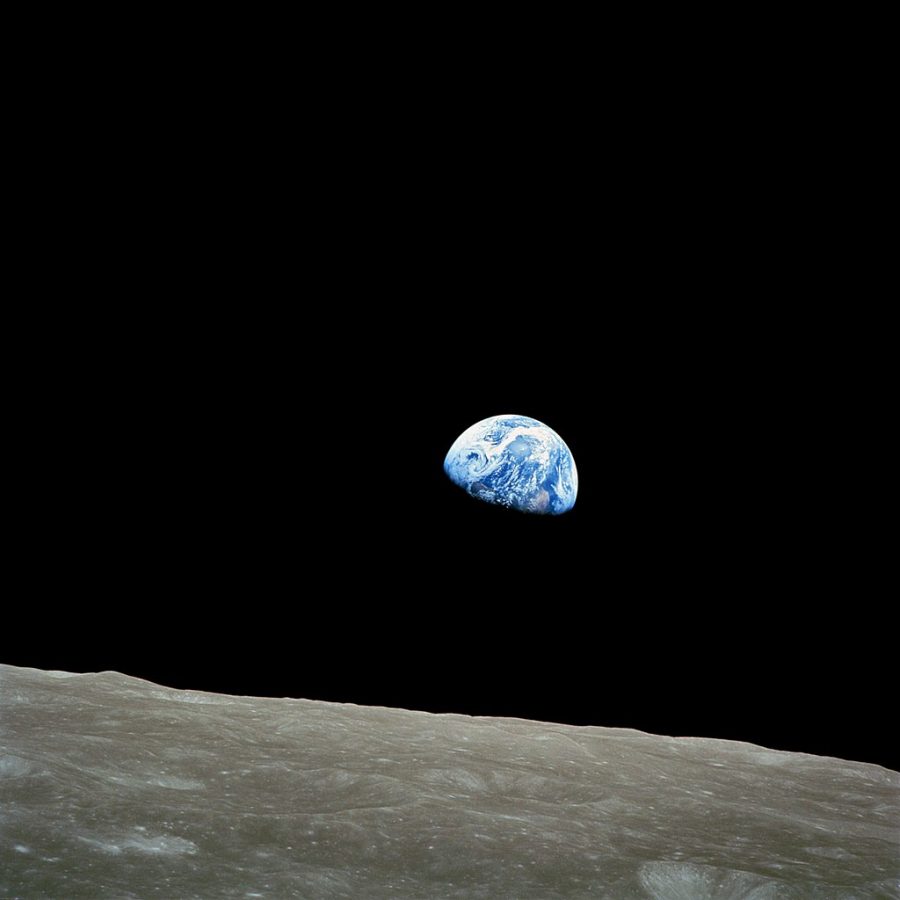 Just a little over fifty years ago, we didn't know what Earth looked like from space. Or rather, we had a decent idea what it looked like, but no clear color images of the sight existed. 2001: A Space Odyssey presented a particularly striking vision of Earth from space in the spring of 1968, but it used visual effects and imagination (both to a still-impressive degree) to do so. Only on Christmas Eve of that year would Earth be genuinely photographed from that kind of distance, captured with a Hasselblad by Bill Anders, lunar module pilot of NASA's Apollo 8 mission.
"Two days later, the film was processed," writes The Washington Post's Christian Davenport, "and NASA released photo number 68-H-1401 to the public with a news release that said: "This view of the rising earth greeted the Apollo 8 astronauts as they came from behind the moon after the lunar orbit insertion burn."
The image, called Earthrise, went "as viral as anything could in 1968, a time that saw all sorts of photographs leave their mark on the national consciousness, most of them scars." Life magazine ran it with lines from U.S. poet laureate James Dickey: "Behold/ The blue planet steeped in its dream/ Of reality."
It's often said of iconic photographs that they make their viewers see their subjects in a new way, an effect Earthrise must exemplify more clearly than any other picture. "The vast loneliness is awe-inspiring," said Apollo 8 command module pilot Jim Lovell at the time, "and it makes you realize just what you have back there on Earth." At the recent celebration of the mission's 50th anniversary at the Washington National Cathedral, Anders remembered, "As I looked down at the Earth, which is about the size of your fist at arm's length, I'm thinking this is not a very big place. Why can't we get along?"
You can download Earthrise from NASA's web site and learn more about the taking of the photo from the video above, made for its 45th anniversary. Using all available data on the mission, including audio recordings of the astronauts themselves, the video precisely re-creates the circumstances under which Anders shot Earthrise, forever preserving a view made possible by a roll of the spacecraft executed by Apollo 8 commander Frank Borman. To what extent their photographic achievement has convinced us all to get along remains debatable, but has humanity, since the day after Christmas 1968, ever thought about its blue planet in quite the same way as before?
Related Content:
The Wonder, Thrill & Meaning of Seeing Earth from Space. Astronauts Reflect on The Big Blue Marble
Countries and Coastlines: A Dramatic View of Earth from Outer Space
What It Feels Like to Fly Over Planet Earth
The Beauty of Space Photography
The Captivating Story Behind the Making of Ansel Adams' Most Famous Photograph, Moonrise, Hernandez, New Mexico
Based in Seoul, Colin Marshall writes and broadcasts on cities, language, and culture. His projects include the book The Stateless City: a Walk through 21st-Century Los Angeles and the video series The City in Cinema. Follow him on Twitter at @colinmarshall or on Facebook.