At first glance, the octopus in the video above might appear to be breathing. A second look reveals that it isn't actually breathing, nor is it actually an octopus at all, but seemingly just a highly detailed drawing of one. Only upon the third look, if even then, does it become clear that the octopus has been not drawn but intricately cut, and out of a single large sheet of paper at that. The two-dimensional sea creature represents a recent high point in the work of Japanese artist Masayo Fukuda, who has practiced this curious craft, known as kirie, for more than a quarter of a century now.
"Kirie (切り絵, literally 'cut picture') is the Japanese art of paper-cutting," writes Spoon & Tamago's Johnny Waldman. "Variations of kirie can be found in cultures around the world but the Japanese version is said to be derived from religious ceremonies and can be traced back to around the AD 700s.
In its most conventional form, negative space is cut from a single sheet of white paper and then contrasted against a black background to reveal a rendering." Such painstaking work, and the astonishingly impressive artistic results that can come out of it, fit right in with the image of Japanese art and craftsmanship as the world now appreciates it. Bored Panda quotes Fukuda as saying that "cutting pictures has become a way of dissipating all the stress of my daily life."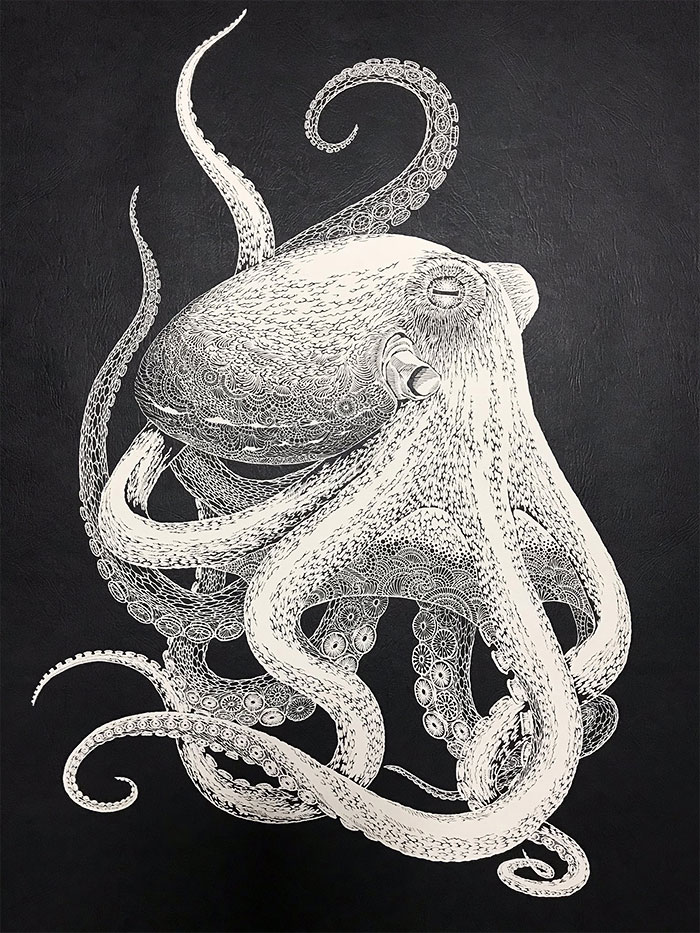 If you, too, would like to seek the benefits of a regular kirie practice, you don't need much in the way of equipment: "All the basics you need are TANT paper" — a brand of paper made especially for origami and other paper crafts — "a cutter, matte, and a good light source." Of course, if you look only to the work of an experienced master like Fukuda (which will go on display, Waldman notes, this April at Osaka's Miraie Gallery) for examples, you're likely to get frustrated very quickly indeed.
You might consider first getting a broader overview of kirie as currently practiced, starting with this five-minute documentary showcasing the work of other paper-cutting enthusiasts in Japan. Set aside enough time for it, and approach your sheet of paper with enough patience every day, and — who knows? — one day your octopus, too, may breathe.
via Spoon & Tamago
Related Content:
The Making of Japanese Handmade Paper: A Short Film Documents an 800-Year-Old Tradition
Watch a Japanese Craftsman Lovingly Bring a Tattered Old Book Back to Near Mint Condition
20 Mesmerizing Videos of Japanese Artisans Creating Traditional Handicrafts
Watch Japanese Woodworking Masters Create Elegant & Elaborate Geometric Patterns with Wood
Designer Creates Origami Cardboard Tents to Shelter the Homeless from the Winter Cold
MIT Creates Amazing Self-Folding Origami Robots & Leaping Cheetah Robots
Based in Seoul, Colin Marshall writes and broadcasts on cities, language, and culture. His projects include the book The Stateless City: a Walk through 21st-Century Los Angeles and the video series The City in Cinema. Follow him on Twitter at @colinmarshall or on Facebook.