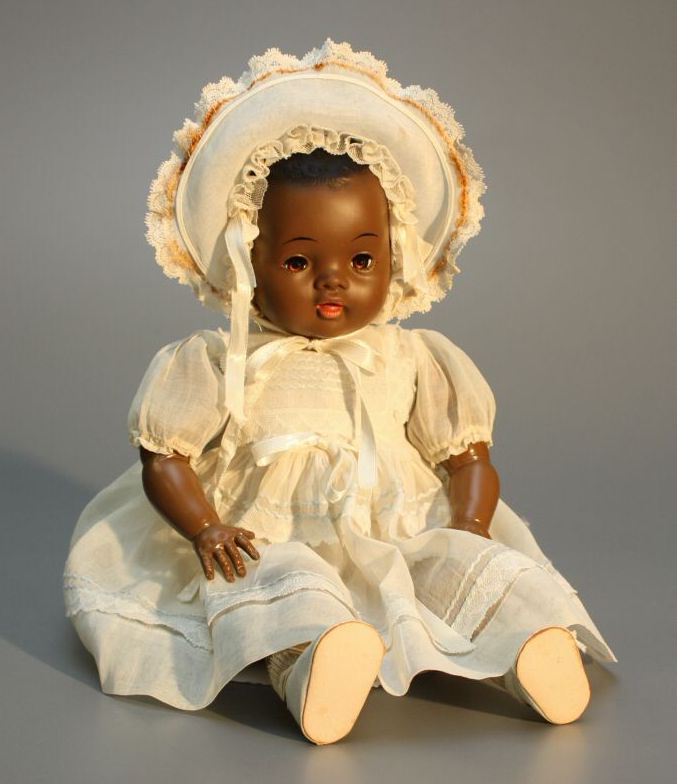 In the 1930s and 40s, child psychologists Kenneth and Mamie Clark found that very young black children in the U.S. usually chose dolls with lighter skin colors when given a choice. The findings suggested that the children had internalized dominant prejudices against them "by the time they reached nursery school," notes the National Museum of Play. "These studies played an important role in the NAACP's battle in the 1950s to end segregation in public schools."
What often goes unremarked in accounts of this research is that at the time "almost all of the African American dolls on the market were modeled after racist stereotypes," as Emily Temple notes in an article on LitHub drawing on the work of historian Gordon Patterson. "Those that weren't" caricatures "were just white dolls that had been painted brown." This had been the case for two centuries, as Collectors Weekly explains. Black children had been internalizing racism—learning to associate positive attributes with white dolls and negative attributes with black dolls.
But those children (and their parents) had also been rejecting the racist caricatures and forms of erasure on offer. Temple writes of how one white woman, Sara Lee Creech "noticed two black children playing with white dolls in a car outside of a post office in Belle Glade, Florida." She felt that they should have toys that represented their experience as well. Already a social justice warrior, as they say—"active in the women's movements since the mid 1930s" and helping to found "an Interracial Council in Belle Glade"—Creech decided she would create a doll that "would represent the beauty and diversity of black children."
If this "sounds a little white savior-y," writes Temple, "I'm with you," but there's much more to the story. Creech submitted the idea to her friend Zora Neale Hurston, pioneering ethnographer of African American culture and premier novelist of the Harlem Renaissance. Hurston "was enthusiastic about the project" and, in turn, pledged to "show pictures of the doll to the 'well known and influential members' of the black community with whom she had connections."
In 1950, Hurston wrote to Creech in praise of her intention to "meet our longing for understanding of us as we really are, and not as some would have us." At the same time, Creech's friend Maxeda von Hesse brought Eleanor Roosevelt onto the project, who enthusiastically supported it as well, going so far as to host a tea with Mary Bethune, Ralph Bunche, and Jackie Robinson, among other influential figures, "to consult on the appropriate skin."
The Ideal Toy Company—founded by the creators of the first mass-produced Teddy Bear—took on the enterprise of manufacturing the doll, named Sara Lee, selling the toy between 1951 and 1953. It was the first attempt to mass-market a realistic African American baby doll. She first appeared in the 1951 Sears Roebuck Christmas Catalog. Major magazines like Esquire, Life, Time, Ebony, and Newsweek announced the doll's arrival, but sales were eventually disappointing due to manufacturing flaws.
The demand, however, had always been there. Filmmaker Samantha Knowles and doll collectors like Debra Britt and Debbie Behan Garrett describe their experiences with the scarcity of black dolls on the market. During her childhood in the 1950s and 60s, Garrett remarks, "black dolls were just not readily available, and those that were available, my mother felt were not true representations of black people. So all of my dolls were white." (In his article, Patterson cites Toni Morrison's The Bluest Eye as the classically tragic literary treatment of the situation.)
Even after the brief introduction of the Sara Lee doll, Garrett's experience continued to be that of most back children. As the Museum of Play notes, it wouldn't be until 1968 that major companies would again mass-market black dolls, starting with Barbie's friend Christie. That year also saw the release of "Baby Nancy," writes Garrett, made by newly-founded black-owned doll company Shindana toys, which became "the nation's largest manufacturer of black dolls and games."
Read more at LitHub about how Zora Neale Hurston, Eleanor Roosevelt, and an unknown activist in the late 1940s and early 50s first opened the door to a more inclusive toy market that treated its customers more equally. Using commercial means to effect social change may remain a debatable tactic, but there's no question that positive cultural representation matters for children's development. Intentional or otherwise, exclusion and stereotyping cause real harm. As Debbie Garrett puts it, "if black children are force-fed that white is better, or if that's all that they are exposed to, then they might start to think, 'What is wrong with me?'"
via LitHub
Related Content:
Zora Neal Hurston Wrote a Book About Cudjo Lewis, the Last Survivor of the Atlantic Slave Trade, and It's Finally Getting Published 87 Years Later
Download Digitized Copies of The Negro Travelers' Green Book, the Pre-Civil Rights Guide to Traveling Safely in the U.S. (1936-66)
Actors from The Wire Star in a Short Film Adaptation of Zora Neale Hurston's "The Gilded Six-Bits" (2001)
Josh Jones is a writer and musician based in Durham, NC. Follow him at @jdmagness