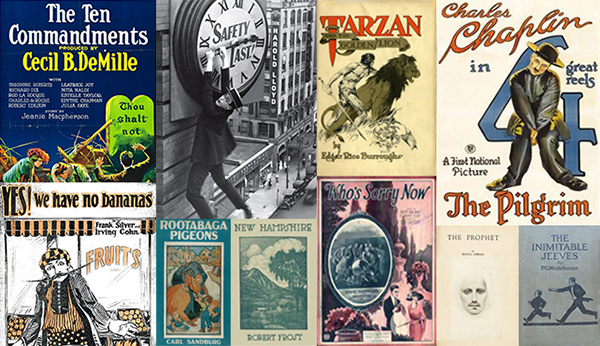 Earlier this year we informed readers that thousands of works of art and entertainment would soon enter the public domain—to be followed every year by thousands more. That day is nigh upon us: Public Domain Day, January 1, 2019. At the stroke of midnight, such beloved classics as Robert Frost's "Stopping by Woods on a Snowy Evening" and "Yes! We Have No Bananas" will become the common property of the people, to be quoted at length or in full anywhere when the copyright expires on work produced in 1923. Then, 1924 will expire in 2020, 1925 in 2021, and so on and so forth.
It means that "hundreds of thousands of books, musical compositions, paintings, poems, photographs and films" will become freely available to distribute, remix, and remake, as Glenn Fleishman writes at Smithsonian. "Any middle school can produce Theodore Pratt's stage adaptation of The Picture of Dorian Gray, and any historian can publish Winston Churchill's The World Crisis with her own extensive annotations… and any filmmaker can remake Cecil B. DeMille's original The Ten Commandments."
Those are just a few ideas. See more extensive lists of hits and obscurities from 1923 at our previous post and come up with your own creative adaptations. The possibilities are vast and possibly world changing, in ways both decidedly good and arguably quite bad. Teachers may photocopy thousands of pages without fear of prosecution; scholars may quote freely, artists may find deep wells of inspiration. And we may also see "Frost's immortal ode to winter used in an ad for snow tires."
Such crassness aside, this huge release from copyright heralds a cultural sea change—the first time such a thing has happened in 21 years due to a 20-year extension of the copyright term in 1998, in a bill sponsored by Sonny Bono at the urging of the Walt Disney company. The legislation, aimed at protecting Mickey Mouse, created a "bizarre 20-year hiatus between the release of works from 1922 and 1923." It is fascinating to consider how a government-mandated marketing decision has affected our understanding of history and culture.
The novelist Willa Cather called 1922 the year "the world broke in two," the start of a great literary, artistic and cultural upheaval. In 1922, Ulysses by James Joyce and T.S. Eliot's "The Waste Land" were published, and the Harlem Renaissance blossomed with the arrival of Claude McKay's poetry in Harlem Shadows. For two decades those works have been in the public domain, enabling artists, critics and others to burnish that notable year to a high gloss in our historical memory. In comparison, 1923 can feel dull.
That year, however, marked the film debut of Marlene Dietrich, the publication of modernist landmarks like Virginia Woolf's Mrs. Dalloway and Jean Toomer's Cane and far too many more influential works to name here. Find several more at Duke University's Center for the Study of the Public Domain,  Lifehacker, Indiewire, and The Atlantic and have a very happy Public Domain Day.
Public domain films and books will be added to ever-growing collections:
1,000 Free Audio Books: Download Great Books for Free
4,000+ Free Movies Online: Great Classics, Indies, Noir, Westerns, Documentaries & More
800 Free eBooks for iPad, Kindle & Other Devices
Related Content:
An Avalanche of Novels, Films and Other Works of Art Will Soon Enter the Public Domain: Virginia Woolf, Charlie Chaplin, William Carlos Williams, Buster Keaton & More
The Library of Congress Launches the National Screening Room, Putting Online Hundreds of Historic Films
List of Great Public Domain Films 
Josh Jones is a writer and musician based in Durham, NC. Follow him at @jdmagness.