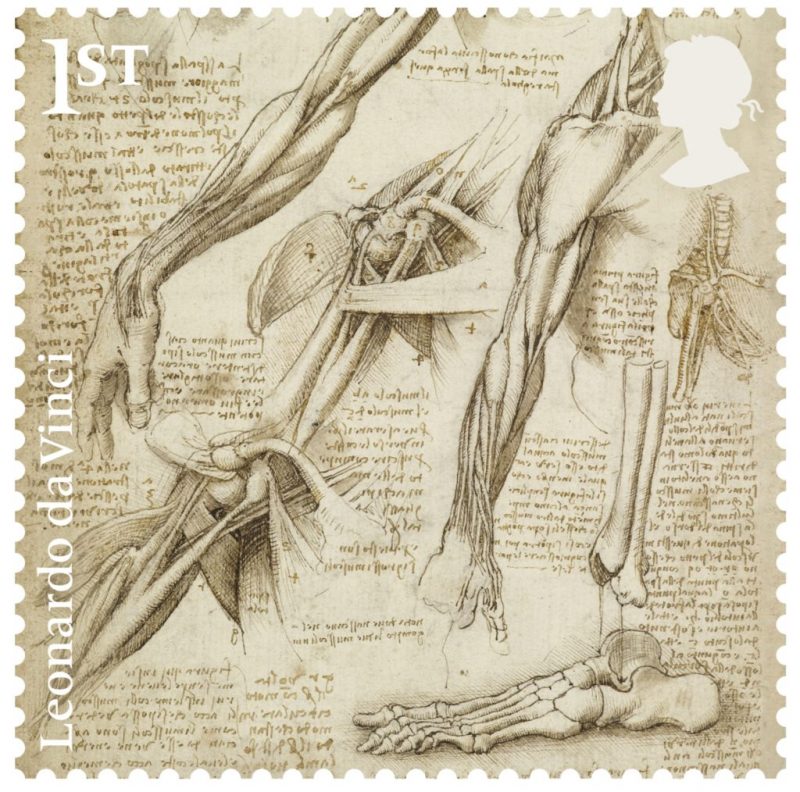 No special occasion is required to celebrate Leonardo da Vinci, but the fact that he died in 1519 makes this year a particularly suitable time to look back at his vast, innovative, and influential body of work. Just last month, "Leonardo da Vinci: A Life in Drawing" opened in twelve museums across the United Kingdom. "144 of Leonardo da Vinci's greatest drawings in the Royal Collection are displayed in 12 simultaneous exhibitions across the UK," says the exhibition's site, with each venue's drawings "selected to reflect the full range of Leonardo's interests – painting, sculpture, architecture, music, anatomy, engineering, cartography, geology and botany."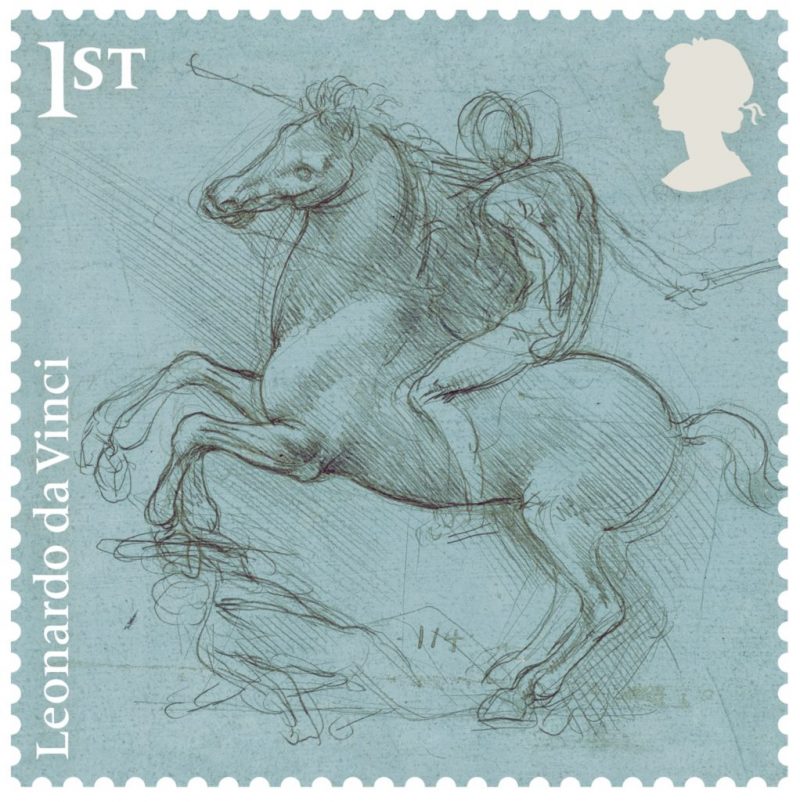 The Royal Collection Trust, writes Artnet's Sarah Cascone, has even "sent a dozen drawings from Windsor Castle to each of the 12 participating institutions." They'd previously been in Windsor Castle's Print Room, the home of a collection of old master prints and drawings routinely described as one of the finest in the world.
Now displayed at institutions like Liverpool's Walker Art Gallery, Sheffield's Millennium Gallery, Belfast's Ulster Museum, and Cardiff's National Museum Wales, this selection of Leonardo's drawings will be much more accessible to the public during the exhibition than before.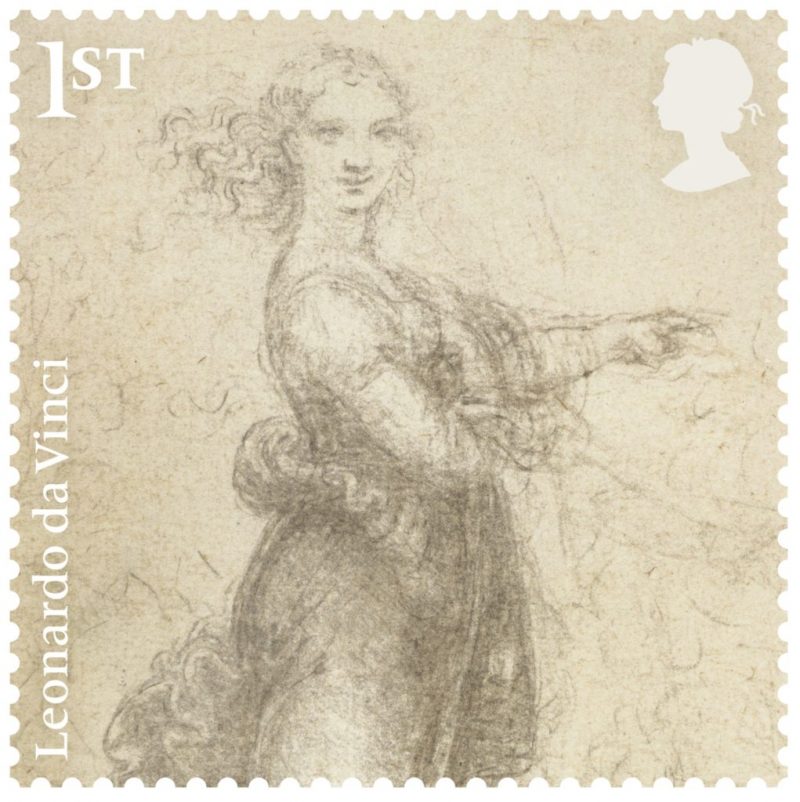 But the Royal Mail has made sure that the drawings will be even more widely seen, doing its part for the 500th anniversary of Leonardo's death by issuing them in stamp form.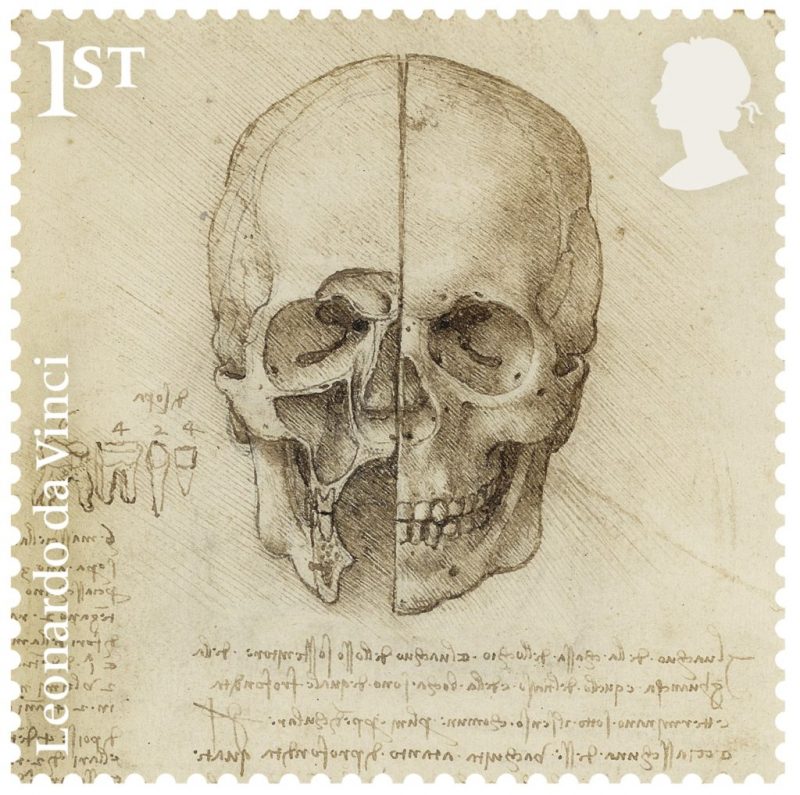 "The stamps depict several well-known works," writes Artnet's Kate Brown, "such as The skull sectioned (1489) and The head of Leda (1505–08), a study for his eventual painting of the myth of Leda, the queen of Sparta, which was the most valuable work in Leonardo's estate when he died and was apparently destroyed around 1700. Other stamps show the artist's studies of skeletons, joints, and cats."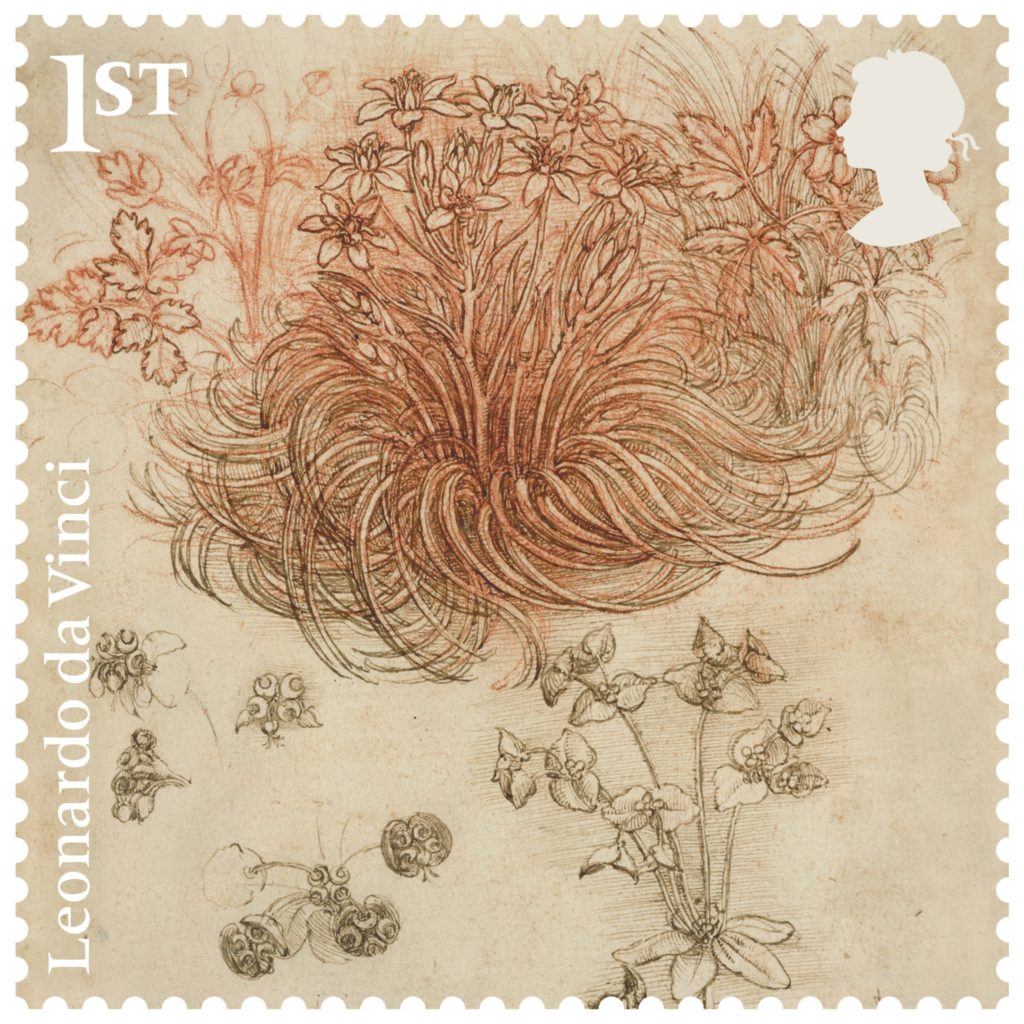 While none of these images enjoy quite the cultural profile of a Vitruvian Man, let alone a Mona Lisa, they all show that whatever Leonardo drew, he drew it in a way revealing that he saw it like no one else did (possibly due in part, as we've previously posted about here on Open Culture, to an eye disorder).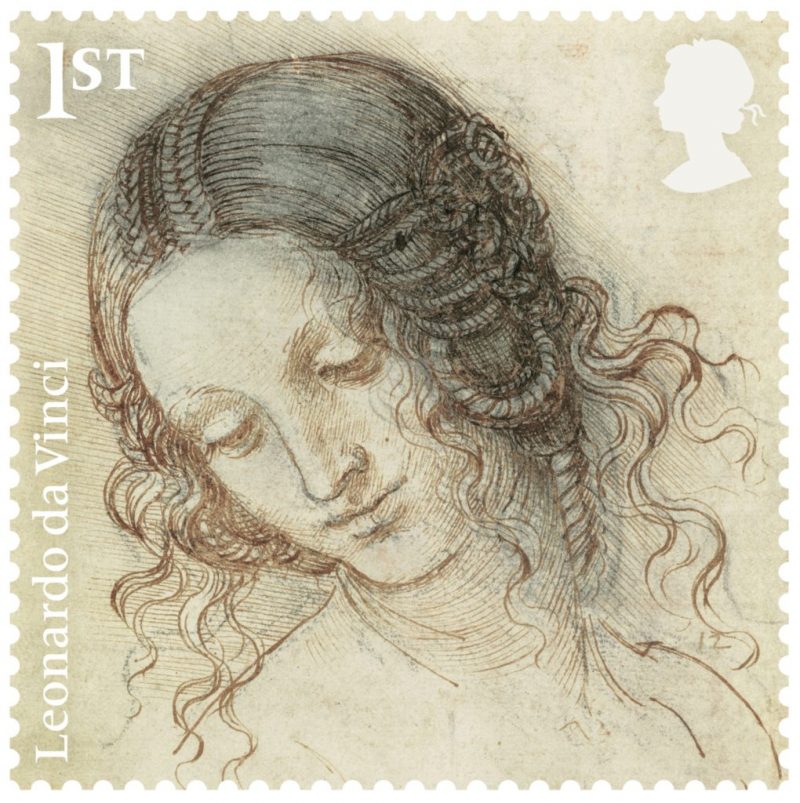 Though that may come across more clearly at the scale of the originals than at the scale of postage stamps, even a glimpse at the intellectually boundless Renaissance polymath's drawings compressed into 21-by-24-millimeter squares will surely be enough to draw many into his still-inspirational artistic and scientific world. To the intrigued, may we suggest plunging into his 570 pages of notebooks?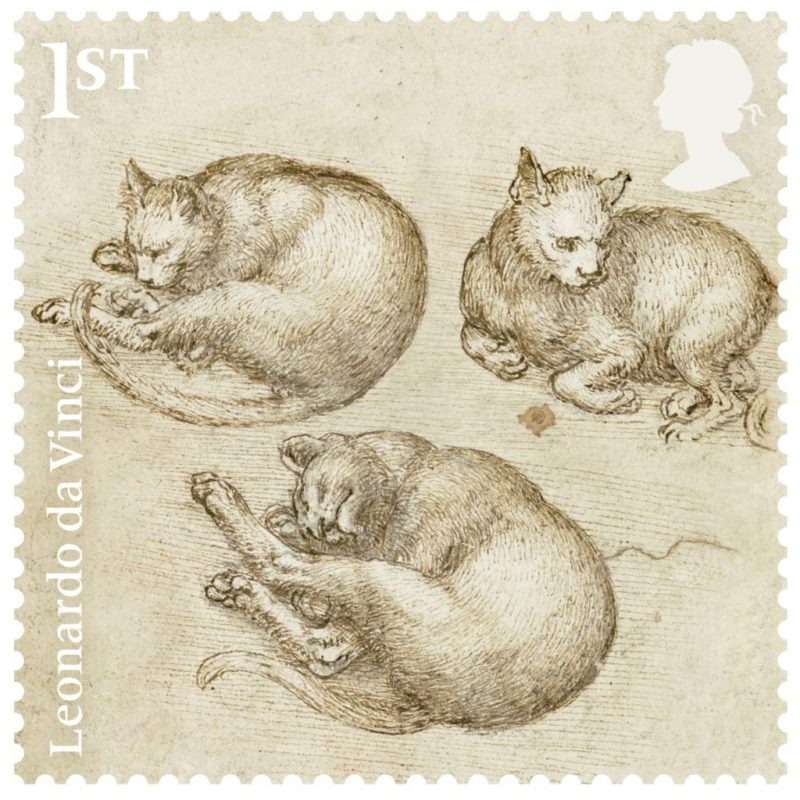 Note: If you live in the San Francisco Bay Area, consider attending the new course–The Genius of Leonardo da Vinci: A 500th Anniversary Celebration–being offered through Stanford Continuing Studies. Registration opens on February 25. The class runs from April 16 through June 4.
Related Content:
Download the Sublime Anatomy Drawings of Leonardo da Vinci: Available Online, or in a Great iPad App
Leonardo da Vinci's Bizarre Caricatures & Monster Drawings
Leonardo da Vinci's Earliest Notebooks Now Digitized and Made Free Online: Explore His Ingenious Drawings, Diagrams, Mirror Writing & More
The Doodles in Leonardo da Vinci's Manuscripts Contain His Groundbreaking Theories on the Laws of Friction, Scientists Discover
New Stamp Collection Celebrates Six Novels by Jane Austen
Postage Stamps from Bhutan That Double as Playable Vinyl Records
Based in Seoul, Colin Marshall writes and broadcasts on cities, language, and culture. His projects include the book The Stateless City: a Walk through 21st-Century Los Angeles and the video series The City in Cinema. Follow him on Twitter at @colinmarshall or on Facebook.