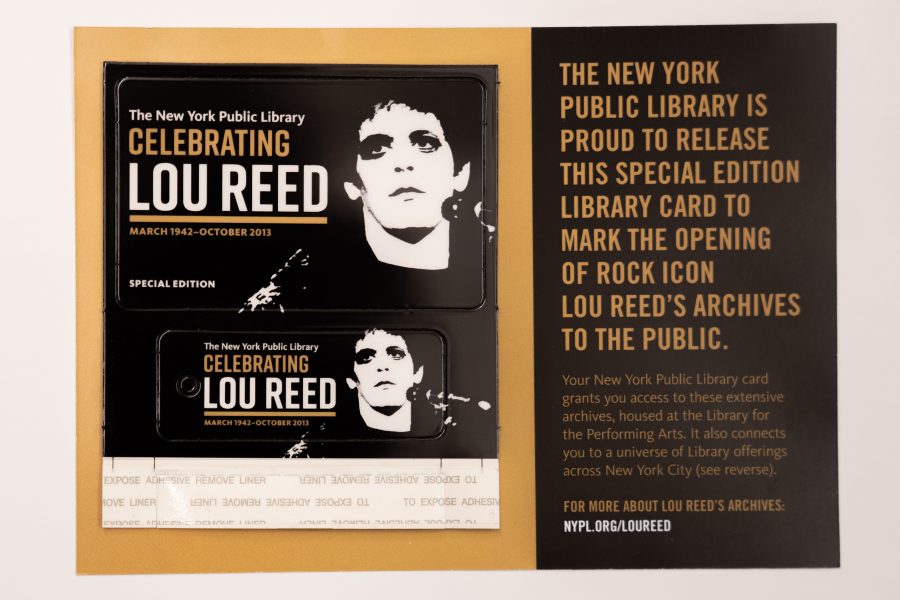 This past October marked the fifth anniversary of Lou Reed's death. This month marks what would have been his 77th birthday. It seems like as good a time as any to revisit his legacy. As of this past Friday, anyone can do exactly that in person at the New York Public Library. And they can do so with their own special edition NYPL Lou Reed library card. The NYPL has just opened to the public the Lou Reed Archive, "approximately 300 linear feet," the library writes in a press release, "of paper records, electronic records, and photographs, and approximately 3,600 audio and 1,300 video recordings."
These artifacts span the musician, writer, photographer, and "tai-chi student"'s life from his 1958 high school band The Shades to "his job as a staff songwriter for the budget music label, Pickwick Records, and his rise to prominence through the Velvet Underground and subsequent solo career, to his final performance in 2013."
It is more than fitting that they should find a home at the New York institution, in the city where Lou Reed became Lou Reed, "the most literary of rock stars," writes Andrew Epstein for the Poetry Foundation, "one who aspired to make rock music that could stand on the same plane as works of literature." See a list of the Lou Reed Archive collections below:
Original manuscript, lyrics, poetry and handwritten tai-chi notes
Photographs of Reed, including artist prints and inscriptions by the photographers
Tour itineraries, agreements, road manager notes and paperwork
600+ hours of live recordings, demos, studio recordings and interviews
Reed's own extensive photography work
Album, book, and tour artwork; mock-ups, proofs and match-prints
Lou Reed album and concert posters, handbills, programs, and promotional items
Lou Reed press for albums, tours, performances, books, and photography exhibits
Fan mail
Personal collections of books, LPs and 45s
Reed left his first "lasting legacy" at Syracuse University, as Syracuse itself affirmed after his death in 2013, as "a criminal, a dissident and a poet." There, he studied under his literary hero, Delmore Schwartz, was reportedly expelled from ROTC for holding an unloaded gun to his superior's head, and was supposedly turned away from his graduation by police. Once in New York, however, Reed not only piloted the Velvet Underground into everlasting cult infamy, jumpstarting waves of punk, post-punk, new wave, and a few dozen other subgenres. He also carried forth the legacy of the New York poetry, Epstein argues.
He had "serious connections to the poetry world"—not only to Schwartz, but also to the Beats and the New York School—to poets who "played a surprisingly large role in the emergence of the Velvet Underground." Like all great art, Reed's best work was more than the sum of its "multiple and complex influences." But it should be appreciated alongside mid-century New York poets as much as jazz experimentalists like Ornette Coleman and Cecil Taylor who inspired his freeform approach. "Reed's body of work," writes Epstein, "represents a crucial but overlooked instance of poetry's rich back-and-forth dialogue with popular culture."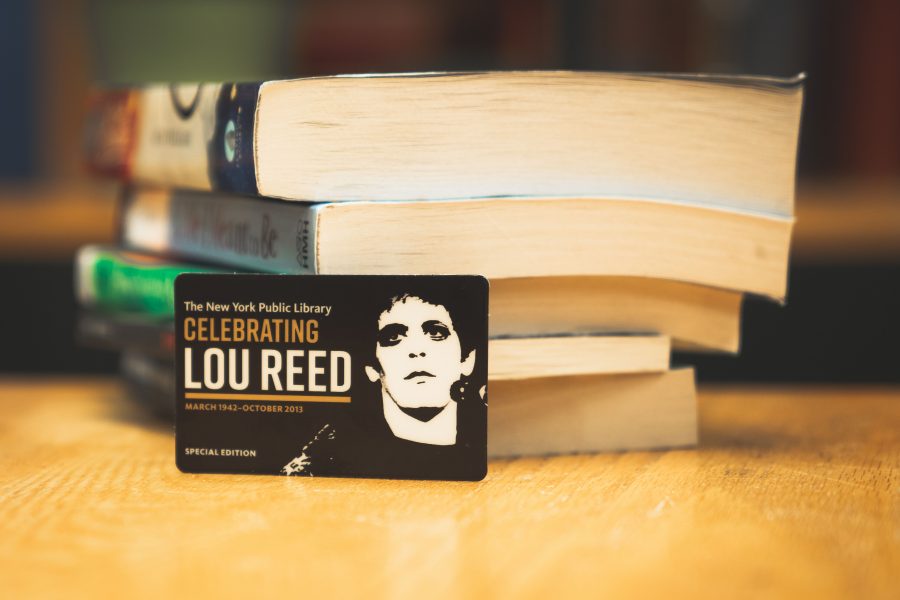 Similar things might be said about Reed's engagements with film, theater, the visual arts, and the New York avant-garde generally, which he also transmuted and translated into his scuzzy brand of rock and roll. The NYPL archive documents his relationships with not only his bandmates and manager/patron Andy Warhol, but also Robert Quine, John Zorn, Robert Wilson, Julian Schnabel, and Laurie Anderson. And yet, despite the many rivers he waded into in his long career, immersing in some more deeply than others, it was the New York literary world whom he most wanted to embrace his work.
Accepting an award in 2007 from Syracuse, Reed said, "I hope, Delmore, if you're listening you are finally proud as well. My name is finally linked to yours in the part of heaven reserved for Brooklyn poets." Head over to The Library for the Performing Arts in Lincoln Center to get your own Lou Reed library card. If you're lucky enough to spend some time with this extensive collection, maybe consider how all Reed's work was, in some way or another, informed by a lifelong devotion to New York poetry.
Related Content:
Hear Lou Reed's The Raven, a Tribute to Edgar Allan Poe Featuring David Bowie, Ornette Coleman, Willem Dafoe & More
Meet the Characters Immortalized in Lou Reed's "Walk on the Wild Side": The Stars and Gay Rights Icons from Andy Warhol's Factory Scene
Lou Reed Sings "Sweet Jane" Live, Julian Schnabel Films It (2006)
Josh Jones is a writer and musician based in Durham, NC. Follow him at @jdmagness