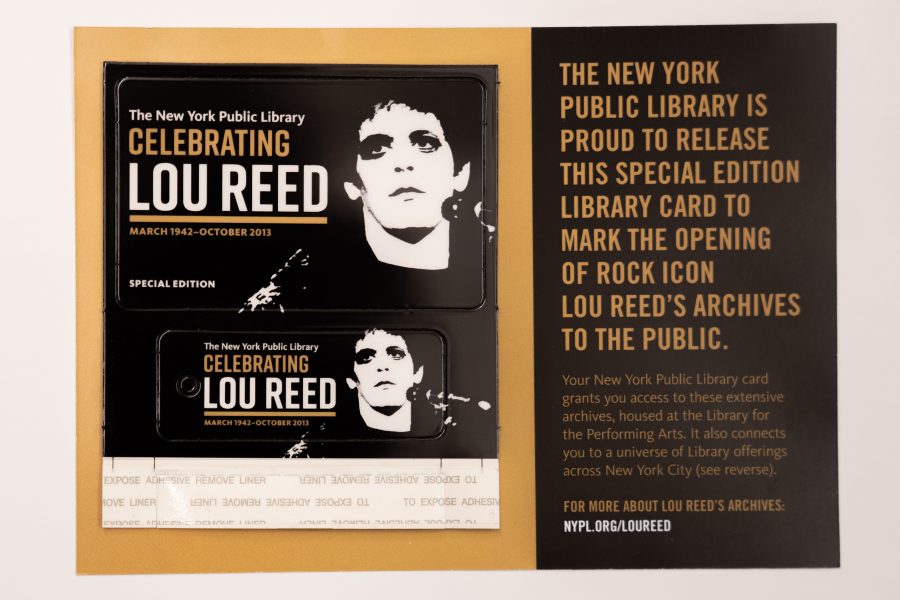 This past Octo­ber marked the fifth anniver­sary of Lou Reed's death. This month marks what would have been his 77th birth­day. It seems like as good a time as any to revis­it his lega­cy. As of this past Fri­day, any­one can do exact­ly that in per­son at the New York Pub­lic Library. And they can do so with their own spe­cial edi­tion NYPL Lou Reed library card. The NYPL has just opened to the pub­lic the Lou Reed Archive, "approx­i­mate­ly 300 lin­ear feet," the library writes in a press release, "of paper records, elec­tron­ic records, and pho­tographs, and approx­i­mate­ly 3,600 audio and 1,300 video record­ings."
These arti­facts span the musi­cian, writer, pho­tog­ra­ph­er, and "tai-chi student"'s life from his 1958 high school band The Shades to "his job as a staff song­writer for the bud­get music label, Pick­wick Records, and his rise to promi­nence through the Vel­vet Under­ground and sub­se­quent solo career, to his final per­for­mance in 2013."
It is more than fit­ting that they should find a home at the New York insti­tu­tion, in the city where Lou Reed became Lou Reed, "the most lit­er­ary of rock stars," writes Andrew Epstein for the Poet­ry Foun­da­tion, "one who aspired to make rock music that could stand on the same plane as works of lit­er­a­ture." See a list of the Lou Reed Archive col­lec­tions below:
Orig­i­nal man­u­script, lyrics, poet­ry and hand­writ­ten tai-chi notes
Pho­tographs of Reed, includ­ing artist prints and inscrip­tions by the pho­tog­ra­phers
Tour itin­er­aries, agree­ments, road man­ag­er notes and paper­work
600+ hours of live record­ings, demos, stu­dio record­ings and inter­views
Reed's own exten­sive pho­tog­ra­phy work
Album, book, and tour art­work; mock-ups, proofs and match-prints
Lou Reed album and con­cert posters, hand­bills, pro­grams, and pro­mo­tion­al items
Lou Reed press for albums, tours, per­for­mances, books, and pho­tog­ra­phy exhibits
Fan mail
Per­son­al col­lec­tions of books, LPs and 45s
Reed left his first "last­ing lega­cy" at Syra­cuse Uni­ver­si­ty, as Syra­cuse itself affirmed after his death in 2013, as "a crim­i­nal, a dis­si­dent and a poet." There, he stud­ied under his lit­er­ary hero, Del­more Schwartz, was report­ed­ly expelled from ROTC for hold­ing an unloaded gun to his superior's head, and was sup­pos­ed­ly turned away from his grad­u­a­tion by police. Once in New York, how­ev­er, Reed not only pilot­ed the Vel­vet Under­ground into ever­last­ing cult infamy, jump­start­ing waves of punk, post-punk, new wave, and a few dozen oth­er sub­gen­res. He also car­ried forth the lega­cy of the New York poet­ry, Epstein argues.
He had "seri­ous con­nec­tions to the poet­ry world"—not only to Schwartz, but also to the Beats and the New York School—to poets who "played a sur­pris­ing­ly large role in the emer­gence of the Vel­vet Under­ground." Like all great art, Reed's best work was more than the sum of its "mul­ti­ple and com­plex influ­ences." But it should be appre­ci­at­ed along­side mid-cen­tu­ry New York poets as much as jazz exper­i­men­tal­ists like Ornette Cole­man and Cecil Tay­lor who inspired his freeform approach. "Reed's body of work," writes Epstein, "rep­re­sents a cru­cial but over­looked instance of poetry's rich back-and-forth dia­logue with pop­u­lar cul­ture."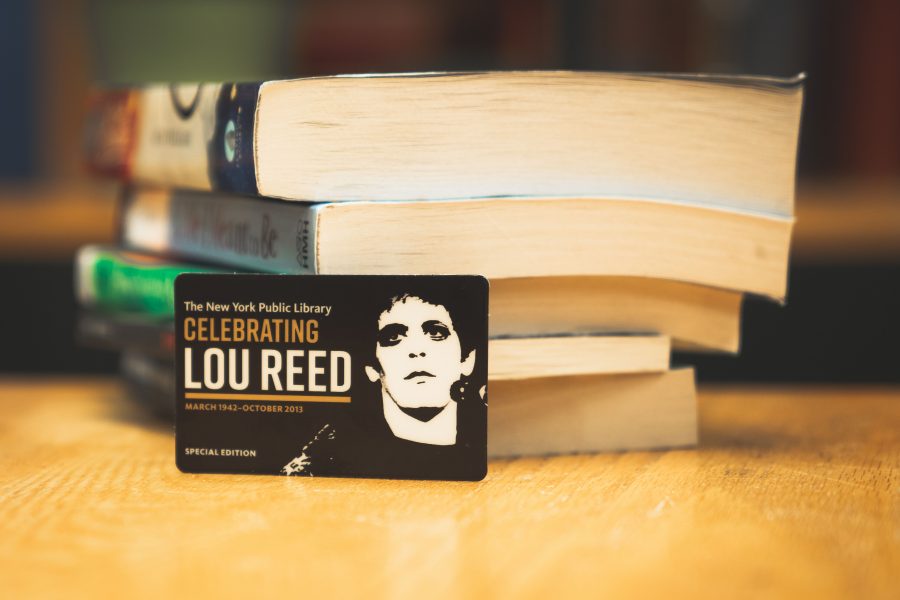 Sim­i­lar things might be said about Reed's engage­ments with film, the­ater, the visu­al arts, and the New York avant-garde gen­er­al­ly, which he also trans­mut­ed and trans­lat­ed into his scuzzy brand of rock and roll. The NYPL archive doc­u­ments his rela­tion­ships with not only his band­mates and manager/patron Andy Warhol, but also Robert Quine, John Zorn, Robert Wil­son, Julian Schn­abel, and Lau­rie Ander­son. And yet, despite the many rivers he wad­ed into in his long career, immers­ing in some more deeply than oth­ers, it was the New York lit­er­ary world whom he most want­ed to embrace his work.
Accept­ing an award in 2007 from Syra­cuse, Reed said, "I hope, Del­more, if you're lis­ten­ing you are final­ly proud as well. My name is final­ly linked to yours in the part of heav­en reserved for Brook­lyn poets." Head over to The Library for the Per­form­ing Arts in Lin­coln Cen­ter to get your own Lou Reed library card. If you're lucky enough to spend some time with this exten­sive col­lec­tion, maybe con­sid­er how all Reed's work was, in some way or anoth­er, informed by a life­long devo­tion to New York poet­ry.
Relat­ed Con­tent:
Hear Lou Reed's The Raven, a Trib­ute to Edgar Allan Poe Fea­tur­ing David Bowie, Ornette Cole­man, Willem Dafoe & More
Meet the Char­ac­ters Immor­tal­ized in Lou Reed's "Walk on the Wild Side": The Stars and Gay Rights Icons from Andy Warhol's Fac­to­ry Scene
Lou Reed Sings "Sweet Jane" Live, Julian Schn­abel Films It (2006)
Josh Jones is a writer and musi­cian based in Durham, NC. Fol­low him at @jdmagness