What does it accomplish to talk about climate change? Even those who talk about climate change professionally might find it hard to say. If you really want to make a point about rising sea levels — not to mention all the other changes predicted to afflict a warming Earth — you might do better to show, not tell. That reasoning seems to have motivated art projects like the giant hands reaching out from the waters of Venice previously featured here on Open Culture, and it looks even clearer in the more recent case of Lines (57° 59 ́N, 7° 16 ́W), an installation now on display on a Scottish island.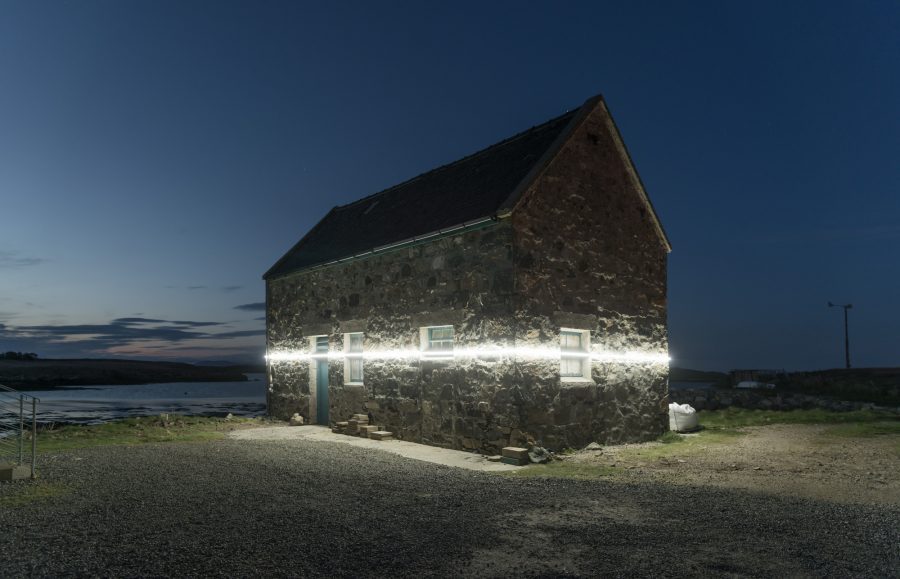 All images courtesy of Timo Aho and Pekka Niittyvirta
"At high tide, three synchronized lines of light activate in the Outer Hebrides off the west coast of Scotland," writes Designboom's Zach Andrews, and in the dark, "wrap around two structures and along the base of a mountain landscape.
Everything below these lines of light will one day be underwater." Created by Finnish artists Pekka Niittyvirta and Timo Aho for Taigh Chearsabhagh Museum & Arts Centre, Lines (57° 59 ́N, 7° 16 ́W) offers a stark reminder of the future humanity faces if climate change goes on as projected.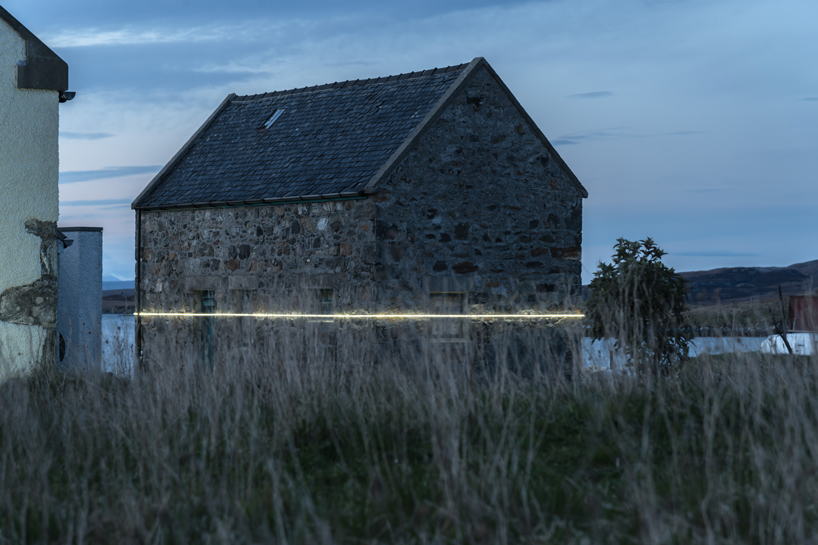 But why put up an installation of such apparent urgency in such a thinly populated, out-of-the-way place? "Low lying archipelagos like this one are especially vulnerable to the catastrophic effects of climate change," Andrews writes, adding that the Taigh Chearsabhagh Museum & Arts Centre itself "cannot even afford to develop on its existing site anymore due to the predicted rise of storm surge sea." But though the effects of rising sea levels may be felt first on islands like these, few predictions have those effects stopping there; worst-case scenarios won't spare our major metropolises, and certainly not the coastal ones.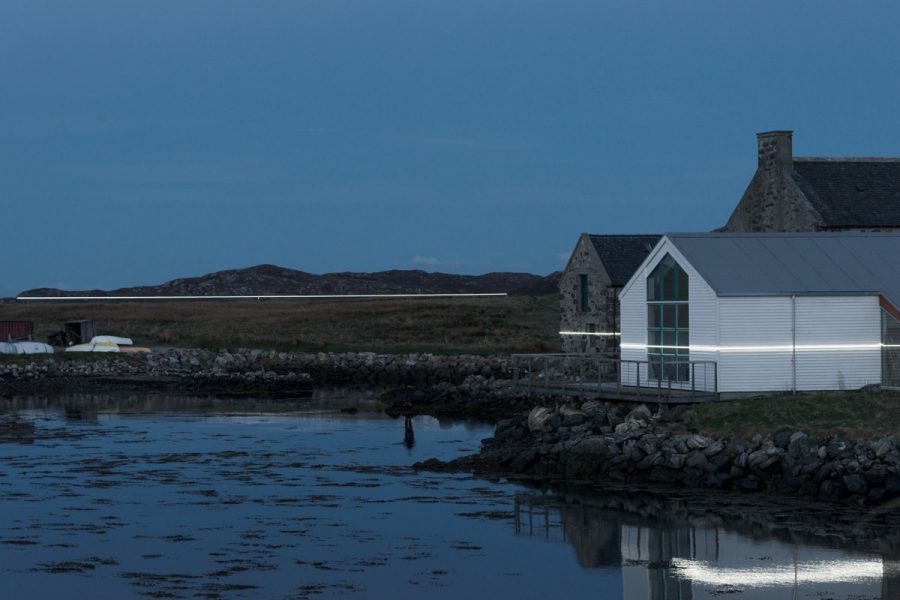 You can get a sense of what Lines (57° 59 ́N, 7° 16 ́W) looks like in action from the photographs on Niittyvirta's site a well as the time-lapse video at the top, which shows the lines of light activating when their sensors detect high tide, then only those lines of light remaining by the time the sun has gone completely down. To experience the full impact of the installation, however, requires seeing it in person in the context for which it was created. So if you've been putting off that trip to the Outer Hebrides, now might be the time to finally take it — not just because of Niittyvirta and Aho's work, but because in a few years, it may not be quite the same place.
Related Content:
Animations Show the Melting Arctic Sea Ice, and What the Earth Would Look Like When All of the Ice Melts
Huge Hands Rise Out of Venice's Waters to Support the City Threatened by Climate Change: A Poignant New Sculpture
Music for a String Quartet Made from Global Warming Data: Hear "Planetary Bands, Warming World"
A Song of Our Warming Planet: Cellist Turns 130 Years of Climate Change Data into Music
A Map Shows What Happens When Our World Gets Four Degrees Warmer: The Colorado River Dries Up, Antarctica Urbanizes, Polynesia Vanishes
A Century of Global Warming Visualized in a 35 Second Video
Based in Seoul, Colin Marshall writes and broadcasts on cities, language, and culture. His projects include the book The Stateless City: a Walk through 21st-Century Los Angeles and the video series The City in Cinema. Follow him on Twitter at @colinmarshall or on Facebook.