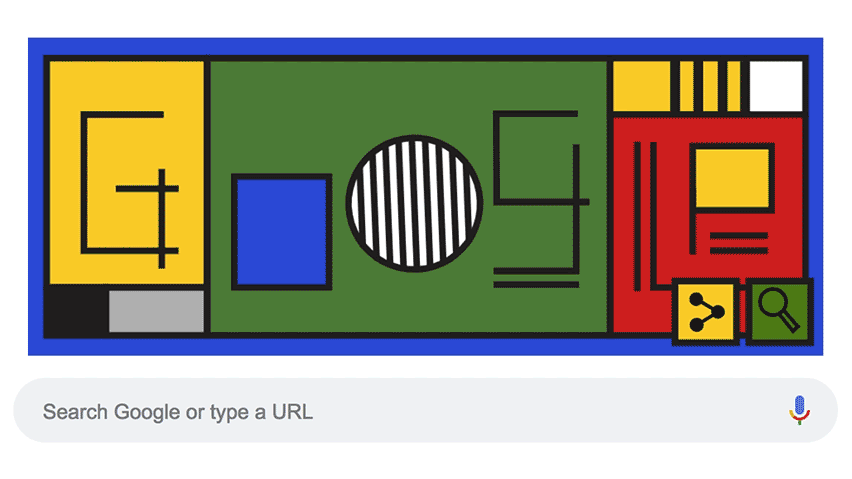 Google has commemorated the 100th anniversary of the birth of the Bauhaus school with a nice animated doodle. They write:
Both a school for the arts and a school of thought, the Bauhaus was founded by architect Walter Gropius exactly 100 years ago in Weimar, Germany, gathering many of Europe's most brilliant artists and designers with the aim of training a new generation of creatives to reinvent the world. Today's animated Doodle celebrates the legacy of this institution and the worldwide movement it began, which transformed the arts by applying the principle "form follows function."

Gropius envisioned the Bauhaus—whose name means "house of building"—as a merger of craftsmanship, the "fine" arts, and modern technology. His iconic Bauhaus Building in Dessau was a forerunner of the influential "International Style," but the impact of the Bauhaus's ideas and practices reached far beyond architecture. Students of the Bauhaus received interdisciplinary instruction in carpentry, metal, pottery, stained glass, wall painting, weaving, graphics, and typography, learning to infuse even the simplest functional objects (like the ones seen in today's Doodle) with the highest artistic aspirations.

Steering away from luxury and toward industrial mass production, the Bauhaus attracted a stellar faculty including painters Wassily Kandinsky and Paul Klee, photographer and sculptor László Moholy-Nagy, graphic designer Herbert Bayer, industrial designer Marianne Brandt, and Marcel Breuer, whose Model B3 tubular chair changed furniture design forever.

Though the Bauhaus officially disbanded on August 10, 1933, its students returned to 29 countries, founding the New Bauhaus in Chicago, Black Mountain College in North Carolina, and White City in Tel Aviv. Bauhaus affiliates also took leadership positions at the Illinois Institute of Technology, the Harvard School of Architecture, and the Museum of Modern Art. Through all of these institutions, and the work created in their spirit, the ideas of the Bauhaus live on.
Find more anniversary celebrations in the Relateds below.
If you would like to sign up for Open Culture's free email newsletter, please find it here.
If you would like to support the mission of Open Culture, consider making a donation to our site. It's hard to rely 100% on ads, and your contributions will help us continue providing the best free cultural and educational materials to learners everywhere. You can contribute through PayPal, Patreon, and Venmo (@openculture). Thanks!
Related Content:
Modern Corporate Logos Reimagined in a Classic Bauhaus Style: Celebrate the 100th Anniversary of the Bauhaus Movement Today
Watch Bauhaus World, a Free Documentary That Celebrates the 100th Anniversary of Germany's Legendary Art, Architecture & Design School
Download Original Bauhaus Books & Journals for Free: A Digital Celebration of the Founding of the Bauhaus School 100 Years Ago
How the Radical Buildings of the Bauhaus Revolutionized Architecture: A Short Introduction
An Oral History of the Bauhaus: Hear Rare Interviews (in English) with Walter Gropius, Ludwig Mies van der Rohe & More
32,000+ Bauhaus Art Objects Made Available Online by Harvard Museum Website
The Female Pioneers of the Bauhaus Art Movement: Discover Gertrud Arndt, Marianne Brandt, Anni Albers & Other Forgotten Innovators