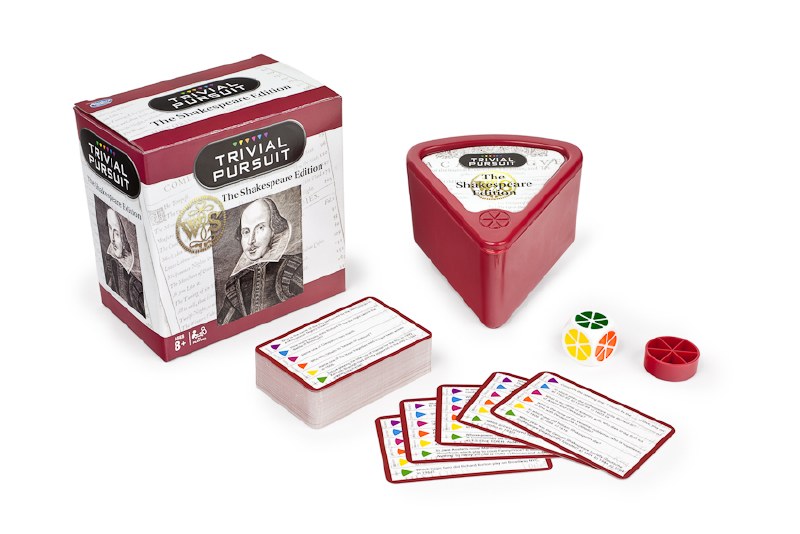 "The stan­dard thing to say is that each age makes a Shake­speare in its own image," wrote The New York­er's Adam Gop­nik on the the Bard's 440th birth­day. But over the cen­turies, the bio­graph­i­cal and crit­i­cal por­tray­al of the play­wright of Ham­let, Romeo and Juli­et, Oth­el­lo, and King Lear has remained remark­ably con­sis­tent: "He was a genius at com­e­dy, a free-flow­ing nat­ur­al who would do any­thing for a joke or a pun, and whom life and abil­i­ty bent toward tragedy." He evolved "a match­less all-sid­ed­ness and neg­a­tive capa­bil­i­ty, which could probe two ideas at once and nev­er quite come down on the 'side' of either: he was a man in whom a tem­pera­men­tal timid­i­ty and cau­tion blos­somed artis­ti­cal­ly into the near­est thing we have to uni­ver­sal­i­ty."
But today, on Shake­speare's 455th birth­day, we might still won­der how uni­ver­sal his work real­ly is. As luck would have it, the Shake­speare Birth­day Trust has just come up with a kind of test of that propo­si­tion: an all-Shake­speare edi­tion of the pop­u­lar board game Triv­ial Pur­suit.
"Devised by the Shake­speare Birth­place Trust, the inde­pen­dent and self-sus­tain­ing char­i­ty that cares for the world's great­est Shake­speare her­itage sites in his home town of Strat­ford-upon-Avon, in part­ner­ship with games com­pa­ny, Win­ning Moves," Triv­ial Pur­suit: The Shake­speare Edi­tion (which you can buy on the Shake­speare Birth­day Trust's online shop) offers "600 ques­tions across six cat­e­gories — Come­dies, His­to­ries, Tragedies, Char­ac­ters, Biog­ra­phy and Lega­cy," all "care­ful­ly craft­ed by Shake­speare schol­ars Dr Nick Wal­ton and Dr Anj­na Chouhan."
One might assume that Shake­speare buffs and schol­ars will dom­i­nate this game. No doubt they will, but per­haps not as often as expect­ed, since its ques­tions give any­one with gen­er­al cul­tur­al aware­ness a fight­ing chance: "As well as ques­tions about Shakespeare's life and works, there are oth­ers that link him to pop­u­lar cul­ture such as the Har­ry Pot­ter film series, TV shows Dr. Who and Upstart Crow, as well as actors Sir Patrick Stew­art, Sir Lau­rence Olivi­er, and Keanu Reeves, and the Bard's less­er known influ­ence on the likes of Elvis Pres­ley and even the clas­sic car­toon Pop­eye." As Wal­ton puts it, "there are all sorts of paths to Shake­speare," not least because of his work's still-unchal­lenged place as the most drawn-upon texts, delib­er­ate­ly or inad­ver­tent­ly, in the whole of the Eng­lish lan­guage. As for Shake­speare him­self, he remains "the reign­ing poet of the lan­guage," in Gop­nik's words, as well as "the ordi­nary poet of our com­pa­ny" — and now we have a game to play to keep him in our com­pa­ny.
Pick up your copy of the game here.
via Men­tal Floss
Relat­ed Con­tent:
Hear 55 Hours of Shakespeare's Plays: The Tragedies, Come­dies & His­to­ries Per­formed by Vanes­sa Red­grave, Sir John Giel­gud, Ralph Fiennes & Many More
30 Days of Shake­speare: One Read­ing of the Bard Per Day, by The New York Pub­lic Library, on the 400th Anniver­sary of His Death
Free Online Shake­speare Cours­es: Primers on the Bard from Oxford, Har­vard, Berke­ley & More
Read All of Shakespeare's Plays Free Online, Cour­tesy of the Fol­ger Shake­speare Library
What Shake­speare Sound­ed Like to Shake­speare: Recon­struct­ing the Bard's Orig­i­nal Pro­nun­ci­a­tion
Take a Vir­tu­al Tour of Shakespeare's Globe The­atre
Based in Seoul, Col­in Mar­shall writes and broad­casts on cities, lan­guage, and cul­ture. His projects include the book The State­less City: a Walk through 21st-Cen­tu­ry Los Ange­les and the video series The City in Cin­e­ma. Fol­low him on Twit­ter at @colinmarshall or on Face­book.