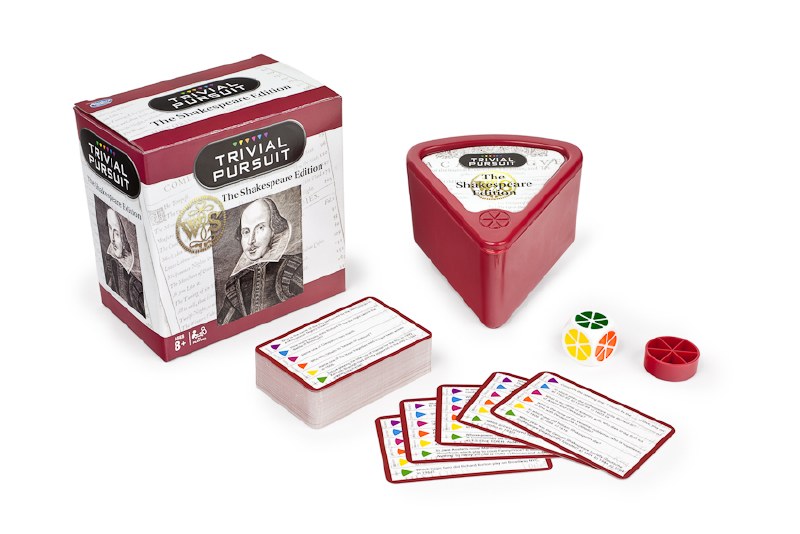 "The standard thing to say is that each age makes a Shakespeare in its own image," wrote The New Yorker's Adam Gopnik on the the Bard's 440th birthday. But over the centuries, the biographical and critical portrayal of the playwright of Hamlet, Romeo and Juliet, Othello, and King Lear has remained remarkably consistent: "He was a genius at comedy, a free-flowing natural who would do anything for a joke or a pun, and whom life and ability bent toward tragedy." He evolved "a matchless all-sidedness and negative capability, which could probe two ideas at once and never quite come down on the 'side' of either: he was a man in whom a temperamental timidity and caution blossomed artistically into the nearest thing we have to universality."
But today, on Shakespeare's 455th birthday, we might still wonder how universal his work really is. As luck would have it, the Shakespeare Birthday Trust has just come up with a kind of test of that proposition: an all-Shakespeare edition of the popular board game Trivial Pursuit.
"Devised by the Shakespeare Birthplace Trust, the independent and self-sustaining charity that cares for the world's greatest Shakespeare heritage sites in his home town of Stratford-upon-Avon, in partnership with games company, Winning Moves," Trivial Pursuit: The Shakespeare Edition (which you can buy on the Shakespeare Birthday Trust's online shop) offers "600 questions across six categories — Comedies, Histories, Tragedies, Characters, Biography and Legacy," all "carefully crafted by Shakespeare scholars Dr Nick Walton and Dr Anjna Chouhan."
One might assume that Shakespeare buffs and scholars will dominate this game. No doubt they will, but perhaps not as often as expected, since its questions give anyone with general cultural awareness a fighting chance: "As well as questions about Shakespeare's life and works, there are others that link him to popular culture such as the Harry Potter film series, TV shows Dr. Who and Upstart Crow, as well as actors Sir Patrick Stewart, Sir Laurence Olivier, and Keanu Reeves, and the Bard's lesser known influence on the likes of Elvis Presley and even the classic cartoon Popeye." As Walton puts it, "there are all sorts of paths to Shakespeare," not least because of his work's still-unchallenged place as the most drawn-upon texts, deliberately or inadvertently, in the whole of the English language. As for Shakespeare himself, he remains "the reigning poet of the language," in Gopnik's words, as well as "the ordinary poet of our company" — and now we have a game to play to keep him in our company.
Pick up your copy of the game here.
via Mental Floss
Related Content:
Hear 55 Hours of Shakespeare's Plays: The Tragedies, Comedies & Histories Performed by Vanessa Redgrave, Sir John Gielgud, Ralph Fiennes & Many More
30 Days of Shakespeare: One Reading of the Bard Per Day, by The New York Public Library, on the 400th Anniversary of His Death
Free Online Shakespeare Courses: Primers on the Bard from Oxford, Harvard, Berkeley & More
Read All of Shakespeare's Plays Free Online, Courtesy of the Folger Shakespeare Library
What Shakespeare Sounded Like to Shakespeare: Reconstructing the Bard's Original Pronunciation
Take a Virtual Tour of Shakespeare's Globe Theatre
Based in Seoul, Colin Marshall writes and broadcasts on cities, language, and culture. His projects include the book The Stateless City: a Walk through 21st-Century Los Angeles and the video series The City in Cinema. Follow him on Twitter at @colinmarshall or on Facebook.