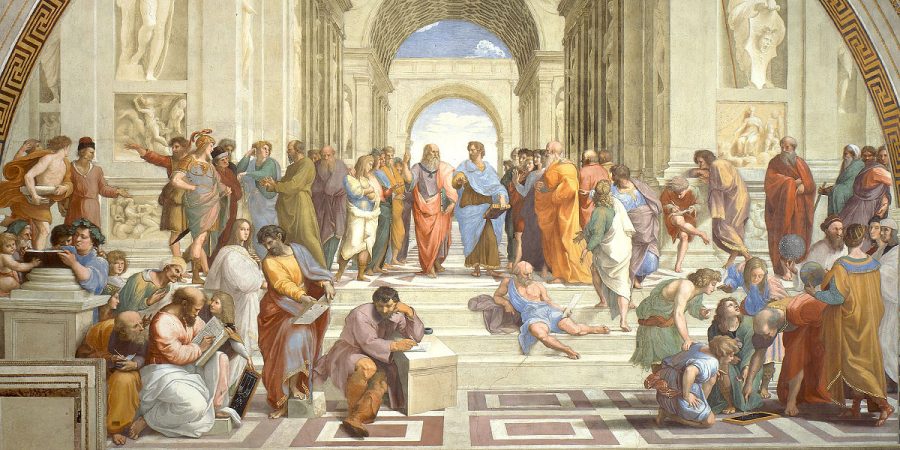 Used to be, a few thousand years ago, if you wanted to learn philosophy, you'd hang out in the agora, the public space in ancient Greece whose name turned into verbs meaning both "to shop" and "to speak in public." Politics and metaphysics mingled freely with commerce. If a Socrates-like sage took a liking to you, you might follow him around. If not, you might pay a sophist—a word meaning wise teacher before it became a term of abuse that Plato lobbed at rivals who charged for their services. Only certain people had the means and leisure for these pursuits. Nonetheless, philosophy was a public activity, not one sequestered in libraries and seminar rooms.
Even though philosophy moved indoors—to monasteries, colleges, and the libraries of aristocrats—it did not stay cooped up for long. With the modern age arrived new public squares, centered around coffeehouses where all sorts of people gathered, rubbed elbows, formed discussion groups. Philosophy may not have been the public spectacle it seemed to have been in antiquity, but neoclassical thinkers tried to recreate its character of free and open inquiry in public spaces.
Widespread literacy and publishing brought philosophy to the masses in new ways. Philosophical works trickled down in affordable editions to the intellectually curious, who might read and discuss them with like-minded laypeople. But philosophy also became a professional discipline, governed by associations, conferences, journals, and arcane vocabularies. Outside of France, philosophers rarely acted as public intellectuals addressing public issues. They were academics whose primary audiences were other academics.
The culture suffered immensely, one might argue, in the withdrawal of philosophy from public life.
The broad outline above does not pretend to be a history of philosophy, but rather a sketch of some of the ways Western culture has engaged with philosophy, treating it as a public good and resource, or a domain of specialists and an activity divorced from ordinary life. Unfortunately for us in the 21st century, dreams of a digital agora have collapsed in the dystopian surveillance schemes of social media and the toxic sludge of comments sections. But the internet has also, in a way, returned philosophy to the public square.
Philosophers can once again share knowledge freely and openly, and anyone with access can stream and download hundreds of lessons, courses, entertaining explainers, interviews, podcasts, and more. We have featured many of these resources over the years in hopes that more people will discover the art of thinking deeply and critically. Today, we gather them in a master list, below.
Learn the in-depth history of philosophy from Peter Adamson's acclaimed series The History of Philosophy… Without Any Gaps; listen in on roundtable discussions on famous thinkers and theories with the Partially Examined Life podcast, or "repave the Agora with the rubble of the Ivory Tower!" with the accessible, comprehensive philosophy videos of Carneades. These are but a few of the many quality resources you'll find below. Technology may never recreate the early atmosphere of public philosophy—for that you'll need to get out and mingle. But it can deliver more philosophy than anyone has ever had before, literally right into the palms of our hands.
Courses
187 Free Philosophy Courses: In a neat, handy list, we've amassed a collection of free philosophy courses recorded at great universities. Pretty much every facet of philosophy gets covered here.

YouTube
Wireless Philosophy: Learn about philosophy with professors from Yale, Stanford, Oxford, MIT, and more. 130+ animated videos introduce people to the practice of philosophy. The videos are free, entertaining, interesting and accessible to people with no background in the subject.
School of Life: This collection of 35 animated videos offers an introduction to major Western philosophers—Wittgenstein, Foucault, Camus and more. The videos were made by Alain de Botton's School of Life.
Gregory Sadler's Philosophy Videos: After a decade in traditional academic positions, Gregory Sadler started bringing philosophy into practice, making complex classic philosophical ideas accessible for a wide audience of professionals, students, and life-long learners. His YouTube channel includes extensive lecture series on Kierkegaard, Sartre, Hegel and more.
A History of Philosophy in 81 Video Lectures: Watch 81 video lectures tracing the history of philosophy moving from Ancient Greece to modern times. Arthur Holmes presented this influential course at Wheaton College for decades and now it's online for you.
Carneades: Repave the Agora with the rubble of the Ivory Tower!  Put your beliefs to the test!  Learn something about philosophy!  Doubt something you thought you knew before.  Find on this channel 400 videos on the subjects of philosophy and skepticism.
What the Theory?: This collection provides short introductions to theories and theoretical approaches in cultural studies and the wider humanities. Covers semiotics, phenomenology, postmodernism, marxist literary criticism, and much more.
Crash Course Philosophy:  In 46 episodes, Hank Green will teach you philosophy. This course is based on an introductory Western philosophy college level curriculum. By the end of the course, you will be able to examine topics like the self, ethics, religion, language, art, death, politics, and knowledge. And also craft arguments, apply deductive and inductive reasoning, and identify fallacies.
Podcasts:
Partially Examined Life: Philosophy, philosophers and philosophical texts. This podcast features an informal roundtable discussion, with each episode loosely focused on a short reading that introduces at least one "big" philosophical question, concern, or idea. Recent episodes have focused on Nietzsche, Sartre and Aldous Huxley, and featured Francis Fukuyama as a guest.
Hi-Phi-Nation: Created by Barry Lam (Associate Professor of Philosophy at Vassar College), Hi-Phi Nation is a philosophy podcast "that turns stories into ideas." Consider it "the first sound and story-driven show about philosophy, bringing together narrative storytelling, investigative journalism, and soundtracking."
The History of Philosophy … Without Any Gaps: Created by Peter Adamson, Professor of Ancient and Medieval Philosophy at King's College London, this podcast features more than 300 episodes, each about 20 minutes long, covering the PreSocratics (Pythagoras, Zeno, Parmenides, etc) and then Socrates, Plato, Aristotle, and much more.
Philosophy Bites: David Edmonds (Uehiro Centre, Oxford University) and Nigel Warburton (freelance philosopher/writer) interview top philosophers on a wide range of topics. Two books based on the series have been published by Oxford University Press. There are over 400 podcasts in this collection.
In Our Time: Philosophy: In Our Time is a live BBC radio discussion series exploring the history of ideas, presented by Melvyn Bragg since October 1998. It is one of BBC Radio 4's most successful discussion programmes, acknowledged to have "transformed the landscape for serious ideas at peak listening time.'"
Related Content:
Free Courses in Ancient History, Literature & Philosophy 
Introduction to Indian Philosophy: A Free Online Course 
Philosophers Name the Best Philosophy Books: From Stoicism and Existentialism, to Metaphysics & Ethics for Artificial Intelligence
Josh Jones is a writer and musician based in Durham, NC. Follow him at @jdmagness