What if every­thing you thought you knew about grunge was a lie? Maybe you've sus­pect­ed all along! But even if you were there, or some­where, in that time of abysmal­ly low inter­net lit­er­a­cy and con­nec­tiv­i­ty, when every tra­di­tion­al media out­let was flan­nel, flop­py hair, mopey half-protests, fes­ti­vals, Seat­tle.… When you could save $6-$13 on "women's grunge" and "$5 on kids' grunge too!" at major depart­ment store chains…
But we may still remem­ber grunge as a movement—with charis­mat­ic lead­ers and trag­ic heroes. A move­ment to reclaim seri­ous, heavy, emo­tion­al hair rock from the pro­found­ly unse­ri­ous hair bands of the 80s. The first wave of Pacif­ic North­west bands to emerge with Nir­vana, Soundgar­den, and Pearl Jam were earnest and well-mean­ing and "pri­mal," says Bruce Pavitt, co-founder of the leg­endary Seat­tle record label Sub Pop.
Sub Pop mid­wifed the scene by sign­ing so many of the bands that made it big, cul­ti­vat­ing the sound and look of dirty, angry back­woods­men with gui­tars. "Grunge Made Blue-Col­lar Cul­ture Cool," wrote Steven Kurutz in The New York Times Style Sec­tion just a few days ago, an implic­it acknowl­edg­ment that the most­ly-white and large­ly male scene sold a par­tic­u­lar image of blue-col­lar that res­onat­ed, says Pavitt, because it rep­re­sent­ed an " 'Amer­i­can arche­type."
Pavitt and co-founder Jonathan Pone­man were diehard fans of the music but they were no star­ry-eyed idealists—they under­stood exact­ly how to sell the region's quirks to a nation­al and inter­na­tion­al media. "It could have hap­pened any­where," Pone­man has said, "but there was a lucky set of coin­ci­dences. [Pho­tog­ra­ph­er] Charles Peter­son was here to doc­u­ment the scene, [pro­duc­er] Jack Endi­no was here to record the scene. Bruce and I were here to exploit the scene."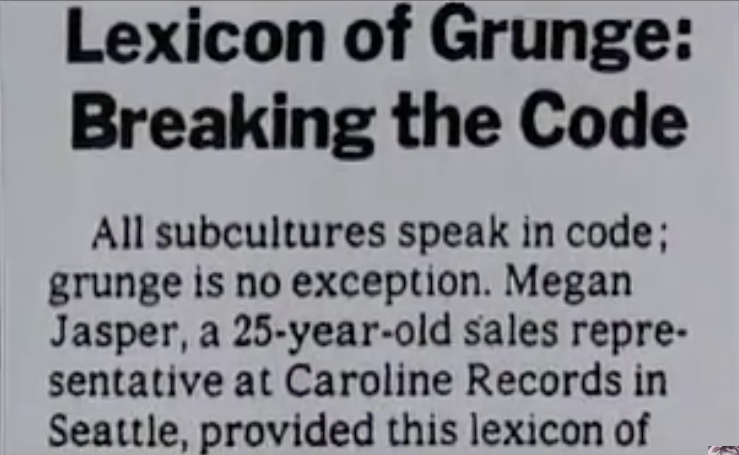 But what was the scene? Was it "Grunge"? What is "Grunge"? How do you pro­nounce "Grunge"? What do "Grunge" peo­ple eat? After being pep­pered with one too many ques­tions when the shock­wave of Nirvana's major label debut Nev­er­mind hit in 1992, Pone­man referred a reporter to a for­mer Sub Pop employ­ee, Megan Jasper, then work­ing as a sales rep for Car­o­line records. The reporter, Rick Marin, was call­ing from The New York Times' Style Sec­tion, ask­ing for help com­pil­ing a grunge lex­i­con. What kinds of things do "Grunge" peo­ple say?
"By then," writes Alan Siegel at The Ringer, "only out­siders earnest­ly used the term 'grunge' as a noun." It was, says Charles Cross, for­mer edi­tor of alter­na­tive paper The Rock­et, "an over­hyped, inflat­ed word that doesn't have actu­al mean­ing in Seat­tle." As for grunge slang, such a thing "didn't exist." The only thing to do, Jasper decid­ed, was "react by try­ing to make fun of it," she says. She had done the very same thing months ear­li­er, when British mag­a­zine Sky made the same request. "I gave them a bunch of fake shit."
As she says in the inter­view clip at the top, she asked Marin to toss out nor­mal words and she would give him "grunge" equiv­a­lents. "I kept esca­lat­ing the crazi­ness of the trans­la­tions because any­one in their right mind would go, 'Oh, come on, this is bull­shit.'… but it nev­er hap­pened because he was con­cen­trat­ing so hard on get­ting the infor­ma­tion right." Thus, the grunge lex­i­con below, pub­lished in The New York Times in 1992. ("All sub­cul­tures speak in code," goes the cap­tion. This one would be appear­ing in malls nation­wide.)
bloat­ed, big bag of bloata­tion – drunk
bound-and-hagged – stay­ing home on Fri­day or Sat­ur­day night
cob nob­bler – los­er
dish – desir­able guy
fuzz – heavy wool sweaters
harsh realm – bum­mer
kick­ers – heavy boots
lames­tain – uncool per­son
plats – plat­form shoes
rock on – a hap­py good­bye
score – great
swingin' on the flip­pi­ty-flop – hang­ing out
tom-tom club – uncool out­siders
wack slacks – old ripped jeans
It's unlike­ly Marin ever trav­eled to Seat­tle and tried to bond with fel­low kids, or he would not have pub­lished Jasper's hoax glos­sary in an arti­cle oth­er­wise crit­i­cal of the main­stream­ing of grunge. Marin com­pared the phe­nom­e­non to "the mass-mar­ket­ing of dis­co, punk and hip-hop. Now with the grung­ing of Amer­i­ca, it's hap­pen­ing again. Pop will eat itself, the axiom goes." It's a thor­ough, well-sourced piece that quotes many of the scene's founders, includ­ing Pone­man, nev­er sus­pect­ing they might be hav­ing a laugh.
The fake news grunge lex­i­con was a huge hit in Seat­tle, where Jasper was cel­e­brat­ed by her friends and fam­i­ly. "I got a very nice pat on the back," she says. Peo­ple clipped the lex­i­con to their shirts at shows. Indie label C/Z records then print­ed t‑shirts. "Lames­tain" appeared on one. "Harsh Realm" on anoth­er. Mud­honey spread around Jasper's slang in a Melody Mak­er inter­view with straight faces. It should have been debunked imme­di­ate­ly "but this was 1992," writes Siegel, "Snopes wasn't around yet. Hell, The New York Times was still four years away from launch­ing a web­site."
Then, writer and reporter Thomas Frank called Jasper and asked, "there's no way this is real, right?" Imme­di­ate­ly, she respond­ed, "Of course it's not real." Frank pub­lished the scoop in 1993; the Times smeared him as a hoax­er to dis­cred­it the rev­e­la­tion. The Baf­fler faxed the Times this note: "When The News­pa­per of Record goes search­ing for the Next Big Thing and the Next Big Thing pid­dles on its leg, we think that's fun­ny." These days, we might expect a Twit­ter war.
No one Siegel inter­views seems to have been par­tic­u­lar­ly upset about the whole thing. Marin's "eye­brow is total­ly raised" through­out his piece, says his for­mer edi­tor Pene­lope Green. (Marin him­self declined to be inter­viewed.) But the sto­ry has far less to do with one cred­u­lous reporter work­ing a dead­line and more to do with his argument—grunge had been rapid­ly pack­aged and sold, and by The Times, no less! But maybe its image was sort of a joke to begin with, one that now gets such straight-faced, rev­er­ent, sealed-behind-glass-cas­es treat­ment that you have to laugh.
Relat­ed Con­tent:
How Nirvana's Icon­ic "Smells Like Teen Spir­it" Came to Be: An Ani­mat­ed Video Nar­rat­ed by T‑Bone Bur­nett Tells the True Sto­ry
The Pow­er of Eddie Vedder's Voice: Hear Iso­lat­ed Vocal Tracks from Three Clas­sic Pearl Jam Songs
A Mas­sive 800-Track Playlist of 90s Indie & Alter­na­tive Music, in Chrono­log­i­cal Order
Josh Jones is a writer and musi­cian based in Durham, NC. Fol­low him at @jdmagness