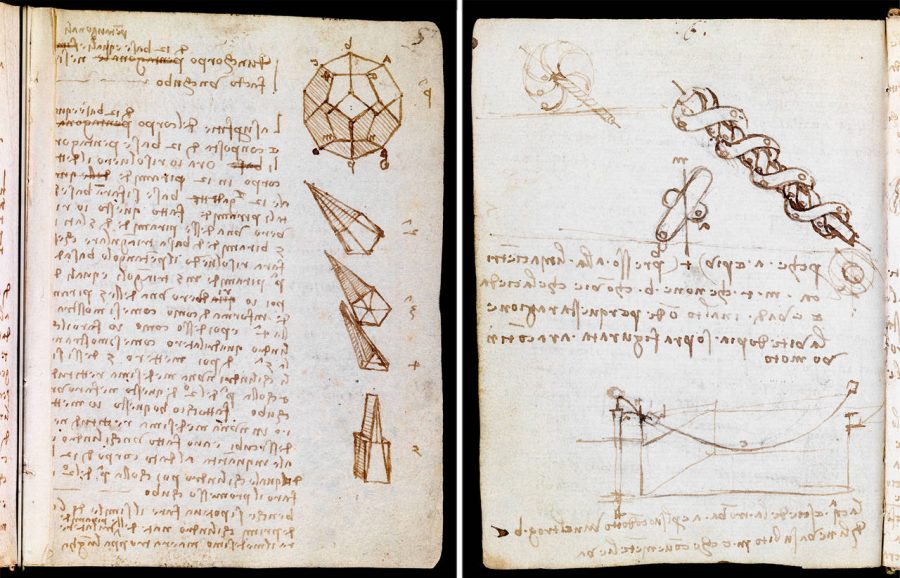 It may seem like a bizarre ques­tion, but indulge me for a moment: could it be pos­si­ble that the most famous artist of the Renais­sance and maybe in all of art his­to­ry, Leonar­do da Vin­ci, is an under­rat­ed fig­ure? Con­sid­er the fact that until rel­a­tive­ly recent­ly, a huge amount of his work—maybe a major­i­ty of his draw­ings, plans, sketch­es, notes, con­cepts, the­o­ries, etc.—has been unavail­able to all but spe­cial­ized schol­ars who could access (and read) his copi­ous note­books, span­ning the most pro­duc­tive peri­od of his career.
"Leonar­do seems to have begun record­ing his thoughts in note­books from the mid-1480s," writes the Vic­to­ria & Albert Muse­um (the V&A), "when he worked as a mil­i­tary and naval engi­neer for the Duke of Milan. None of Leonardo's pre­de­ces­sors, con­tem­po­raries or suc­ces­sors used paper quite like he did—a sin­gle sheet con­tains an unpre­dictable pat­tern of ideas and inven­tions." He worked on loose sheets, which were lat­er bound togeth­er in books, or codices, by the artists who inher­it­ed them. As we have been report­ing, these note­book col­lec­tions have been com­ing avail­able online in open, high-res­o­lu­tion dig­i­tal ver­sions.
Now the V&A has announced that all three of its Leonar­do codices, called the Forster Codices after the col­lec­tor who bequeathed them to the muse­um, are avail­able to view "in amaz­ing detail." Click here to see Codex Forster 1, Codex Forster 2, and Codex Forster 3. Here we see fur­ther evi­dence that Leonar­do was a supreme draughts­man. As Clau­dio Gior­gione, cura­tor at the Leonar­do da Vin­ci Nation­al Sci­ence and Tech­nol­o­gy Muse­um in Milan, points out, "Leonar­do was not the only one to draw machines and to do sci­en­tif­ic draw­ings, many oth­er engi­neers did that," and many artists as well. "But what Leonar­do did bet­ter than oth­ers is to make a rev­o­lu­tion of the tech­ni­cal draw­ing," almost defin­ing the field with his metic­u­lous atten­tion to detail.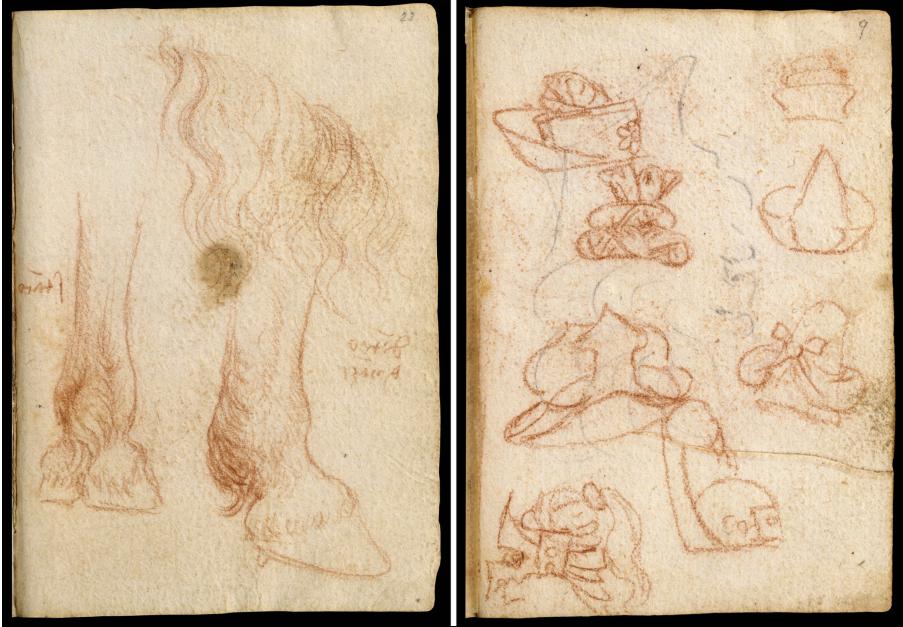 What's more, notes Uni­ver­si­ty of Oxford Pro­fes­sor Mar­tin Kemp, "while oth­er artists might have been prob­ing some aspects of anatomy—muscles, bones, tendons—Leonardo took the study to a new lev­el." Such a lev­el, in fact, that he "can be regard­ed as the father of bio­engi­neer­ing," argues John B. West in the Amer­i­can Jour­nal of Phys­i­ol­o­gy.
Lit­tle atten­tion has been paid to [Leonar­do] as a phys­i­ol­o­gist. But he was an out­stand­ing engi­neer, and he was one of the first peo­ple to apply the prin­ci­ples of engi­neer­ing to under­stand the func­tion of ani­mals includ­ing humans.
Gior­gione warns against see­ing Leonar­do as a prophet­ic vision­ary for his inno­va­tions. He was not a man out of time; "the artist engi­neer is a known fig­ure in Renais­sance Italy." But he per­fect­ed the tools and meth­ods of this dual pro­fes­sion with such rest­less inge­nu­ity and skill that we still find it aston­ish­ing over 500 years lat­er. His lengthy expla­na­tions of these excep­tion­al tech­ni­cal draw­ings are writ­ten, nat­u­ral­ly, in his famous mir­ror writ­ing.
Of Leonardo's odd writ­ing sys­tem, we may learn some­thing new as well, though we may find this part, at least, a lit­tle dis­ap­point­ing. As the V&A points out, his idio­syn­crat­ic method might not have been so unique after all, or have been a sophis­ti­cat­ed device for Leonar­do to hide his ideas from com­peti­tors and future curi­ous read­ers. It might have come about "because he was left-hand­ed and may have found it eas­i­er to write from right to left…. Writ­ing mas­ters at the time would have made demon­stra­tions of mir­ror writ­ing, and his let­ter-shapes are in fact quite ordi­nary."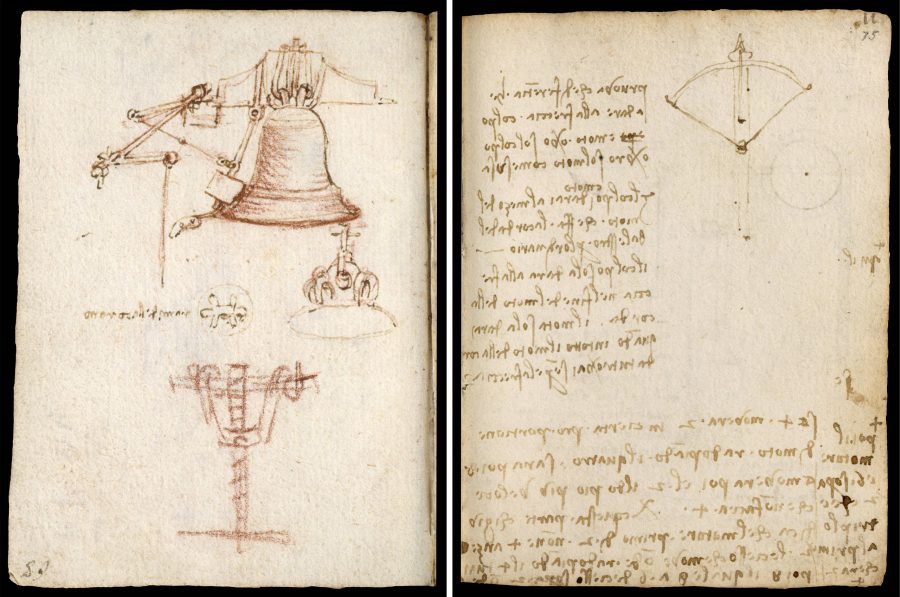 Noth­ing else about the man seems to war­rant that descrip­tion. See all three Forster Codices the Vic­to­ria & Albert Muse­um site here: Codex Forster 1, Codex Forster 2, and Codex Forster 3. And see one codex from the col­lec­tion, as the V&A announced on Twit­ter, live in per­son at the British Library's Leonar­do da Vin­ci: A Mind in Motion exhib­it.
Relat­ed Con­tent:
Leonar­do da Vinci's Vision­ary Note­books Now Online: Browse 570 Dig­i­tized Pages
A Com­plete Dig­i­ti­za­tion of Leonar­do Da Vinci's Codex Atlanti­cus, the Largest Exist­ing Col­lec­tion of His Draw­ings & Writ­ings
Leonar­do da Vinci's Ear­li­est Note­books Now Dig­i­tized and Made Free Online: Explore His Inge­nious Draw­ings, Dia­grams, Mir­ror Writ­ing & More
Why Did Leonar­do da Vin­ci Write Back­wards? A Look Into the Ulti­mate Renais­sance Man's "Mir­ror Writ­ing"
Josh Jones is a writer and musi­cian based in Durham, NC. Fol­low him at @jdmagness