Jazz is a collaborative art, no matter how big the egos and outsized the personalities involved. Even bandleaders as autocratic as Miles Davis are referred to in the context of their ensembles and in the company of their finest players. Davis knew how good his collaborators were. He gave them ample space to prove it and pushed them to improve. Usually pushed them out the door, to legendary solo careers and new musical dynasties: John Coltrane and Herbie Hancock come to mind immediately.
As the 80s dawned, popular music on the whole became increasingly producer-driven. Digital synthesizers and samplers took prominence, and jazz greats like Davis and Hancock followed suit. (Would Coltrane have made computer music in the 80s had he lived to see them?) In 1986, Davis's album Tutu fiercely "divided fans and critics," notes Jazzwise magazine. "Miles recorded his trumpet parts over a lush electric soundscape, produced from a battery of samplers, synthesizers, sequencers and drum machines."
Mostly "produced, arranged, played, and composed," by bassist Marcus Miller—anticipating the current phenomenon of producer-created albums—Tutu "was a product of the 80s, a decade where music was often in danger of becoming subservient to technology." In Davis' hands, the technological approach to jazz produced a classic that "continues to thrive" in the jazz world, covered by several major artists. Another album Davis recorded around the same time, Rubberband, never got the chance to have this kind of impact—but we will soon get to imagine what might have happened had he released the 1986 funk, soul, dance album at the time.
In its finished form—finished, that is, by original producers Randy Hall and Zane Giles, and Davis' nephew Vince Wilburn, Jr., who played drums on the album—Rubberband sounds ahead of its time, seeming to forecast the smooth neo-soul sound of a decade later. But who knows how much this is an artifact of recent studio decisions. The impression, in any case, comes only from the title track, released last year in five different versions on the Rubberband EP. Featuring singer Ledisi, the song presages the hip-hop-adjacent, horn-and-female-vocal-driven funk of the Brand New Heavies, Erykah Badu, and Meshell Ndegeocello.
At the same time, "Rubberband" incorporates some of the more banal elements of the genre, such as an upbeat, somewhat insipid chorus about making a better life. The track crosses fully over into contemporary dance music—it is no longer jazz at all, really. Whether or not we can say that about the entire album remains to be seen. The full, completed, album will be released on September 6th (pre-order here), with a cover painting by Davis himself. "Set to be his first album for Warner Bros. Records following his departure from longtime label Columbia," reports Pitchfork, "that record was ultimately shelved" in favor of Tutu.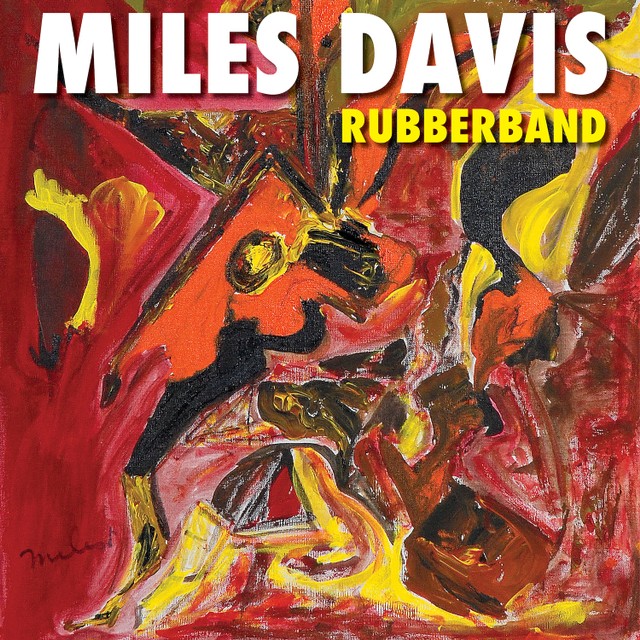 The record features other guest singers, so we might expect more jams like "Rubberband," but one never really knows with Davis, who arguably invented—or at least perfected—producer-driven, studio-made jazz records many years earlier, first on the groundbreaking In a Silent Way in 1969, then on the even more groundbreaking Bitches Brew in 1970. Even as his music began to sound more commercial, its roots in four decades of radically changing jazz every few years made it wholly original to the minds of Miles Davis and his collaborators.
via Pitchfork
Related Content:
Kind of Blue: How Miles Davis Changed Jazz
Hear a 65-Hour, Chronological Playlist of Miles Davis' Revolutionary Jazz Albums
Listen to The Night When Miles Davis Opened for the Grateful Dead in 1970
Josh Jones is a writer and musician based in Durham, NC. Follow him at @jdmagness