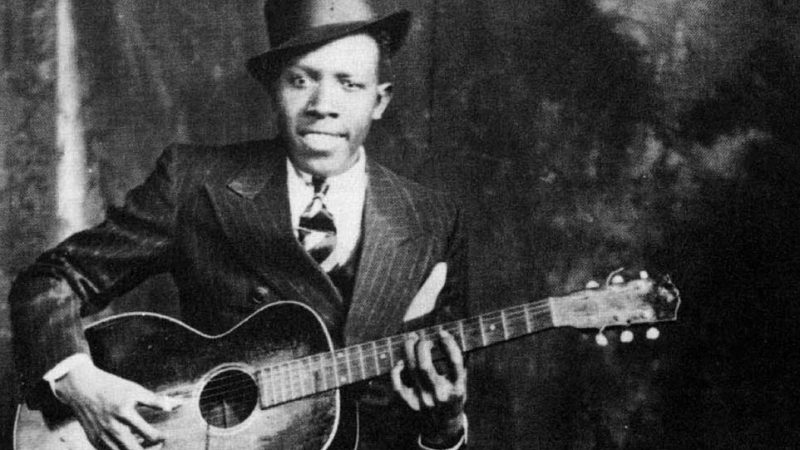 Whether you see it as a good faith effort to cor­rect past mis­takes or a bid to dis­tract from more recent fumbles—the New York Times' "Over­looked" obit­u­ary series has done its read­ers a ser­vice by recov­er­ing the bios of "remark­able peo­ple whose deaths… went unre­port­ed in The Times." Most of the pro­files are of peo­ple who were pub­lic fig­ures at the time of their death. Some had achieved inter­na­tion­al recog­ni­tion, like Alan Tur­ing, and oth­ers were roy­al­ty, like Rani, queen of the king­dom of Jhan­si in North­ern India and one of the lead­ers of a revolt against the British in 1857.
The lat­est "Over­looked" is an odd­i­ty. Its sub­ject may be the most famous per­son of all to get the belat­ed Times obit since the series began. Robert Johnson's alleged deal with the dev­il at the cross­roads has become as foun­da­tion­al to U.S. mythol­o­gy as John Henry's ham­mer or George Washington's cher­ry tree.
At the very same time, John­son may be the most obscure fig­ure to appear in "Over­looked." And the per­son about whom the least is known. "What is known" about him, writes the Times, "can be sum­ma­rized on a post­card."
He is thought to have been born out of wed­lock in May 1911 in Mis­sis­sip­pi and raised there. School and cen­sus records indi­cat­ed he lived for stretch­es in Ten­nessee and Arkansas. He took up gui­tar at a young age and became a trav­el­ing musi­cian, even­tu­al­ly glimps­ing the bus­tle of New York City. But he died in Mis­sis­sip­pi [in 1938], with just over two dozen lit­tle-noticed record­ed songs to his name.
There's more to the sto­ry, but it gets hard to tell where the his­tor­i­cal record ends and the mythol­o­gy begins. Still, the paper of record can be for­giv­en for over­look­ing John­son the first time around. Aside from a small num­ber of Delta blues fans, most of whom actu­al­ly lived in the Delta, hard­ly any­one knew who Robert John­son was in life. By the time news of his mojo start­ed to spread out­side Mis­sis­sip­pi, it was too late. John Ham­mond sought to bring him Carnegie Hall in 1938, the year of his death. Alan Lomax looked to record him 1941, only to find out he was gone.
His fame spread in the 1960s when British Blues inva­sion­ists picked up on his genius, cit­ed him as a pri­ma­ry influ­ence, and cov­ered and adapt­ed his songs. Bob Dylan wrote in his mem­oir Chron­i­cles: Vol­ume One that "hun­dreds of lines" of his derive from Johnson's influ­ence. The "advent of rock 'n' roll would turn John­son into a fig­ure of leg­end," among blues and rock and roll fans in the know. The leg­end, and recog­ni­tion of John­son's great­ness, explod­ed in sub­se­quent decades.
John­son was induct­ed into the Rock and Roll Hall of Fame in its first cer­e­mo­ny in 1986. His posthu­mous Com­plete Record­ings won a Gram­my in 1991. Many more hon­ors fol­lowed, includ­ing a Gram­my life­time achieve­ment award. By 2003, Rolling Stone could call John­son "the undis­put­ed king of the Mis­sis­sip­pi Delta blues" and place him at #5 on their list of 100 great­est gui­tarists of all time. How is it pos­si­ble that an obscure­ly minor fig­ure in blues his­to­ry became a found­ing grand­fa­ther of rock and roll?
"The chasm between the man John­son was and the myth he became," the Times admits "has marooned his­to­ri­ans and con­sci­en­tious lis­ten­ers for more than a half-cen­tu­ry." John­son's sto­ry "is no more or less than the hand­i­work of the coun­try in which it was writ­ten; a coun­try where the lega­cy of African-Amer­i­cans has often been shaped by oth­ers." But those oth­ers have had good rea­son for appro­pri­at­ing John­son's infer­nal sto­ry and unique musi­cal sig­na­tures.
A new Net­flix doc­u­men­tary ReMas­tered: Dev­il at the Cross­roads (see the trail­er above) explores in inter­views with rock and blues greats how John­son became for­ev­er linked to a myth that stood in for the real cir­cum­stances of his short, dif­fi­cult life. (He can be thought of as the found­ing mem­ber of rock­'s trag­i­cal­ly elite "27 club.") Actu­al deal with the dev­il or no, "there was cer­tain­ly a lot of dare­dev­il­ry in his flout­ing of stan­dard tem­pos and har­mon­ics," writes Rolling Stone. "His records are breath­tak­ing dis­plays of melod­ic devel­op­ment and acute brawn."
While the Times, and most every­one else, passed over him in life, in death, he has more than received his due from musi­cians and fans. John­son has not been over­looked so much as maybe over­rep­re­sent­ed in the his­to­ry of the blues. Find out why in his belat­ed Times obit­u­ary, in the hun­dreds of trib­utes to him writ­ten and record­ed since his death 81 years ago, and by immers­ing your­self in his own haunt­ing record­ings.
Relat­ed Con­tent:
The Sto­ry of Blues­man Robert Johnson's Famous Deal With the Dev­il Retold in Three Ani­ma­tions
The His­to­ry of the Blues in 50 Riffs: From Blind Lemon Jef­fer­son (1928) to Joe Bona­mas­sa (2009)
The Leg­end of Blues­man Robert John­son Ani­mat­ed
Josh Jones is a writer and musi­cian based in Durham, NC. Fol­low him at @jdmagness