Late­ly, young peo­ple stand­ing up against oppres­sive regimes have faced unre­lent­ing streams of ridicule, abuse, and worse: some have even lost their lives in mys­te­ri­ous cir­cum­stances that recall the trag­ic fates of those who bat­tled racism in the U.S. south decades ago. Though it's cold con­so­la­tion to the bereaved and harassed, it at least remains the case today that activists who speak out can count on vary­ing, but vocal lev­els of sup­port, and they will find celebri­ties and politi­cians, whether cyn­i­cal or well-mean­ing, to ampli­fy (or co-opt) their mes­sage.
We can and should draw par­al­lels between 20th-cen­tu­ry Euro­pean fas­cism and the 21st-century's fas­cist turn. But the above sit­u­a­tion could nev­er have obtained in Nazi Ger­many of the 1930s and 40s. Anti-Nazi points of view were banned even for enter­tain­ment pur­pos­es. Cir­cu­lat­ing them would almost cer­tain­ly result in exe­cu­tion. Ordi­nary Ger­mans may have also vent­ed their spleens at dis­senters, but they did so with full assur­ance that those peo­ple would be crushed by the gov­ern­ment, and that no one would stand up for them, not even to pos­ture.
It was in this par­a­lyz­ing cli­mate of ter­ror that the stu­dent mem­bers of The White Rose, a secre­tive, anony­mous group of activists, began dis­trib­ut­ing leaflets denounc­ing Hitler and Nazism. "At a time when a sar­cas­tic remark could con­sti­tute trea­son," notes the TED-Ed les­son above, the stri­dent lan­guage "was unprece­dent­ed." Most of the leaflets were writ­ten by Hans Scholl, as the short, ani­mat­ed video—scripted by schol­ar Iseult Gillespie—informs us. Just a few years ear­li­er, Scholl had been an enthu­si­as­tic mem­ber of the Hitler Youth, and his sis­ter Sophie, who joined him in The White Rose, had been a mem­ber of the League of Ger­man Girls.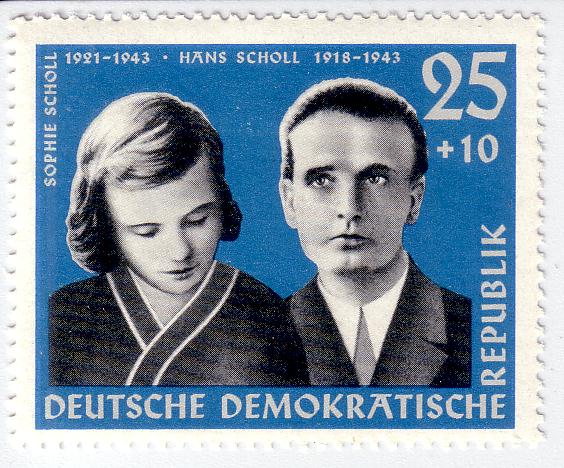 In 1936, when Hans wit­nessed a mass Nazi ral­ly for the first time, he began to seri­ous­ly ques­tion his life choic­es. Sophie had been enter­tain­ing her own doubts. Their par­ents, both increas­ing­ly con­cerned about the Nazi threat, were very sup­port­ive. The Scholl fam­i­ly had secret­ly lis­tened to for­eign broad­casts and learned "shock­ing truths" about what was hap­pen­ing in their coun­try. While at the Uni­ver­si­ty of Munich, Hans "start­ed read­ing anti-Nazi ser­mons," writes Erin Blake­more at Smith­son­ian, "and attend­ing class­es with Kurt Huber, a psy­chol­o­gy and phi­los­o­phy pro­fes­sor whose lec­tures includ­ed veiled crit­i­cisms of the regime."
Hans was draft­ed into the army as a medic, where he wit­nessed abus­es against Jew­ish pris­on­ers and heard about the con­cen­tra­tion camps. When he returned to med­ical school at the Uni­ver­si­ty of Munich, he met sev­er­al friends who shared his out­rage. In 1939, The White Rose print­ed its first leaflets, spread­ing them all over Munich. "Adopt pas­sive resis­tance," they urged, inspir­ing Ger­mans to sab­o­tage the war effort. "Block the func­tion­ing of this athe­is­tic war machine before it is too late. Before the last city is a heap of rub­ble. Before the last youth in our nation bleeds to death."
Many more leaflets fol­lowed. (Sophie would not dis­cov­er them and join the group until after their activ­i­ties began.) "The White Rose mailed the pam­phlets to ran­dom peo­ple they found in the phone book," writes Blake­more. They "took them in suit­cas­es to oth­er cities, and left them in phone booths. They also paint­ed graf­fi­ti on the walls of the Uni­ver­si­ty of Munich with slo­gans like 'Free­dom!' and 'Hitler the Mass Mur­der­er!'" It was the first time pub­lic dis­sent against the Nazis had tak­en hold. "The soci­ety's work quick­ly spread to oth­er cities, with some of its lit­er­a­ture even show­ing up in Aus­tria."
In 1943, Allied planes dropped tens of thou­sands of The White Rose's leaflets over Nazi Ger­many. News of them "even reached con­cen­tra­tions camps and pris­ons," the video notes. Soon after­ward, the Scholls and their friend Christoph Prob­st were arrest­ed by the Gestapo. (Read a mov­ing account of their arrest and tri­al at the Jew­ish Vir­tu­al Library.) The three were put on show tri­al and exe­cut­ed by guil­lo­tine. Lat­er, their pro­fes­sor, Kurt Huber and oth­er mem­bers of The White Rose were also behead­ed.
The iden­ti­ties of The White Rose would not be known until after the war. They have since become heroes to anti-fas­cists and activists around the world, and their call for pas­sive resis­tance echoes in one of their final leaflets: "We will not be silent. We are your bad con­science. The White Rose will not leave you in peace!" In spite of the risks, which they all knew, the Scholls and their allies chose to act, cau­tious­ly, but deci­sive­ly, against a regime they final­ly saw to be a ter­ri­ble evil.
To learn more about The White Rose, explore these books: The White Rose (1970), A Noble Trea­son (1979), and An Hon­ourable Defeat (1994).
Relat­ed Con­tent:
Edu­ca­tion for Death: The Mak­ing of Nazi–Walt Disney's 1943 Pro­pa­gan­da Film Shows How Fas­cists Are Made
Rare 1940 Audio: Thomas Mann Explains the Nazis' Ulte­ri­or Motive for Spread­ing Anti-Semi­tism
20,000 Amer­i­cans Hold a Pro-Nazi Ral­ly in Madi­son Square Gar­den in 1939: Chill­ing Video Re-Cap­tures a Lost Chap­ter in US His­to­ry
How Warn­er Broth­ers Resist­ed a Hol­ly­wood Ban on Anti-Nazi Films in the 1930s and Warned Amer­i­cans of the Dan­gers of Fas­cism
Josh Jones is a writer and musi­cian based in Durham, NC. Fol­low him at @jdmagness