The perils of old age—dementia, economic insecurity, social isolation—are receiving a lot of attention these days.
How refreshing to spend three minutes in the company of a sharp-witted 108-year-old, who, responding to a question about what life was like for women in Victorian England, acts out a couple of socially relevant, period Punch cartoons, deliberately drawing attention to her shockingly well-preserved ankles in the process.
Florence Pannell was born in London in 1868, 3 years after the US abolished slavery and eleven before the advent of the electric lightbulb.
Her appearance on Thames Television's Money-Go-Round program appears to be her only public recording. The Kensington Post captured her leaving her polling place, after casting her ballot in a 1971 election at the age of 102.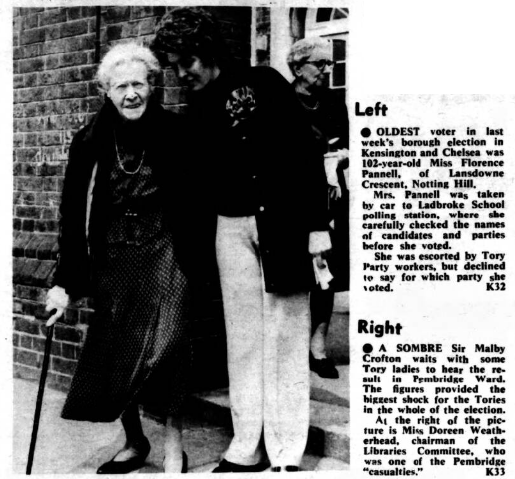 It's a pity there's not more of an online presence, as this captivating storyteller clearly relishes the opportunity to revisit the past.
A pity too, that she was stuck with a dud of an interviewer, Joan Shenton, who has gone on to find fame as a prominent AIDS denialist.
The AIDS crisis is one event of global historical importance that Mrs. Pannell missed—barely—she died in 1980, a few months shy of her 112th birthday.
We learn that she founded a successful beauty care business that took her to Paris for a time, but other than that, the details of her private life are left to our speculation. She was married. Did she have children, and if so, did she survive them?
Did she ever get the chance to go up in an airplane? As of 1977, she hadn't, but was open to the idea, implying that the risk had outweighed the potential thrill in the early days of aviation.
Most striking is her hearty reply concerning the biggest change she had witnessed over the years:
Everything! Nothing is the same! Everything's changed!
Some of the milestones she was alive for, as noted by various YouTube and Reddit commenters:
The coronation of the five monarchs to follow Queen Victoria: Edward VII, George V, Edward VIII, George VI and Elizabeth II (whose 93 years on the planet she makes seem marginally less impressive)
Jack the Ripper's terrorization of London
The sinking of the Titanic
Both World Wars
The Great Depression
The telephone
Television
The hippie movement
The moon landing
Another commenter suggested that it would have been mathematically possible for Mrs. Pannell to have heard stories about Napoleon at her grandpa's knee.
Readers, what are you boggled by, with regard to the significant events transpiring within this woman's lifetime?
(And for those curious as to her formidable accent, there's a wealth of linguistic information here.)
Related Content:
Bertrand Russell's Advice For How (Not) to Grow Old: "Make Your Interests Gradually Wider and More Impersonal"
You're Only As Old As You Feel: Harvard Psychologist Ellen Langer Shows How Mental Attitude Can Potentially Reverse the Effects of Aging
Meet Viola Smith, the World's Oldest Drummer: Her Career Started in the 1930s, and She's Still Playing at 106
Ayun Halliday is an author, illustrator, theater maker and Chief Primatologist of the East Village Inky zine.  Join her in NYC on Monday, November 4 when her monthly book-based variety show, Necromancers of the Public Domain celebrates Louise Jordan Miln's "Wooings and Weddings in Many Climes (1900). Follow her @AyunHalliday.