Martin Luther King Jr.'s dream of full inclusion for Black Americans still seems painfully unreal fifty years after his death. By most significant measures, the U.S. has regressed. De facto housing and school segregation are entrenched (and worsening since the 60s and 70s in many cities); voting rights erode one court ruling at a time; the racial wealth gap has widened significantly; and open displays of racist hate and violence grow more worrisome by the day.
Yet the movement was not only about winning political victories, though these were surely the concrete basis for its vision of liberation. It was also very much a cultural struggle. Black artists felt forced by circumstances to choose whether they would keep entertaining all-white audiences and pretending all was well. "There were no more sidelines," writes Ashawnta Jackson at JSTOR Daily. This was certainly the case for that most American of art forms, jazz. "Jazz musicians, like any other American, had the duty to speak to the world around them, and to oppose the brutal conditions for Black Americans."
Many of those musicians could not stay silent after the murder of Emmett Till, the 16th Street Baptist Church bombing in Birmingham, and a string of other highly publicized and horrific attacks. Jazz was changing. As Amiri Baraka wrote in a 1962 essay, "the musicians who played it were loudly outspoken about who they thought they were. 'If you don't like it, don't listen' was the attitude." That attitude came to define post-Civil Rights Black American culture, a defiant turn away from appeasing white audiences and ignoring racism.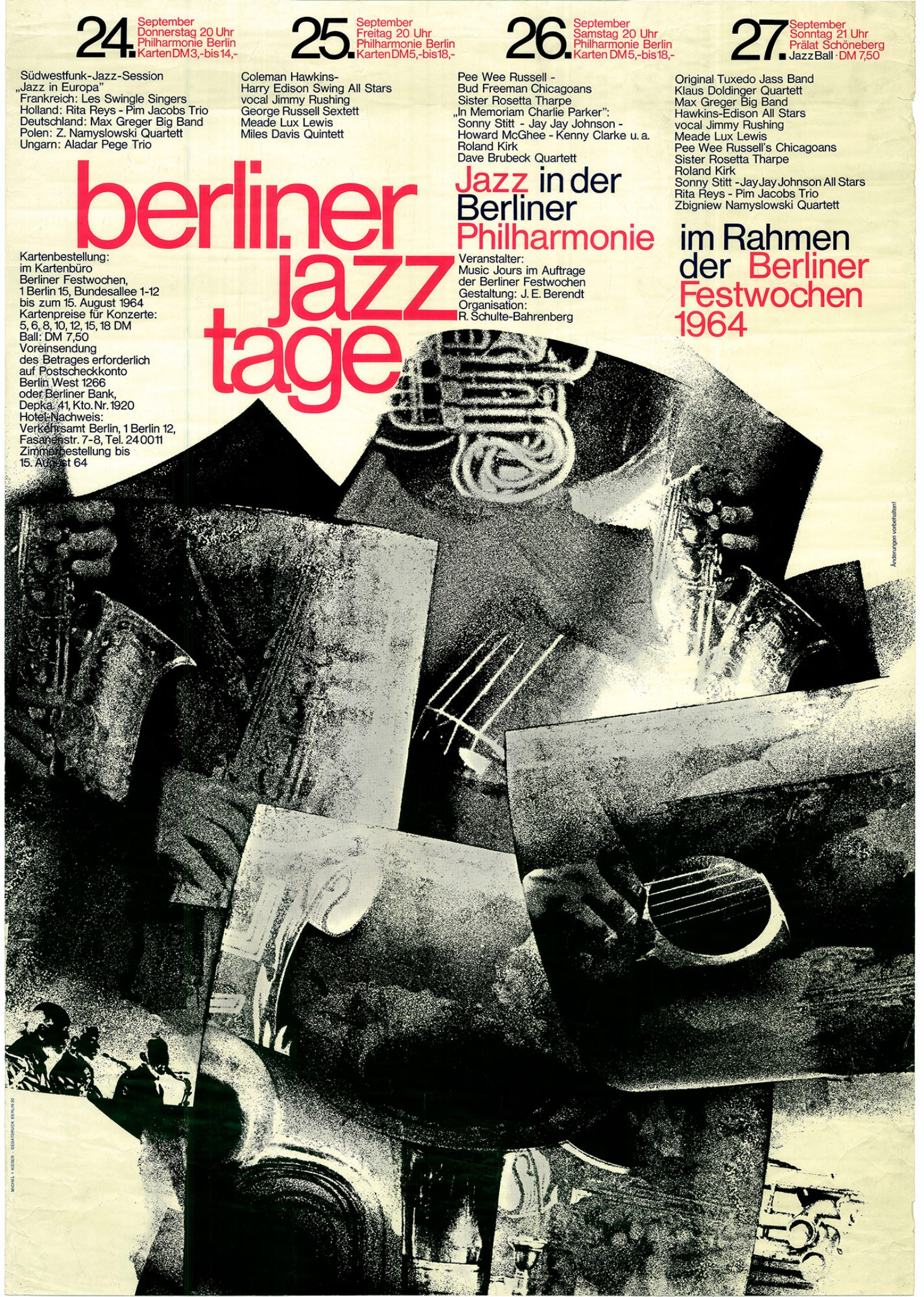 As jazz musicians embraced the movement, so the movement embraced jazz. While King himself is usually associated with the gospel singers he loved, he had a deep respect for jazz as a form that spoke of "some new hope or sense of triumph." Jazz, wrote King in his opening address for the 1964 Berlin Jazz Festival, "is triumphant music…. When life itself offers no order and meaning, the musician creates an order and meaning from the sounds of the earth which flow through his instrument. It is no wonder that so much of the search for identity among American Negroes was championed by Jazz musicians."
Jazz not only gave order to chaotic, "complicated urban existence," it also provided critical emotional support for the Movement.
Much of the power of our Freedom Movement in the United States has come from this music. It has strengthened us with its sweet rhythms when courage began to fail. It has calmed us with its rich harmonies when spirits were down.
King's take on jazz paralleled his articulations of the movement's goals—he always understood that the particular struggles of Black Americans had specific historical roots, and required specific political remedies. But ultimately, he believed that everyone should be treated with dignity and respect, and have access to the same opportunities and the same protections under the law.
Jazz is exported to the world. For in the particular struggle of the Negro in America there is something akin to the universal struggle of modern man. Everybody has the Blues. Everybody longs for meaning. Everybody needs to love and be loved. Everybody needs to clap hands and be happy. Everybody longs for faith.
Jazz music, said King, "is a stepping stone towards all of these." Wrought "out of oppression," it is music, he said, that "speaks for life," even in the midst of what could seem like death and defeat. Read King's full address at WCLK 91.9. And at the top of the post, hear the speech read by San Francisco Bay Area artists for a 2012 celebration on King's birthday.
The 1964 Berlin Jazz Festival (poster above) was the first in the illustrious annual event. See many other stunning posters from the series here.
via JSTOR Daily
Related Content:
Martin Luther King, Jr.'s Handwritten Syllabus & Final Exam for the Philosophy Course He Taught at Morehouse College (1962)
The History of Spiritual Jazz: Hear a Transcendent 12-Hour Mix Featuring John Coltrane, Sun Ra, Herbie Hancock & More
In the 1920s America, Jazz Music Was Considered Harmful to Human Health, the Cause of "Neurasthenia," "Perpetually Jerking Jaws" & More