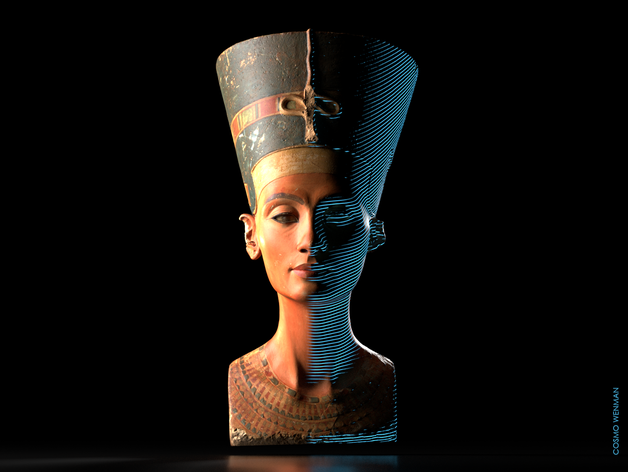 Two years ago, a scan­dalous "art heist" at the Neues Muse­um in Berlin—involving ille­gal­ly made 3D scans of the bust of Nefer­ti­ti—turned out to be a dif­fer­ent kind of crime. The two Egypt­ian artists who released the scans claimed they had made the images with a hid­den "hacked Kinect Sen­sor," reports Annalee Newitz at Ars Tech­ni­ca. But dig­i­tal artist and design­er Cos­mo Wen­man dis­cov­ered these were scans made by the Neues Muse­um itself, which had been stolen by the artists or per­haps a muse­um employ­ee.
The ini­tial con­tro­ver­sy stemmed from the fact that the muse­um strict­ly con­trols images of the art­work, and had refused to release any of their Nefer­ti­ti scans to the pub­lic. The prac­tice, Wen­man point­ed out, is con­sis­tent across dozens of insti­tu­tions around the world. "There are many influ­en­tial muse­ums, uni­ver­si­ties, and pri­vate col­lec­tions that have extreme­ly high-qual­i­ty 3D data of impor­tant works, but they are not shar­ing that data with the pub­lic." He lists many promi­nent exam­ples in a recent Rea­son arti­cle; the long list includes the Venus de Milo, Rodin's Thinker, and works by Donatel­lo, Berni­ni, and Michelan­ge­lo.
What­ev­er their rea­sons, the aggres­sive­ly pro­pri­etary atti­tude adopt­ed by the Neues seems strange con­sid­er­ing the con­tro­ver­sial prove­nance of the Nefer­ti­ti bust. Ger­many has long claimed that it acquired the bust legal­ly in 1912. But at the time, the British con­trolled Egypt, and Egyp­tians them­selves had lit­tle say over the fate of their nation­al trea­sures. Fur­ther­more, the chain of cus­tody seems to include at least a few doc­u­ment­ed instances of fraud. Egypt has been demand­ing that the arti­fact be repa­tri­at­ed "ever since it first went on dis­play."
This crit­i­cal his­tor­i­cal con­text notwith­stand­ing, the bust is already "one of the most copied works of ancient Egypt­ian art," and one of the most famous. "Muse­ums should not be repos­i­to­ries of secret knowl­edge," Wen­man argued in his blog post. Pres­ti­gious cul­tur­al insti­tu­tions "are in the best posi­tion to pro­duce and pub­lish 3D data of their works and pro­vide author­i­ta­tive con­text and com­men­tary."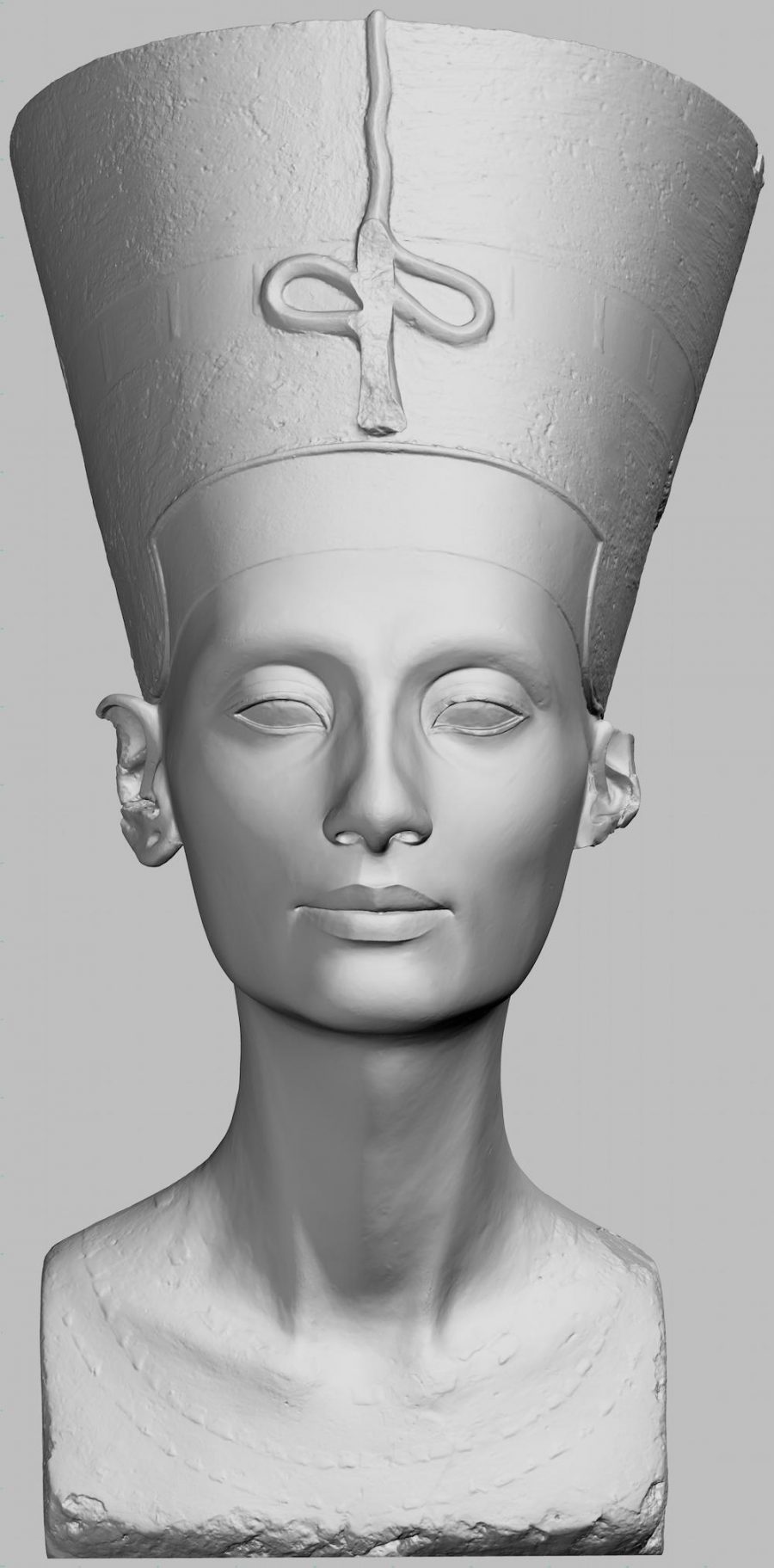 Wen­man waged a "3‑year-long free­dom of infor­ma­tion effort" to lib­er­ate the scans. His request was ini­tial­ly met with "the gift shop defense"—the muse­um claimed releas­ing the images would threat­en sales of Nefer­ti­ti mer­chan­dise. When the appeal to com­merce failed to dis­suade Wen­man, the muse­um let him exam­ine the scans "in a con­trolled set­ting"; they were essen­tial­ly treat­ing the images, he writes, "like a state secret." Final­ly, they relent­ed, allow­ing Wen­man to pub­lish the scans, with­out any insti­tu­tion­al sup­port.
He has done so, and urged oth­ers to share his Rea­son arti­cle on social media to get word out about the files, now avail­able to down­load and use under a CC BY-NC-SA license. He has also tak­en his own lib­er­ties with the scans, col­oriz­ing and adding the blue 3D map­ping lines him­self to the image at the top, for exam­ple, drawn from his own inter­ac­tive 3D mod­el, which you can view and down­load here. These are exam­ples of his vision for high-qual­i­ty 3D scans of art­works, which can and should "be adapt­ed, mul­ti­plied, and remixed."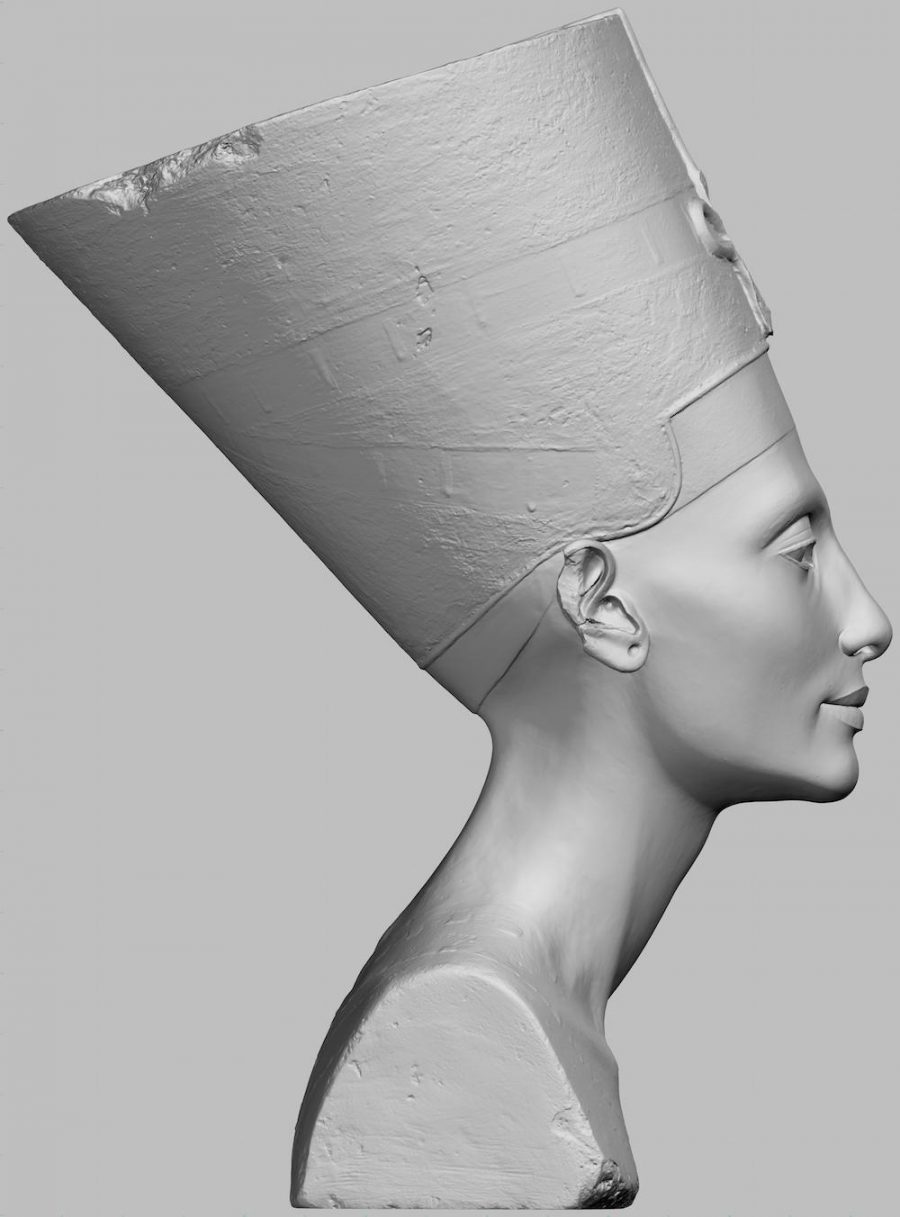 "The best place to cel­e­brate great art," says Wen­man, "is in a vibrant, live­ly, and anar­chic pop­u­lar cul­ture. The world's back cat­a­log of art should be set free to run wild in our visu­al and tac­tile land­scape." Orga­ni­za­tions like Scan the World have been releas­ing unof­fi­cial 3D scans to the pub­lic for the past cou­ple years, but these can­not guar­an­tee the accu­ra­cy of mod­els ren­dered by the insti­tu­tions them­selves.
Whether the actu­al bust of Nefer­ti­ti should be returned to Egypt is a some­what more com­pli­cat­ed ques­tion, since the 3,000-year old arti­fact may be too frag­ile to move and too cul­tur­al­ly impor­tant to risk dam­ag­ing in tran­sit. But whether or not its vir­tu­al rep­re­sen­ta­tions should be giv­en to every­one who wants them seems more straight­for­ward.
The images already belong to the pub­lic, in a sense, Wen­man sug­gests. With­hold­ing them for the sake of pro­tect­ing sales seems like a vio­la­tion of the spir­it in which most cul­tur­al insti­tu­tions were found­ed. Down­load the Nefer­ti­ti scans at Thin­gi­verse, see Wen­man's own 3D mod­els at Sketch­fab, and read all of his cor­re­spon­dence with the muse­um through­out the free­dom of infor­ma­tion process here. Next, he writes, he's lob­by­ing for the release of offi­cial 3D Rodin scans. Watch this space.
Artists Put Online 3D, High Res­o­lu­tion Scans of 3,000-Year-Old Nefer­ti­ti Bust (and Con­tro­ver­sy Ensues)
The British Muse­um Cre­ates 3D Mod­els of the Roset­ta Stone & 200+ Oth­er His­toric Arti­facts: Down­load or View in Vir­tu­al Real­i­ty
3D Scans of 7,500 Famous Sculp­tures, Stat­ues & Art­works: Down­load & 3D Print Rodin's Thinker, Michelangelo's David & More
Josh Jones is a writer and musi­cian based in Durham, NC. Fol­low him at @jdmagness