Since human­i­ty has had music, we've also had bad music. And bad music can come from only one source: bad musi­cians. Despite such per­son­al tech­nolo­gies of rel­a­tive­ly recent inven­tion as noise-can­cel­ing head­phones, bad music remains nigh unavoid­able in the mod­ern world, issu­ing as it con­stant­ly does from the sound sys­tems installed in gro­cery stores, gyms, pass­ing auto­mo­biles, and so on. And against the bad musi­cians respon­si­ble we have less recourse than ever, or at least less than medieval Euro­peans did, as shown by the Rip­ley's Believe It or Not video above on the "shame flute," a non-musi­cal instru­ment used to pun­ish crimes against the art.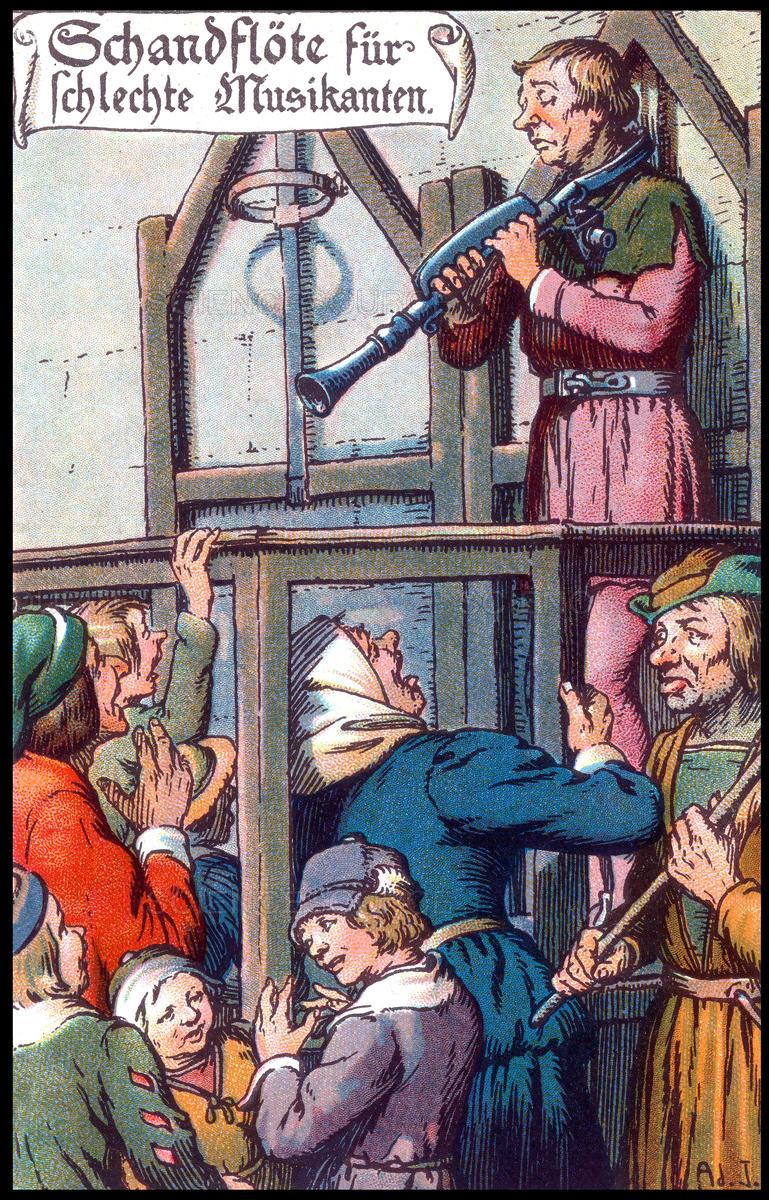 "The con­trap­tion, which is essen­tial­ly a heavy iron flute – although you prob­a­bly wouldn't want play it – was shack­led to the musician's neck," writes Mad­dy Shaw Roberts at Clas­sic FM. "The musician's fin­gers were then clamped to the keys, to give the impres­sion they were play­ing the instru­ment. Final­ly, just to fur­ther their humil­i­a­tion, they were forced to wear the flute while being parad­ed around town, so the pub­lic could throw rot­ten food and veg­eta­bles at them." Sure­ly the mere prospect of such a fate made many music-mind­ed chil­dren of the old­en days think twice about slack­ing on their prac­tice ses­sions.
The sight of this flute of shame, which you can take in at either the equal­ly stim­u­lat­ing-sound­ing Medieval Crime Muse­um in Rothen­burg or the Tor­ture Muse­um in Ams­ter­dam, would get any of us mod­erns think­ing about con­sid­er­ing which musi­cians of our own day deserve to be shack­led to it. The Guardian's Dave Simp­son sug­gests, among oth­ers, "all bands with sil­ly names," "any musi­cian called Sir who is over 60," and "any­one who has ever appeared on The X Fac­tor, ever." In this day and age they would all prob­a­bly com­plain of cru­el and unusu­al pun­ish­ment, but as music-relat­ed tor­ture devices go, the shame flute cer­tain­ly seems prefer­able to ancient Greece's "brazen bull."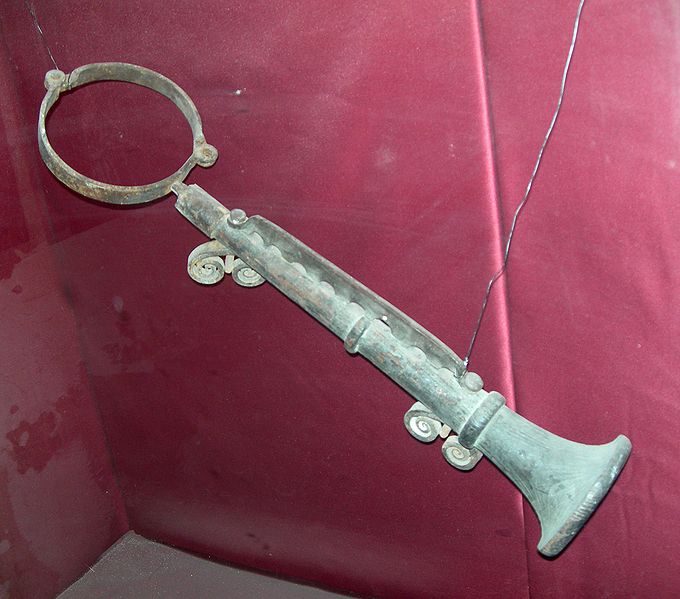 Though still a lit­tle-known his­tor­i­cal arti­fact, the shame flute has regained some cul­tur­al cur­ren­cy in recent years. It even inspired the name of a Finnish rock group, Flute of Shame. As the band mem­bers put it in an inter­view with Vice's Josh Schnei­der, "We were hav­ing a night out in Ams­ter­dam and found our­selves in a tor­ture muse­um whilst look­ing for the Banana Bar," a well-known spot in the city's red-light dis­trict. "We saw the device and the rest is his­to­ry." Of course, any rock group that names itself after a tor­ture device will draw com­par­isons to Iron Maid­en, and jour­nal­is­tic dili­gence com­pels Schnei­der to ask Flute of Shame which band would win in a shred­ding con­test. "Prob­a­bly Iron Maid­en," the Finns respond, "but are they hap­py?"
via Clas­sic FM
Relat­ed Con­tent:
The Musi­cal Instru­ments in Hierony­mus Bosch's The Gar­den of Earth­ly Delights Get Brought to Life, and It Turns Out That They Sound "Painful" and "Hor­ri­ble"
Meet the Hur­dy Gur­dy, the Hand-Cranked Medieval Instru­ment with 80 Mov­ing Parts
Nick Cave Nar­rates an Ani­mat­ed Film about the Cat Piano, the Twist­ed 18th Cen­tu­ry Musi­cal Instru­ment Designed to Treat Men­tal Ill­ness
Dis­cov­er the "Brazen Bull," the Ancient Greek Tor­ture Machine That Dou­bled as a Musi­cal Instru­ment
Hear the World's Old­est Instru­ment, the "Nean­derthal Flute," Dat­ing Back Over 43,000 Years
Based in Seoul, Col­in Mar­shall writes and broad­casts on cities, lan­guage, and cul­ture. His projects include the book The State­less City: a Walk through 21st-Cen­tu­ry Los Ange­les and the video series The City in Cin­e­ma. Fol­low him on Twit­ter at @colinmarshall or on Face­book.