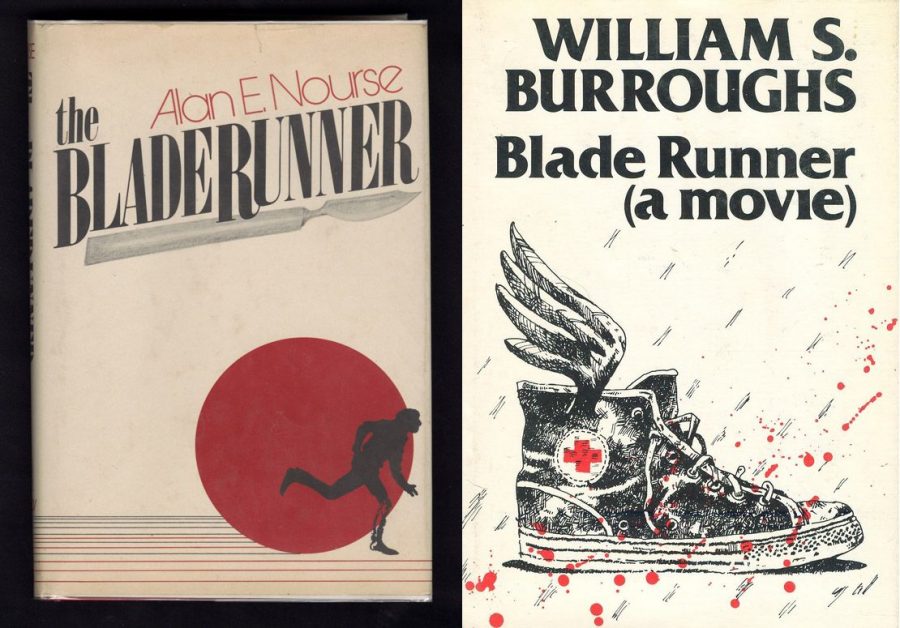 Why, in the course of two extra­or­di­nary films by Rid­ley Scott and Denis Vil­leneuve, do we nev­er learn what the term Blade Run­ner actu­al­ly means? Per­haps the mys­tery only deep­ens the sense of "super-real­ism" with which the film leaves audi­ences, including—and especially—Philip K. Dick, who only lived long enough to see excerpts. "The impact of Blade Run­ner is sim­ply going to be over­whelm­ing, both on the pub­lic and on cre­ative peo­ple," he wrote. As usu­al, Dick saw beyond his con­tem­po­raries, who most­ly panned or ignored the film.
Dick seemed to have "had no beef with the fact Blade Run­ner was not a faith­ful adap­ta­tion of his nov­el," writes David Bar­nett at the Inde­pen­dent. Not only did he not write a book called Blade Run­ner—the film was loose­ly adapt­ed from his 1968 book Do Androids Dream of Elec­tric Sheep?—but he also nev­er used those words, "Blade Run­ner," to describe his char­ac­ters. "It's not a phrase used in the book and it doesn't real­ly make much sense in the con­text of the movie…. It's sim­ply a throw­away slang for cops who hunt repli­cants."
The phrase, as Keele Uni­ver­si­ty pro­fes­sor Oliv­er Har­ris tells The Qui­etus, is so much more than that. It brings along with it "a weird back­sto­ry that tells us some­thing about how the Bur­roughs virus spreads around," infect­ing near­ly every­thing sci­ence fic­tion­al and coun­ter­cul­tur­al over the past half-cen­tu­ry or so. That's William S. Bur­roughs, of course, author of—among a few oth­er things—a 1979 nov­el­is­tic film treat­ment called Blade Run­ner: A Movie.
If Scott and screen­writer Hamp­ton Fanch­er had adapt­ed Bur­roughs' night­mar­ish 21st cen­tu­ry to the cin­e­ma, we would have seen a much dif­fer­ent film—though one as whol­ly res­o­nant with our cur­rent dystopia. The sto­ry imag­ines "a med­ical-care apoc­a­lypse," in which med­ical sup­plies like scalpels become smug­gled contraband—hence "blade run­ners." Bur­roughs' book is itself an adaptation—or a re-writ­ing and re-editing—of sci-fi writer Alan Nourse's 1974 pulp sci-fi nov­el The Bladerun­ner.
It is Nourse who intro­duced the sce­nario of a "med­ical apoc­a­lypse" and who coined the term "blade run­ner," though we owe its sep­a­ra­tion into two words to Bur­roughs. "Read­ing one text against the oth­er is fas­ci­nat­ing," says Har­ris. "Nourse writes pedes­tri­an, real­ist prose with two-dimen­sion­al char­ac­ters who all talk in the same colour­less style." Bur­roughs, on the oth­er hand, writes with "extra­or­di­nary econ­o­my, mas­tery of idiom, and wild­ly unbound imag­i­na­tion."
In the crum­bling New York (not L.A.) of Bur­roughs' future world, the gov­ern­ment con­trols its cit­i­zens "through the abil­i­ty to with­hold essen­tial ser­vices includ­ing work, cred­it, hous­ing, retire­ment ben­e­fits and med­ical care through com­put­er­i­za­tion." Grant­ed, this might not seem to lend itself to a very cin­e­mat­ic treat­ment, but Bur­roughs was attract­ed to the cen­tral con­cept of Nourse's book, one inher­ent­ly rich in human tragedy: "med­ical pan­demics appealed to his vision of a species in per­il, a plan­et head­ing for ter­mi­nal dis­as­ter."
Dick imag­ined a species in per­il from a dif­fer­ent kind of infec­tion, as Bur­roughs would have it—artificial intel­li­gence. Was the most cin­e­mat­i­cal­ly-adapt­ed sci-fi nov­el­ist aware that he had indi­rect­ly helped rein­tro­duce a strain of the Bur­roughs virus—a para­noid, if jus­ti­fied, sus­pi­cion of authority—back into pop­u­lar cul­ture through Blade Run­ner? We might expect, giv­en his sta­tus in the sci­ence fic­tion com­mu­ni­ty at the time of his death, three months before the film debuted, that he might be aware of the con­nec­tion. But he gave no hint of it, leav­ing us to pon­der what Bur­roughs' Blade Run­ner: The Movie, the movie, would be like, made with the skill and sen­si­bil­i­ty of a Scott or Vil­leneuve.
Relat­ed Con­tent:
How Blade Run­ner Cap­tured the Imag­i­na­tion of a Gen­er­a­tion of Elec­tron­ic Musi­cians
Philip K. Dick Pre­views Blade Run­ner: "The Impact of the Film is Going to be Over­whelm­ing" (1981)
How Jim Jar­musch Gets Cre­ative Ideas from William S. Bur­roughs' Cut-Up Method and Bri­an Eno's Oblique Strate­gies
Josh Jones is a writer and musi­cian based in Durham, NC. Fol­low him at @jdmagness