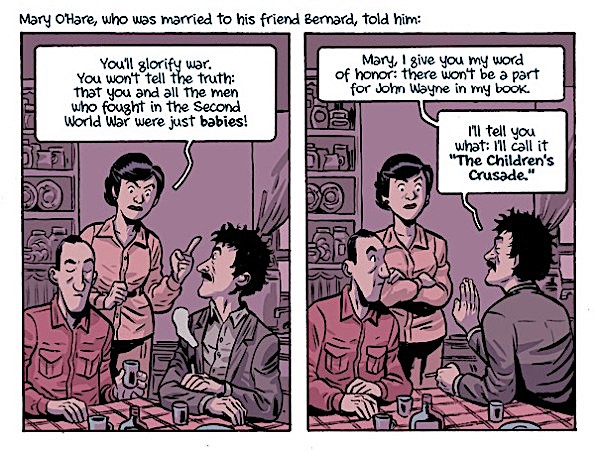 Since its publication just over half a century ago, Slaughterhouse-Five has seen bans and burnings, gone through various adaptations, and all the while held its place in the American literary canon. Something about Kurt Vonnegut's story of the involuntarily time-traveling optometrist Billy Pilgrim, who like his creator survived the firebombing of Dresden in the Second World War, continues to resonate with readers even as that war (and so very many novels about it) pass out of living memory. Vonnegut himself loved George Roy Hill's 1972 film of the novel, but alas, having died in 2007, he didn't stick around long enough to see Slaughterhouse-Five — or, to use its full title, Slaughterhouse-Five, or The Children's Crusade: A Duty-Dance with Death — turned into a graphic novel.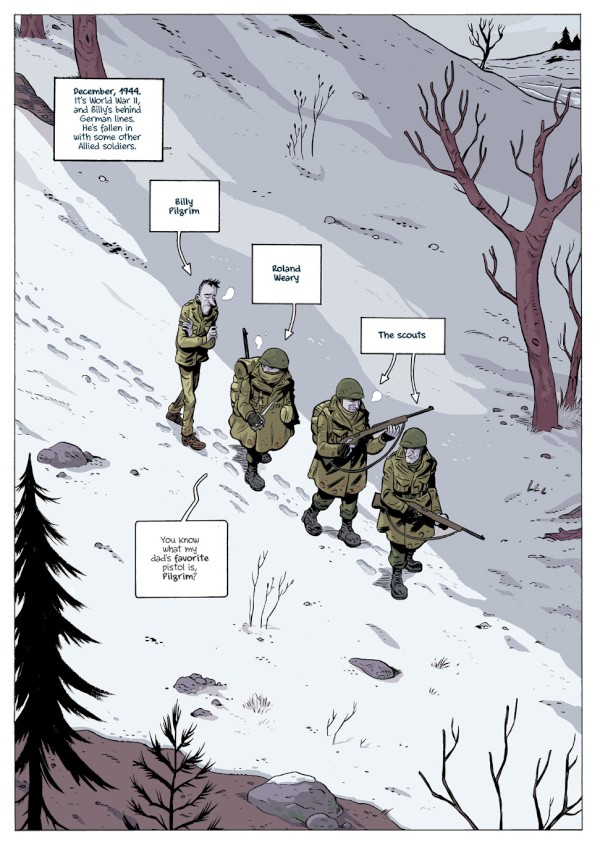 "Indie graphic novel house BOOM! Studios announced plans to publish a graphic version of Kurt Vonnegut's classic sci-fi/antiwar novel," reports Publishers Weekly's Calvin Reid, naming the adaptors as writer Ryan North, artist Albert Monteys, and colorist Ricard Zaplana. Nerdist's Matthew Hart writes that it's "unclear at this point what's been included and what's been dropped for BOOM!'s Slaughterhouse-Five graphic novel adaptation, it seems like the story is in good hands." [Update: You can now purchase a copy of Slaughterhouse-Five graphic novel online here.]
The images released so far "showcase a world painted with appropriately muted colors, and populated by some of the most iconic moments from the novel. The graphic novel's interpretation of Billy Pilgrim will possibly ignite some disagreement amongst readers, however, as his face can be juxtaposed with Vonnegut's."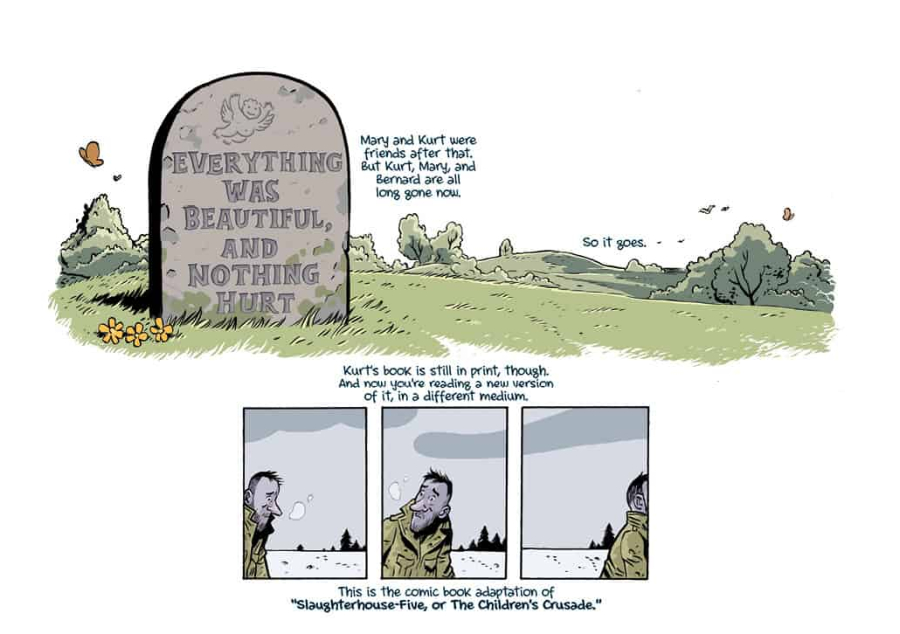 For a novel considered a "classic" longer than readers who discover it today have been alive, Slaughterhouse-Five has its own unconventional way with reality. Not only does Vonnegut make its protagonist "unstuck in time," he also works into its cast real characters from his own life. Take Bernard O'Hare, shown here in panels from the graphic novel. As Vonnegut's officially designated "buddy" in the the 106th Infantry Division, O'Hare was taken prisoner along with him in Dresden and held captive in a meatpacking plant known as Schlachthof Fuenf. When Vonnegut completed the manuscript he let O'Hare and his wife Mary read it, and the latter urged the author to write about how "all the men who fought in the Second World War were just babies." Hence the novel's subtitle, which befits the plainspoken sensibility of Kurt Vonnegut, a man who believed in calling things what they were — and thus would surely have rejected the label "graphic novel" in favor of "comic book."
Purchase a copy of Slaughterhouse-Five: The Graphic Novel online.
Related Content:
Hear Kurt Vonnegut Read Slaughterhouse-Five, Cat's Cradle & Other Novels
Why Should We Read Kurt Vonnegut? An Animated Video Makes the Case
Kurt Vonnegut Maps Out the Universal Shapes of Our Favorite Stories
Benedict Cumberbatch Reads Kurt Vonnegut's Incensed Letter to the High School That Burned Slaughterhouse-Five
Anne Frank's Diary: The Graphic Novel Adaptation
Read Ulysses Seen, A Graphic Novel Adaptation of James Joyce's Ulysses
Based in Seoul, Colin Marshall writes and broadcasts on cities, language, and culture. His projects include the book The Stateless City: a Walk through 21st-Century Los Angeles and the video series The City in Cinema. Follow him on Twitter at @colinmarshall or on Facebook.