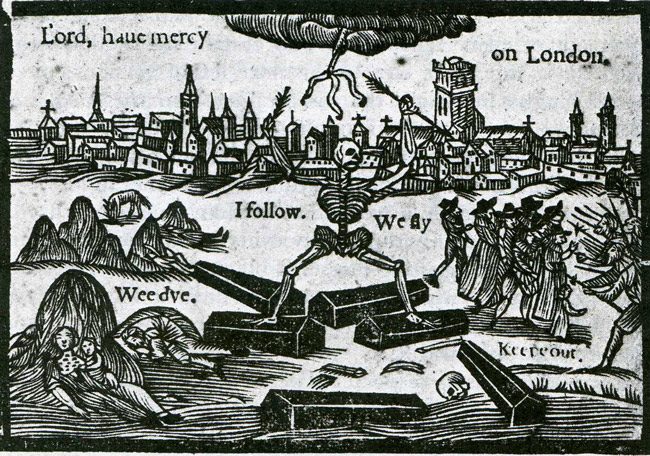 The apoth­e­o­sis of pres­tige real­ist plague film, Steven Soderburgh's 2011 Con­ta­gion, has become one of the most pop­u­lar fea­tures on major stream­ing plat­forms, at a time when peo­ple have also turned increas­ing­ly to books of all kinds about plagues, from fan­ta­sy, hor­ror, and sci­ence fic­tion to accounts that show the expe­ri­ence as it was in all its ugliness—or at least as those who expe­ri­enced it remem­bered the events. Such a work is Daniel Defoe's semi-fic­tion­al his­to­ry "A Jour­nal of the Plague Year," a book he wrote "in tan­dem with an advice man­u­al called 'Due Prepa­ra­tions for the Plague,' in 1722," notes Jill Lep­ore at The New York­er.
In 1722, Defoe had rea­son to believe the plague might come back to Lon­don, and wreak the dev­as­ta­tion it caused in 1665, the "plague year" he detailed, when one in every five Lon­don­ers died. This was not a sto­ry of heroes mak­ing sac­ri­fices to save the city. "Every­one behaved bad­ly, though the rich behaved the worst," Lep­ore writes. "Hav­ing failed to heed warn­ings to pro­vi­sion, they sent their poor ser­vants out for sup­plies," spread­ing the infec­tion through­out the city. Defoe earnest­ly hoped to head off such cat­a­stro­phe. He wrote to issue an admo­ni­tion, as he put it, "both to us and to pos­ter­i­ty, though we should be spared from that por­tion of this bit­ter cup."
The cup, Lep­ore writes, "has come out of its cup­board." But so too has the resilience found in Albert Camus' 1946 nov­el Le Peste (The Plague), based on a real cholera out­break in Alge­ria in 1849. Though fic­tion­al, it draws on Camus' study of his­tor­i­cal plagues and his expe­ri­ence as a mem­ber of the French Resis­tance. Camus seems to have found the plague as metaphor par­tic­u­lar­ly uplift­ing, nick­nam­ing his twins Cather­ine and Jean, "Plague" and "Cholera," respec­tive­ly.
Whether we see it as a sto­ry of a siege brought on by sick­ness, or an alle­go­ry of an occu­pa­tion, Camus wrote of the nov­el that "the inhab­i­tants, final­ly freed, would nev­er for­get the dif­fi­cult peri­od that made them face the absurd­ness of their exis­tence and the pre­car­i­ous­ness of the human con­di­tion. What's true of all the evils in the world is true of plagues as well. It helps men to rise above them­selves." Defoe might dis­agree, but plagues in his time were not also accom­pa­nied by wide­spread Nazism, a dou­ble cri­sis that might dou­bly force us to "reflect on what is real, what is impor­tant, and become more human," says Cather­ine Camus of the soar­ing new pop­u­lar­i­ty of her father's nov­el.
We can do this through read­ing in our real-life quar­an­tine. "Read­ing is an infec­tion," Lep­ore writes, "a bur­row­ing into the brain: books con­t­a­m­i­nate, metaphor­i­cal­ly, and even micro­bi­o­log­i­cal­ly" as phys­i­cal objects capa­ble of fer­ry­ing germs. Plagues are mass-exis­ten­tial crises on the lev­el of WWII or the Lis­bon earth­quake that shook the faith of Europe's intel­lec­tu­als. They are also set­tings for love and ter­ror, from Boc­cac­cio and Gabriel Gar­cia Mar­quez to Edgar Allan Poe and Mar­garet Atwood.
Vul­ture has pub­lished an "essen­tial list" of 20 plague books to read, includ­ing many of the clas­sics men­tioned above, and a book that is hard­ly remem­bered but might be thought of as an ances­tor to Atwood's plague-rid­den futures: Mary Shelley's The Last Man, pub­lished in 1826 dur­ing the sec­ond of two vir­u­lent cholera pan­demics. In the nov­el, Shel­ley claims to have dis­cov­ered the sto­ry in prophet­ic writ­ing about the end of the 21st cen­tu­ry, telling of a dis­ease that wipes out the human race. If you'd rather not indulge that kind of fan­ta­sy just yet, you'll find vary­ing degrees of imag­i­na­tive and sober­ly real­ist fic­tion and his­to­ry in the list of plague clas­sics below, all freely avail­able at Project Guten­berg.
Libraries may have shut their pos­si­bly con­t­a­m­i­nat­ed books behind closed doors, book­stores may be deemed nonessen­tial, but reading—and writing—about plague years feels like a nec­es­sary cul­tur­al activ­i­ty to help us under­stand who we are apt to become in such times.
Relat­ed Con­tent:
Why You Should Read The Plague, the Albert Camus Nov­el the Coro­n­avirus Has Made a Best­seller Again
The His­to­ry of the Plague: Every Major Epi­dem­ic in an Ani­mat­ed Map
Isaac New­ton Con­ceived of His Most Ground­break­ing Ideas Dur­ing the Great Plague of 1665
Josh Jones is a writer and musi­cian based in Durham, NC. Fol­low him at @jdmagness