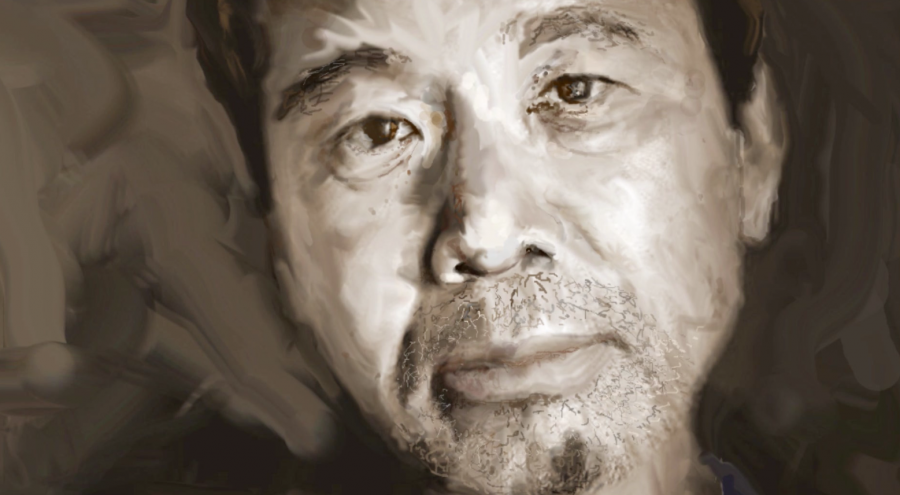 Image by Ilana Simon
Characters in Haruki Murakami's books see emotions in colors and hear them in sounds—the sounds, specifically, of The Beatles, Shostakovich, Sarah Vaughan, and thousands more folk, pop, rock, classical, and jazz artists in the novelist's immense record collection. We must occasionally suspend some disbelief as readers, not only in the fantastic elements in Murakami's work, but in characters who seem to know almost as much as the author does about music, who are always ready with references to deep cuts. Murakami "is not (quite) a musician," writes Dre Dimura at Flypaper, "but he has a greater command of music as an art form than most musicians I know, myself included. How is that possible?"
Dimura's explanation touches on aspects of Murakami's life we've covered before at Open Culture: his longstanding passion for jazz, and time spent as the owner of a jazz bar before he became a novelist; his penchant for listening to music in his study for hours and hours on end as he undertakes his marathon writing sessions.
Murakami has not only shared his encyclopedic musical knowledge through fictional characters; he also hopes to turn his massive collection of approximately 10,000 records into a public archive, along with all his books and papers: "a place," he says, "of open international exchanges for literature and culture."
Four decades after his jazz club days, Murakami again became a DJ in 2018 when he took to the airwaves to play several 55-minute sets called Murakami Radio on Tokyo FM. Now, amidst the uncertainty and anxiety of COVID-19 lockdowns, he will again play records for his fans in Japan on a show this Friday called Stay Home Special. "I'm hoping that the power of music can do a little to blow away some of the corona-virus related blues that have been piling up."
Murakami isn't being Pollyannish about the "power of music." The phrase may be cliché, but fans know from reading his books how music plays a significant role in even the most mundane of social interactions, the kind we'd come to take for granted before the virus spread around the world. The author offers music as a friendly overture. In a characteristic image, he wrote before his first radio broadcast in 2018:
It has been my hobby to collect records and CDs since my childhood, and thanks to that, my house is inundated with such things. However, I have often felt a sense of guilt toward the world while listening to such amazing music and having a good time alone. I thought it may be good to share such good times with other people while chatting over a glass of wine or a cup of coffee.
Though he's been characterized as a novelist of isolation, and is "regarded as a recluse in Japan," Murakami sees the need to make deep connections these days. And he recognizes music's power to create shared emotional spaces, the kind of thing it seems so hard to find in our new fragmented, quarantined lives.
Related Content:
Haruki Murakami Announces an Archive That Will House His Manuscripts, Letters & Collection of 10,000+ Vinyl Records
A Dreamily Animated Introduction to Haruki Murakami, Japan's Jazz and Baseball-Loving Postmodern Novelist
Haruki Murakami's Passion for Jazz: Discover the Novelist's Jazz Playlist, Jazz Essay & Jazz Bar
A 3,350-Song Playlist of Music from Haruki Murakami's Personal Record Collection
Josh Jones is a writer and musician based in Durham, NC. Follow him at @jdmagness