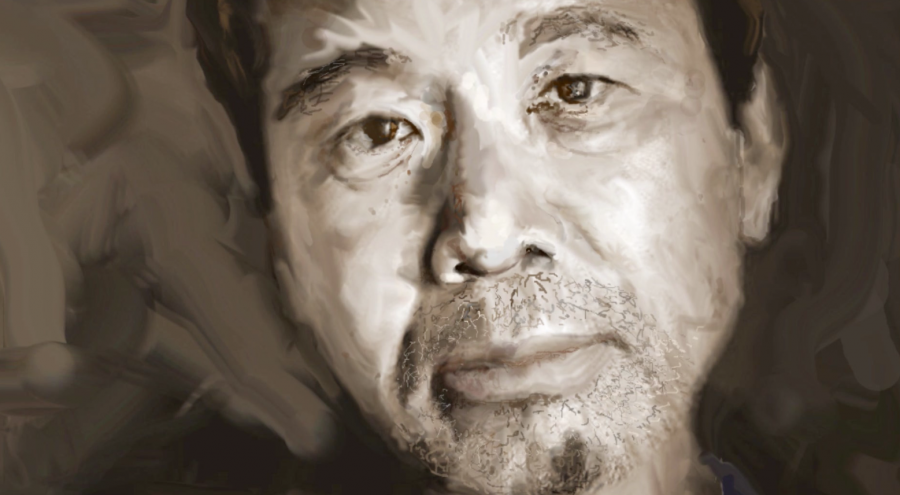 Image by Ilana Simon
Char­ac­ters in Haru­ki Murakami's books see emo­tions in col­ors and hear them in sounds—the sounds, specif­i­cal­ly, of The Bea­t­les, Shostakovich, Sarah Vaugh­an, and thou­sands more folk, pop, rock, clas­si­cal, and jazz artists in the novelist's immense record col­lec­tion. We must occa­sion­al­ly sus­pend some dis­be­lief as read­ers, not only in the fan­tas­tic ele­ments in Murakami's work, but in char­ac­ters who seem to know almost as much as the author does about music, who are always ready with ref­er­ences to deep cuts. Muraka­mi "is not (quite) a musi­cian," writes Dre Dimu­ra at Fly­pa­per, "but he has a greater com­mand of music as an art form than most musi­cians I know, myself includ­ed. How is that pos­si­ble?"
Dimura's expla­na­tion touch­es on aspects of Murakami's life we've cov­ered before at Open Cul­ture: his long­stand­ing pas­sion for jazz, and time spent as the own­er of a jazz bar before he became a nov­el­ist; his pen­chant for lis­ten­ing to music in his study for hours and hours on end as he under­takes his marathon writ­ing ses­sions.
Muraka­mi has not only shared his ency­clo­pe­dic musi­cal knowl­edge through fic­tion­al char­ac­ters; he also hopes to turn his mas­sive col­lec­tion of approx­i­mate­ly 10,000 records into a pub­lic archive, along with all his books and papers: "a place," he says, "of open inter­na­tion­al exchanges for lit­er­a­ture and cul­ture."
Four decades after his jazz club days, Muraka­mi again became a DJ in 2018 when he took to the air­waves to play sev­er­al 55-minute sets called Muraka­mi Radio on Tokyo FM. Now, amidst the uncer­tain­ty and anx­i­ety of COVID-19 lock­downs, he will again play records for his fans in Japan on a show this Fri­day called Stay Home Spe­cial. "I'm hop­ing that the pow­er of music can do a lit­tle to blow away some of the coro­na-virus relat­ed blues that have been pil­ing up."
Muraka­mi isn't being Pollyan­nish about the "pow­er of music." The phrase may be cliché, but fans know from read­ing his books how music plays a sig­nif­i­cant role in even the most mun­dane of social inter­ac­tions, the kind we'd come to take for grant­ed before the virus spread around the world. The author offers music as a friend­ly over­ture. In a char­ac­ter­is­tic image, he wrote before his first radio broad­cast in 2018:
It has been my hob­by to col­lect records and CDs since my child­hood, and thanks to that, my house is inun­dat­ed with such things. How­ev­er, I have often felt a sense of guilt toward the world while lis­ten­ing to such amaz­ing music and hav­ing a good time alone. I thought it may be good to share such good times with oth­er peo­ple while chat­ting over a glass of wine or a cup of cof­fee.
Though he's been char­ac­ter­ized as a nov­el­ist of iso­la­tion, and is "regard­ed as a recluse in Japan," Muraka­mi sees the need to make deep con­nec­tions these days. And he rec­og­nizes music's pow­er to cre­ate shared emo­tion­al spaces, the kind of thing it seems so hard to find in our new frag­ment­ed, quar­an­tined lives.
Relat­ed Con­tent:
Haru­ki Muraka­mi Announces an Archive That Will House His Man­u­scripts, Let­ters & Col­lec­tion of 10,000+ Vinyl Records
A Dream­i­ly Ani­mat­ed Intro­duc­tion to Haru­ki Muraka­mi, Japan's Jazz and Base­ball-Lov­ing Post­mod­ern Nov­el­ist
Haru­ki Murakami's Pas­sion for Jazz: Dis­cov­er the Novelist's Jazz Playlist, Jazz Essay & Jazz Bar
A 3,350-Song Playlist of Music from Haru­ki Murakami's Per­son­al Record Col­lec­tion
Josh Jones is a writer and musi­cian based in Durham, NC. Fol­low him at @jdmagness