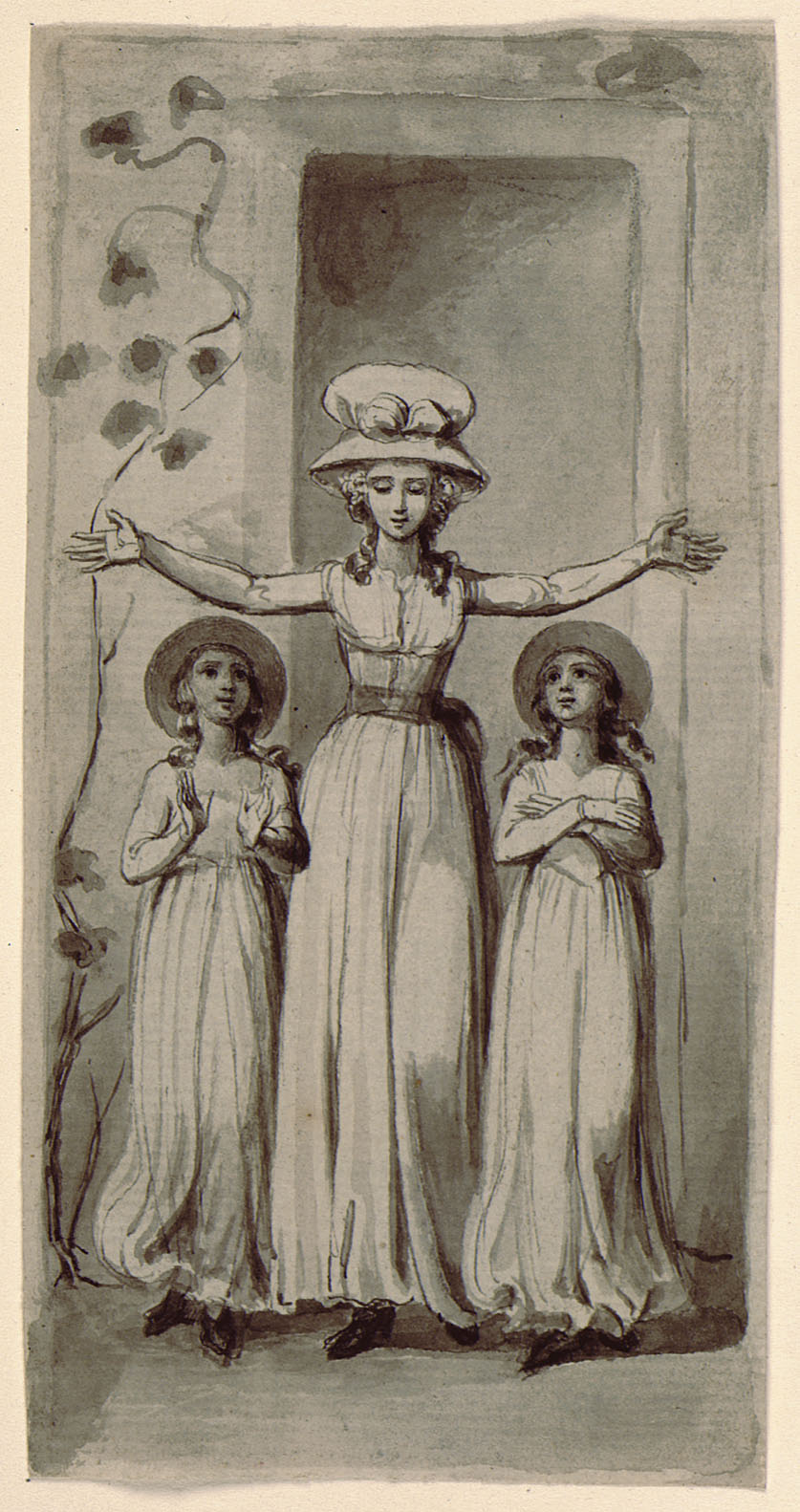 Most of us know Mary Woll­stonecraft as the author of the 1792 pam­phlet A Vin­di­ca­tion of the Rights of Women, and as the moth­er of Franken­stein author Mary Shel­ley. Few­er of us may know that two years before she pub­lished her foun­da­tion­al fem­i­nist text, she wrote A Vin­di­ca­tion of the Rights of Men, a pro-French Rev­o­lu­tion, anti-monar­chy argu­ment that first made her famous as a writer and philoso­pher. Per­haps far few­er know that Woll­stonecraft began her career as a pub­lished author in 1787 with Thoughts on the Edu­ca­tion of Daugh­ters (though she had yet to raise chil­dren her­self), a con­duct man­u­al for prop­er behav­ior.
A huge­ly pop­u­lar genre dur­ing the first Indus­tri­al Rev­o­lu­tion, con­duct man­u­als bore a mis­cel­la­neous char­ac­ter, incul­cat­ing a bat­tery of mid­dle-class rules, beliefs, and affec­ta­tions through a mix of ped­a­gogy, alle­go­ry, domes­tic advice, and devo­tion­al writ­ing. Young women were instruct­ed in the prop­er way to dress, eat, pray, laugh, love, etc., etc.
It may seem from our per­spec­tive that a rad­i­cal fire­brand like Woll­stonecraft would shun this sort of thing, but her mor­al­iz­ing was typ­i­cal of mid­dle-class women of her time, even of pio­neer­ing writ­ers who sup­port­ed rev­o­lu­tions and women's polit­i­cal and social equal­i­ty.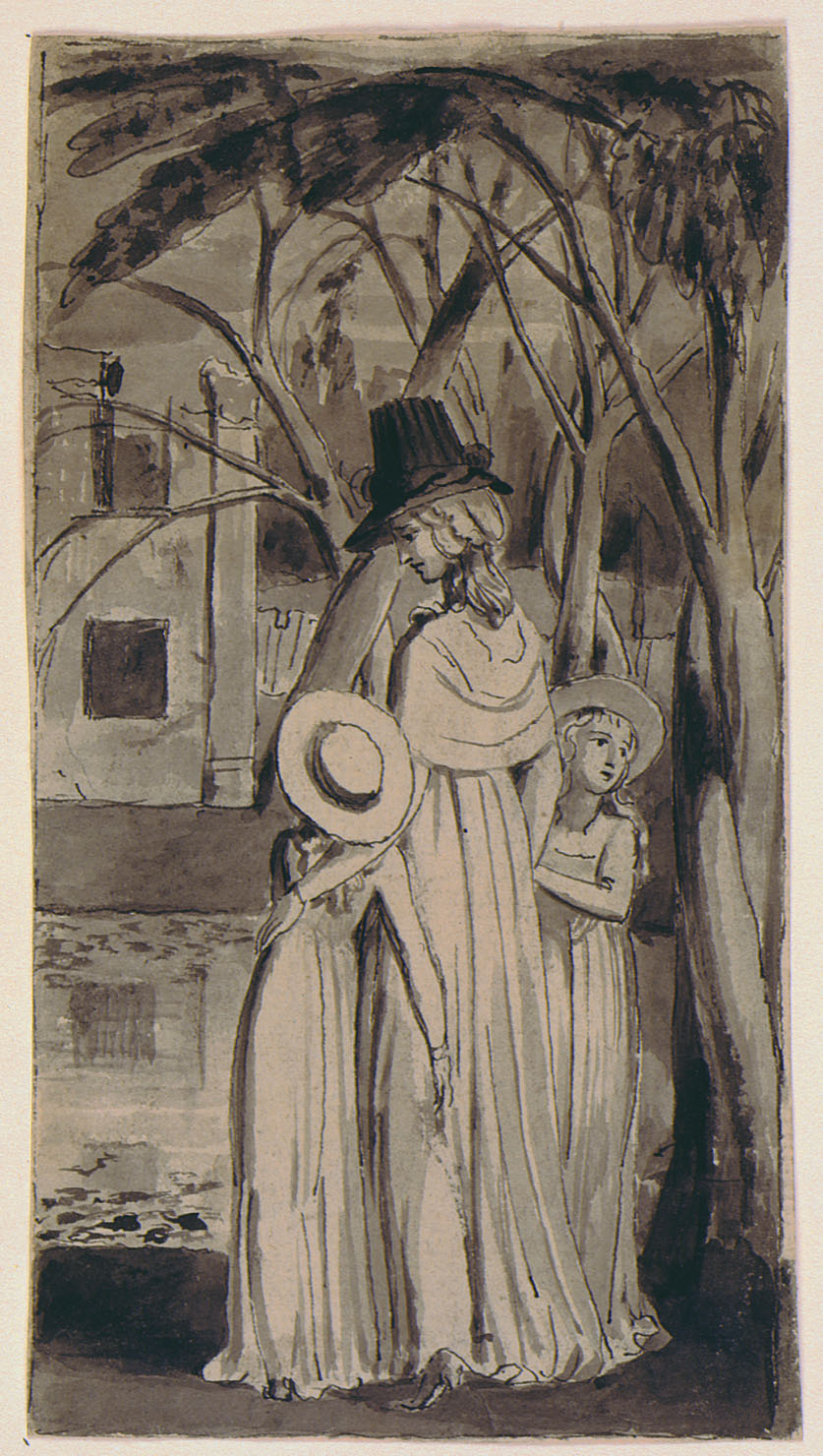 Wollstonecraft's assump­tions about class and char­ac­ter come into relief when placed against the views of anoth­er famous con­tem­po­rary, far more rad­i­cal fig­ure, William Blake, who was then a strug­gling, most­ly obscure poet, print­er, and illus­tra­tor in Lon­don. In 1791, he received a com­mis­sion to illus­trate a sec­ond edi­tion of Wollstonecraft's third book, a fol­low-up of sorts to her Thoughts on the Edu­ca­tion of Daugh­ters. The 1788 work—Orig­i­nal Sto­ries from Real Life; with Con­ver­sa­tions, Cal­cu­lat­ed to Reg­u­late the Affec­tions, and Form the Mind to Truth and Good­ness—is a more focused book, using a series of vignettes woven into a frame sto­ry.
The two chil­dren in the nar­ra­tive, 14-year-old Mary and 12-year-old Car­o­line, receive lessons from their rel­a­tive Mrs. Mason, who instructs them on a dif­fer­ent virtue and moral fail­ing in each chap­ter by using sto­ries and exam­ples from nature. The two pupils "are moth­er­less," notes the British Library, "and lack the good habits they should have absorbed by exam­ple. Mrs. Mason intends to rec­ti­fy this by being with them con­stant­ly and answer­ing all their ques­tions." She is an all-know­ing gov­erness who explains the world away with a phi­los­o­phy that might have sound­ed par­tic­u­lar­ly harsh to Blake's ears.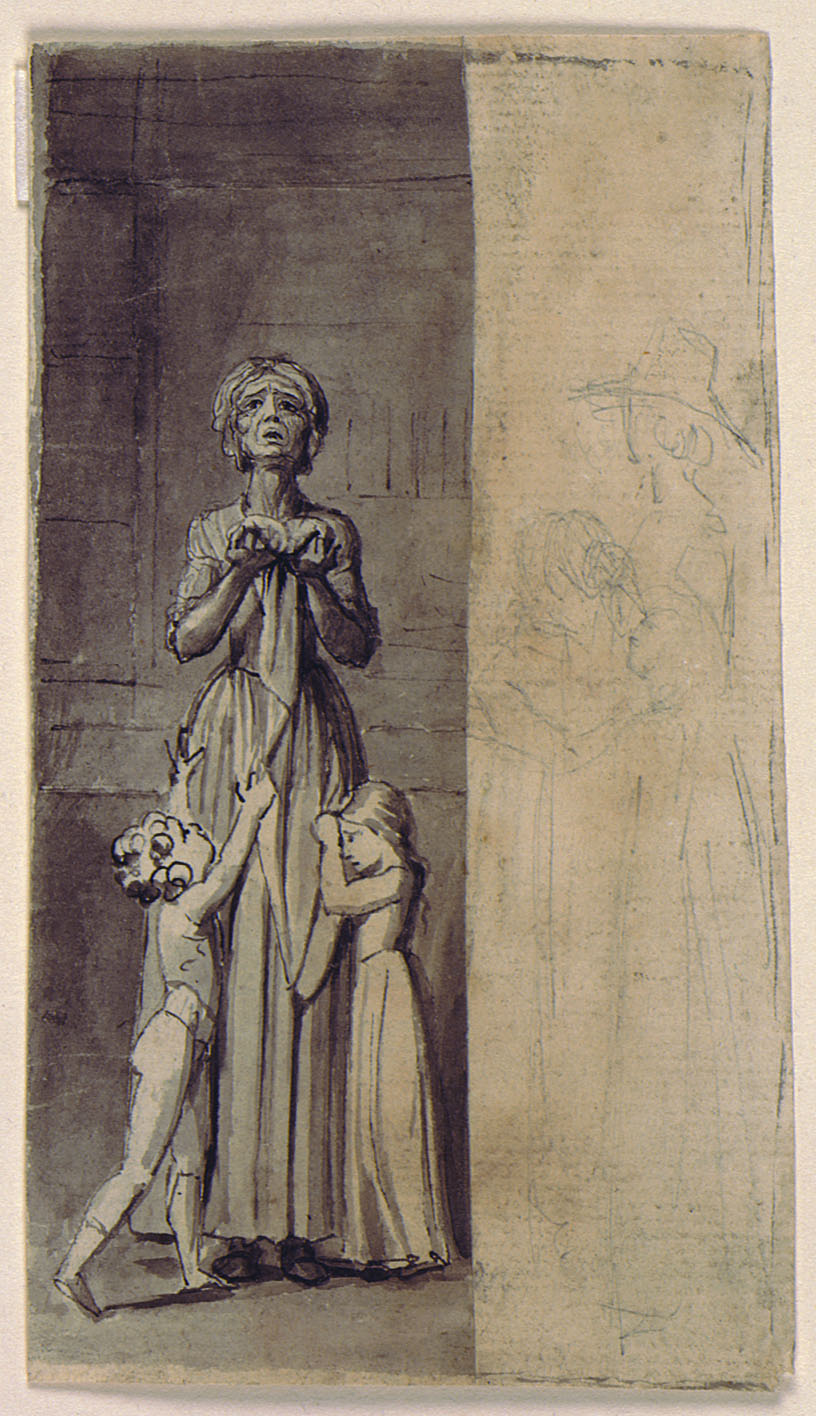 For exam­ple, in the chap­ter on phys­i­cal pain, Mary is stung by sev­er­al wasps. After­ward, her guardian begins to lec­ture her "with more than usu­al grav­i­ty."
I am sor­ry to see a girl of your age weep on account of bod­i­ly pain; it is a proof of a weak mind—a proof that you can­not employ your­self about things of con­se­quence. How often must I tell you that the Most High is edu­cat­ing us for eter­ni­ty?… Chil­dren ear­ly feel bod­i­ly pain, to habit­u­ate them to bear the con­flicts of the soul, when they become rea­son­able crea­tures. This is say, is the first tri­al, and I like to see that prop­er pride which strives to con­ceal its suf­fer­ings…. The Almighty, who nev­er afflicts but to pro­duce some good end, first sends dis­eases to chil­dren to teach them patience and for­ti­tude; and when by degrees they have learned to bear them, they have acquired some virtue.
Blake like­ly found this line of rea­son­ing off-putting, at the least. His own poems "were not children's lit­er­a­ture per se," writes Stephanie Metz at the Uni­ver­si­ty of Tennessee's Roman­tic Pol­i­tics project, "yet their sim­plis­tic lan­guage and even some of their con­tent responds to the char­ac­ter­is­tics of didac­tic fic­tion and children's poet­ry." Blake wrote express­ly to protest the ide­ol­o­gy found in con­duct man­u­als like Wollstonecraft's: "He calls atten­tion to society's abuse of chil­dren in a num­ber of dif­fer­ent ways, show­ing how soci­ety cor­rupts their inher­ent inno­cence and imag­i­na­tion while also fail­ing to care for their phys­i­cal and emo­tion­al needs."
For Blake, children's big emo­tions and active imag­i­na­tions made them supe­ri­or to adults. "Sev­er­al of his poems," Metz writes, "show the ways in which children's innate nature has already been taint­ed by their par­ents and oth­er soci­etal forms of author­i­ty, such as the church." Giv­en his atti­tudes, we can see why "mod­ern inter­preters of the illus­tra­tions for Orig­i­nal Sto­ries have detect­ed a pic­to­r­i­al cri­tique" in Blake's ren­der­ing of Wollstonecraft's text, as the William Blake Archive points out. Blake "appears to have found her moral­i­ty too cal­cu­lat­ing, ratio­nal­is­tic, and rigid. He rep­re­sents Wollstonecraft's spokesper­son, Mrs. Mason, as a dom­i­neer­ing pres­ence."
Nonethe­less, as always, Blake's work is more than com­pe­tent. The style for which we know him best emerges in some of the prints. We see it, for exam­ple, in the chis­eled face, bulging eyes, and well-mus­cled arms of the stand­ing fig­ure above. For the most part, how­ev­er, he keeps in check his exu­ber­ant desire to cel­e­brate the human body. "Only a year ear­li­er," writes Brain Pick­ings, "Blake had fin­ished print­ing and illu­mi­nat­ing the first few copies of his now-leg­endary Songs of Inno­cence and Expe­ri­ence." Two of the songs "were inspired by Wollstonecraft's trans­la­tion of C.G. Salzmann's Ele­ments of Moral­i­ty, for which Blake had done sev­er­al engrav­ings."
If he had mis­giv­ings about illus­trat­ing Wollstonecraft's Orig­i­nal Sto­ries, we must infer them from his illus­tra­tions. But plac­ing Blake's most famous book of poet­ry next to Wollstonecraft's pious, didac­tic works of moral instruc­tion pro­duces some jar­ring con­trasts, show­ing how two tow­er­ing lit­er­ary fig­ures from the time (though not both at the time) con­ceived of child­hood, social class, edu­ca­tion, and moral­i­ty in vast­ly dif­fer­ent ways. Learn more about Blake's illus­tra­tions at Brain Pick­ings, read an edi­tion of Woll­stonecraft's Orig­i­nal Sto­ries here, and see all of Blake's illus­tra­tions at the William Blake Archive.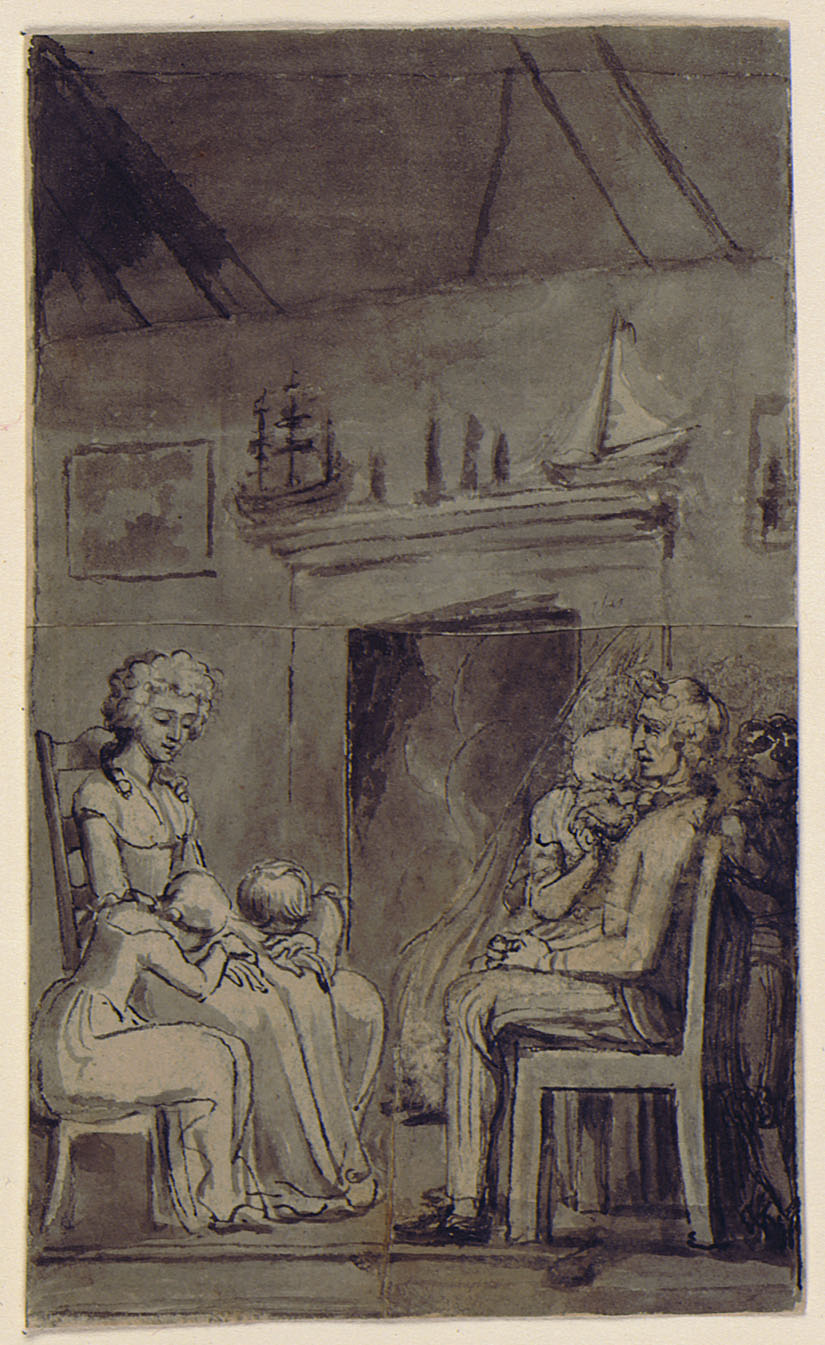 via Brain Pick­ings
Relat­ed Con­tent:
Enter an Archive of William Blake's Fan­tas­ti­cal "Illu­mi­nat­ed Books": The Images Are Sub­lime, and in High Res­o­lu­tion
William Blake's Mas­ter­piece Illus­tra­tions of the Book of Job (1793–1827)
William Blake's Hal­lu­ci­na­to­ry Illus­tra­tions of John Milton's Par­adise Lost
Josh Jones is a writer and musi­cian based in Durham, NC. Fol­low him at @jdmagness