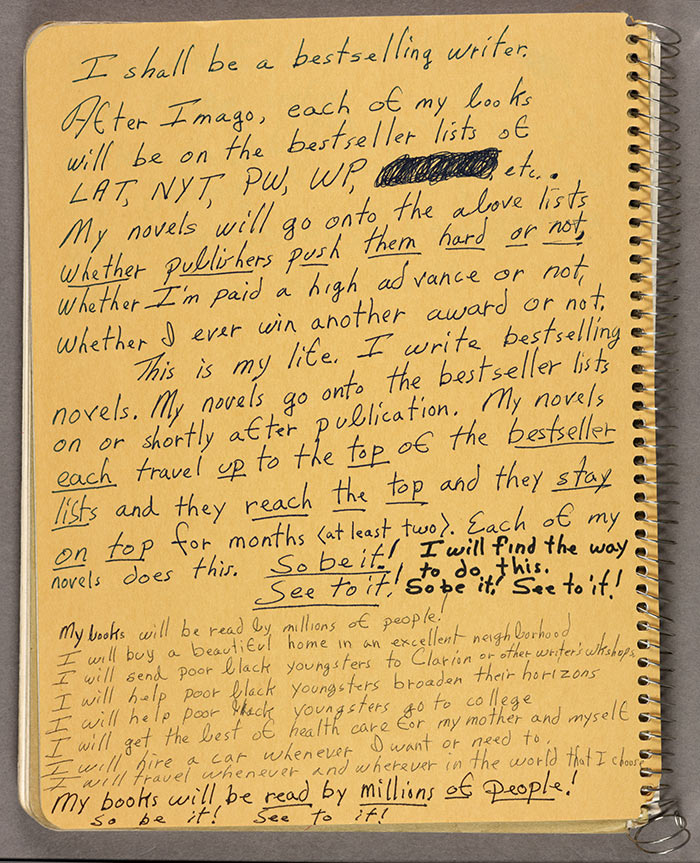 Hand­writ­ten notes on the inside cov­er of one of Octavia E. Butler's com­mon­place books, 1988
I was attract­ed to sci­ence fic­tion because it was so wide open. I was able to do any­thing and there were no walls to hem you in and there was no human con­di­tion that you were stopped from exam­in­ing. —Octavia E. But­ler
Like many authors, the late Octavia E. But­ler took up writ­ing at a young age.
At 11, she was churn­ing out tales about hors­es and romance.
At 12, she saw Dev­il Girl from Mars, and fig­ured (cor­rect­ly) she could tell a bet­ter sto­ry than that, using 2 fin­gers to peck out sto­ries on the Rem­ing­ton type­writer her moth­er bought at her request.
At 13, she found a copy of The Writer mag­a­zine aban­doned on a bus seat, and learned that it was pos­si­ble to sub­mit her work for pub­li­ca­tion.
After a decade's worth of rejec­tion slips, she sold her first two sto­ries, thanks in part to her asso­ci­a­tion with the Clar­i­on Sci­ence Fic­tion Writ­ing Work­shop, which she became involved with on the rec­om­men­da­tion of her men­tor, sci­ence fic­tion writer Har­lan Elli­son.
She went on to become the first sci­ence fic­tion writer to receive a pres­ti­gious MacArthur "genius" award, gar­ner­ing mul­ti­ple Hugo and Neb­u­la awards for her work.
An aster­oid is named after her, as is a moun­tain on Pluto's moon.
Hailed as the Moth­er of Afro Futur­ism, she won the PEN Amer­i­can Cen­ter life­time achieve­ment award in writ­ing.
But pro­fes­sion­al suc­cess nev­er cloud­ed her view of her­self as the 10-year-old writer who was unsure if library-lov­ing black kids like her would be allowed inside a book­store.
Iden­ti­fy­ing as a writer helped her move beyond her crip­pling shy­ness and dyslex­ia. As she wrote in an auto­bi­o­graph­i­cal essay, "Pos­i­tive Obses­sion":
I believed I was ugly and stu­pid, clum­sy, and social­ly hope­less. I also thought that every­one would notice these faults if I drew atten­tion to myself. I want­ed to dis­ap­pear. Instead, I grew to be six feet tall. Boys in par­tic­u­lar seemed to assume that I had done this grow­ing delib­er­ate­ly and that I should be ridiculed for it as often as pos­si­ble.

I hid out in a big pink notebook—one that would hold a whole ream of paper. I made myself a uni­verse in it. There I could be a mag­ic horse, a Mar­t­ian, a telepath….There I could be any­where but here, any time but now, with any peo­ple but these.
She devel­oped a life­long habit of cheer­ing her­self on with moti­va­tion­al notes, writ­ing them in her jour­nals, on lined note­book paper, in day plan­ners and on repur­posed pages of an old wall cal­en­dar.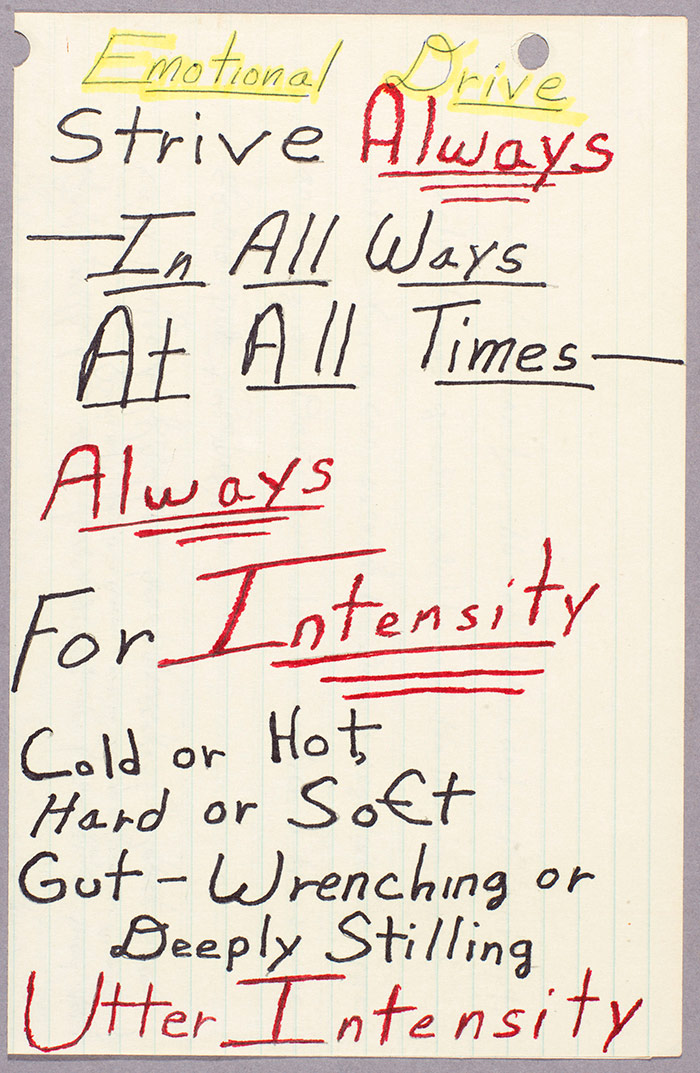 She held her­self account­able by writ­ing out demand­ing sched­ules to accom­pa­ny her lofty, doc­u­ment­ed goals.
And though she wea­ried of the con­stant invi­ta­tions to serve on lit­er­ary pan­els devot­ed to sci­ence fic­tion writ­ers of col­or, at which she'd be asked the same ques­tions she'd answered dozens of times before, she was res­olute about pro­vid­ing oppor­tu­ni­ties for young black writ­ers … and read­ers, who found reflec­tions of them­selves in her char­ac­ters. As she remarked in an inter­view with The New York Times:
When I began writ­ing sci­ence fic­tion, when I began read­ing, heck, I wasn't in any of this stuff I read. The only black peo­ple you found were occa­sion­al char­ac­ters or char­ac­ters who were so fee­ble-wit­ted that they couldn't man­age any­thing, any­way. I wrote myself in, since I'm me and I'm here and I'm writ­ing.
Her brand of sci­ence fic­tion—a label she often tried to duck, iden­ti­fy­ing her­self on her busi­ness card sim­ply as "writer"—serves as a lens for con­sid­er­ing con­tem­po­rary issues: sex­u­al vio­lence, gun vio­lence, cli­mate change, gen­der stereo­types, the prob­lems of late-stage cap­i­tal­ism, the plight of undoc­u­ment­ed immi­grants, and, not least, racism.
She side­stepped utopi­an sci­ence fic­tion, believ­ing that imper­fect humans are inca­pable of form­ing a per­fect soci­ety. "Nobody is per­fect," she told Vibe:
One of the things I've dis­cov­ered even with teach­ers using my books is that peo­ple tend to look for 'good guys' and 'bad guys,' which always annoys the hell out of me. I'd be bored to death writ­ing that way. But because that's the only pat­tern they have, they try to fit my work into it.
Learn more about the life and work of Octavia E. But­ler (1947–2006) here.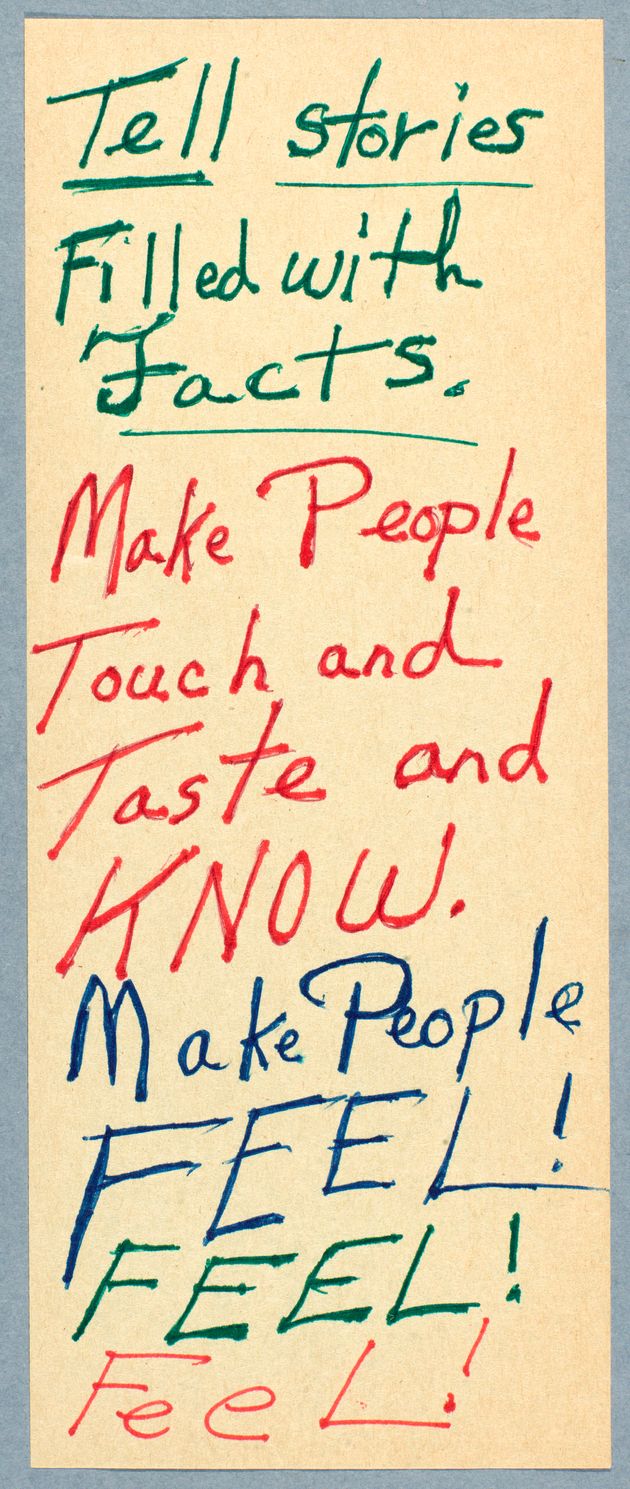 I shall be a best­selling writer. After Ima­go, each of my books will be on the best­seller lists of LAT, NYT, PW, WP, etc. My nov­els will go onto the above lists whether pub­lish­ers push them hard or not, whether I'm paid a high advance or not, whether I ever win anoth­er award or not.

This is my life. I write best­selling nov­els. My nov­els go onto the best­seller lists on or short­ly after pub­li­ca­tion. My nov­els each trav­el up to the top of the best­seller lists and they reach the top and they stay on top for months . Each of my nov­els does this.

So be it! I will find the way to do this. See to it! So be it! See to it!

My books will be read by mil­lions of peo­ple!

I will buy a beau­ti­ful home in an excel­lent neigh­bor­hood

I will send poor black young­sters to Clar­i­on or oth­er writer's work­shops

I will help poor black young­sters broad­en their hori­zons

I will help poor black young­sters go to col­lege

I will get the best of health care for my moth­er and myself

I will hire a car when­ev­er I want or need to.

I will trav­el when­ev­er and wher­ev­er in the world that I choose

My books will be read by mil­lions of peo­ple!

So be it! See to it!
via Austin Kleon
Relat­ed Con­tent:
Why Should We Read Pio­neer­ing Sci-Fi Writer Octavia But­ler? An Ani­mat­ed Video Makes the Case
Octavia Butler's 1998 Dystopi­an Nov­el Fea­tures a Fascis­tic Pres­i­den­tial Can­di­date Who Promis­es to "Make Amer­i­ca Great Again"
Watch a 5‑Part Ani­mat­ed Primer on Afro­fu­tur­ism, the Black Sci-Fi Phe­nom­e­non Inspired by Sun Ra
Ayun Hal­l­i­day is an author, illus­tra­tor, the­ater mak­er and Chief Pri­ma­tol­o­gist of the East Vil­lage Inky zine. Fol­low her @AyunHalliday.