It is hard, on the other hand, to blame the policeman, blank, good-natured, thoughtless, and insuperably innocent, for being such a perfect representative of the people he serves. He, too, believes in good intentions and is astounded and offended when they are not taken for the deed. 

—James Baldwin
James Baldwin's 1960 essay "Fifth Avenue, Uptown" is rich with heartrending ironies and razor-sharp refutations of the usual apologies for racist violence in America. It does not matter, Baldwin argues, whether individuals are "good" or "bad" apples in a system designed to enforce segregation, whether by force of law or brute force of will. "None of the police commissioner's men," writes Baldwin, "even with the best will in the world, have any way of understanding the lives led by the people they swagger about in twos and threes controlling."
This brutal ignorance extends widely to radicals, dissidents, peaceful protesters, and hapless bystanders during times of mass political unrest. (As Ed Kilgore points out at New York magazine, the term "police riot" originated in the 1968 Chicago Democratic Convention.) The brutality we've seen visited on elderly white activists, journalists, and even local politicians during recent protests (against brutality) has been a daily reality for millions of black Americans, even Americans as famous as Miles Davis.
In 1959—eight days after the release of Kind of Blue and just after recording a broadcast for armed forces radio—Davis was harassed and then viciously attacked by the police outside Birdland in Midtown Manhattan. Then he was arrested for resisting arrest and dragged to the police station for booking and further harassment. You can hear the story in a clip above from The Miles Davis Story. Davis himself recounted the event in his autobiography:
I had just finished doing an Armed Forces Day broadcast, you know, Voice of America and all that bullshit. I had just walked this pretty white girl named Judy out to get a cab. She got in the cab, and I'm standing there in front of Birdland wringing wet because it's a hot, steaming, muggy night in August. 

This white policeman comes up to me and tells me to move on. I said, "Move on, for what? I'm working downstairs. That's my name up there, Miles Davis," and I pointed to my name on the marquee all up in lights.

He said, "I don't care where you work, I said move on! If you don't move on I'm going to arrest you."

I just looked at his face real straight and hard, and I didn't move. Then he said, "You're under arrest!" He reached for his handcuffs, but he was stepping back…I kind of leaned in closer because I wasn't going to give him no distance so he could hit me on the head… A crowd had gathered all of a sudden from out of nowhere, and this white detective runs in and BAM! hits me on the head. I never saw him coming. Blood was running down the khaki suit I had on.
Davis, who grew up wealthy in St. Louis, came from vastly different circumstances than Baldwin. He understood the violence of the South, but not of Northern cities. Nonetheless, his experience with the police was identical, whether in Missouri or New York. "Now I would have expected this kind of bull about resisting arrest and all back in East St Louis," he wrote, "but not here in New York City, which is supposed to be the slickest, hippest city in the world. But then, again, I was surrounded by white folks and I have learned that when that happens, if you're black, there is no justice. None."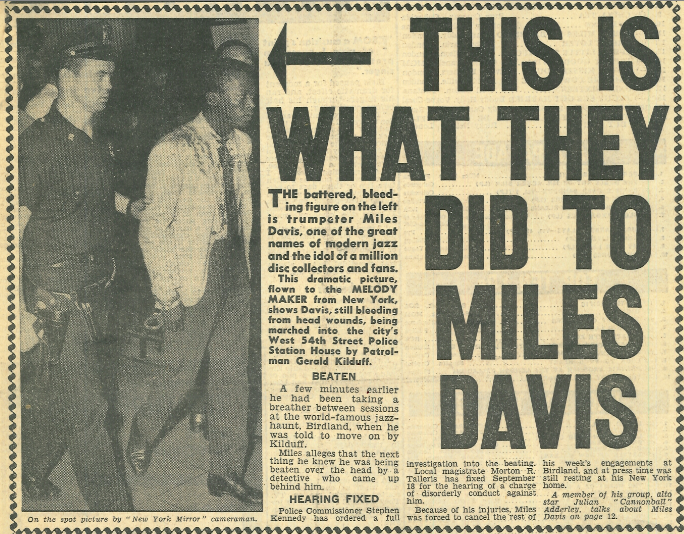 He speaks from bitter experience. Davis later sued the NYPD, but his case was dismissed, "despite a mountain of evidence in his favour," writes Queen's University researcher Mitchell Crouse, "including multiple witness statements, photographic evidence, and the fact that at least one of the officers was drunk."
Baldwin and Davis both wrote of what Jamelle Bouie describes in The New York Times as the raw knowledge afforded those who live under constant surveillance and threats of assault, arrest, or murder by agents of the state: "African-American observers have never had any illusions about who the police are meant to serve." See the many photographs of a bloody Miles taken during and after his arrest at the 1959 Project.
Related Content:
Miles Davis Iconic 1959 Album Kind of Blue Turns 60: Revisit the Album That Changed American Music
Miles Davis' Bitches Brew Turns 50: Celebrate the Funk-Jazz-Psych-Rock Masterpiece
Miles Davis Dishes Dirt on His Fellow Jazz Musicians: "The Trombone Player Should be Shot"; That Ornette is "F-ing Up the Trumpet"
Josh Jones is a writer and musician based in Durham, NC. Follow him at @jdmagness