Most of us, through our computers or our even our phones, have access to more books than we could ever read in one lifetime. That certainly wouldn't have been the case in, say, the middle ages, when books — assuming you belonged to the elite who could read them in the first place — were rare and precious objects. Both books and literacy became more common during the Renaissance, though acquaintance with both could still be considered the sign of a potentially serious scholar. And for the most serious Renaissance scholars of all, Italian military engineer Agostino Ramelli designed the bookwheel, an elaborate mechanical device allowing the user to turn from one book to another in relatively quick succession.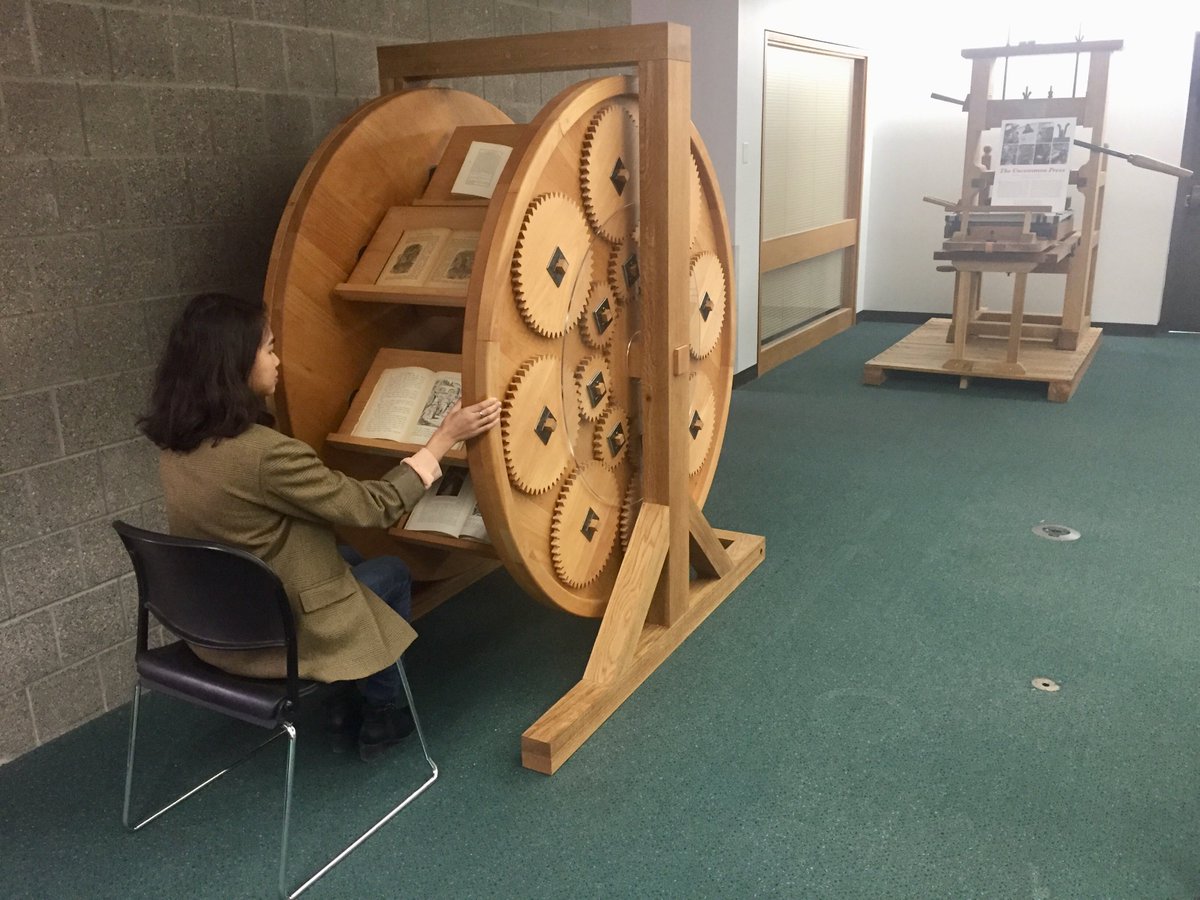 First drawn by Ramelli in 1588 (and previously featured here on Open Culture in 2017) but never actually constructed by him, the bookwheel has attracted renewed attention in the 21st century. "In 2018, a group of undergraduate engineering students at the Rochester Institute of Technology set out to build two," writes Atlas Obscura's Claire Voon. "They began by diligently studying the Italian engineer's illustration, then procured historically accurate materials, such as European beech and white oak.
With the help of modern power tools and processes, such as computer modeling and CNC routing, they brought it to life." You can see the RIT bookwheels under construction and in action in the video above. (Its schematics, near-impossibly complex by the standards of Ramelli's day, are also available at RIT's web site.)
Others have also brought Ramelli's design into reality. In the video just above, for example, we have writer Joshua Foer (previously featured here for his work on the science of memorization) taking his own reproduction for a spin. "It's a ferris wheel for books," Foer explains, "so that a scholar can have eight books in front of them, sort of like tabbed browsing before tabbed browsing." The device's cherry wood and laser-cut gears are certainly handsome, but what of its practicality? "I often read multiple books at one time, and this way I can have them all open in front of me." Most all of us start more books than we can finish, and as we attempt to read them all in parallel, occasionally one or two do get forgotten. Hence one advantage, even in our modern times, of Ramelli's book wheel: any book placed on it becomes as unignorable as the machine itself.
Related Content:
Behold the "Book Wheel": The Renaissance Invention Created to Make Books Portable & Help Scholars Study (1588)
Discover the Jacobean Traveling Library: The 17th Century Precursor to the Kindle
The Art of Making Old-Fashioned, Hand-Printed Books
Wonderfully Weird & Ingenious Medieval Books
Wearable Books: In Medieval Times, They Took Old Manuscripts & Turned Them into Clothes
How to Memorize an Entire Chapter from "Moby Dick": The Art and Science of Remembering Everything
Based in Seoul, Colin Marshall writes and broadcasts on cities, language, and culture. His projects include the book The Stateless City: a Walk through 21st-Century Los Angeles and the video series The City in Cinema. Follow him on Twitter at @colinmarshall, on Facebook, or on Instagram.