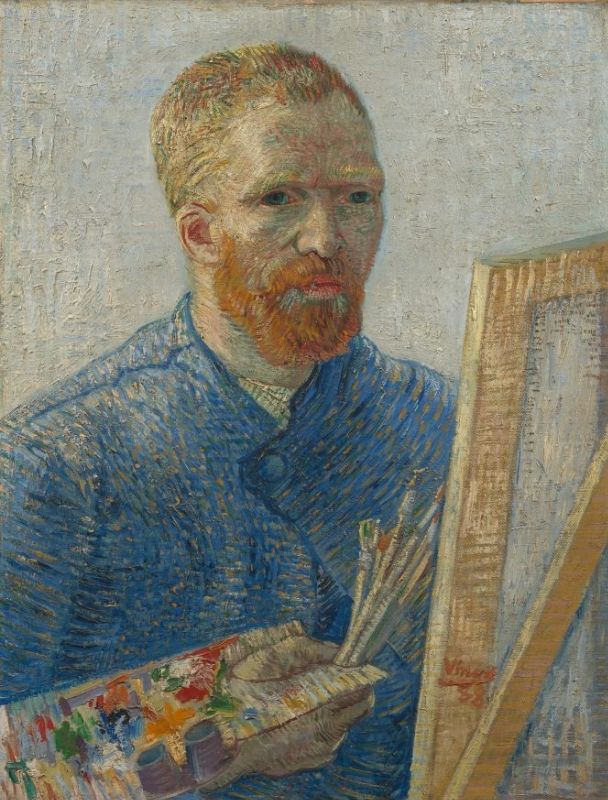 "They say — and I gladly believe it — that it is difficult to know yourself," Vincent Van Gogh once wrote to his brother Theo, "but it isn't easy to paint oneself either." This from one of the most prolific self-portraitists of all time. Between the years 1885 and 1889, Van Gogh painted himself more than 35 times, most of them during the two years in the middle when he lived in Paris. Always short of funds, but especially straitened there, he saved the cost of hiring models by investing in a mirror instead.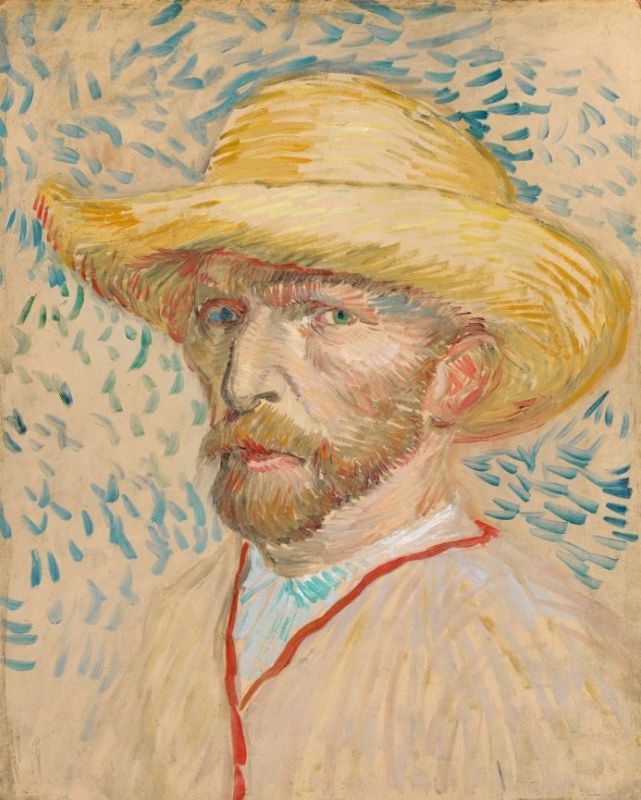 That mirror, Van Gogh wrote in another letter, was "good enough to enable me to work from my image in default of a model, because if I can manage to paint the coloring of my own head, which is not to be done without some difficulty, I shall likewise be able to paint the heads of other good souls, men and women." At the Van Gogh Museum's online collection you can browse up close and in detail — as well as download — seventeen examples of the painter's essays in his own head color, and much else about himself besides.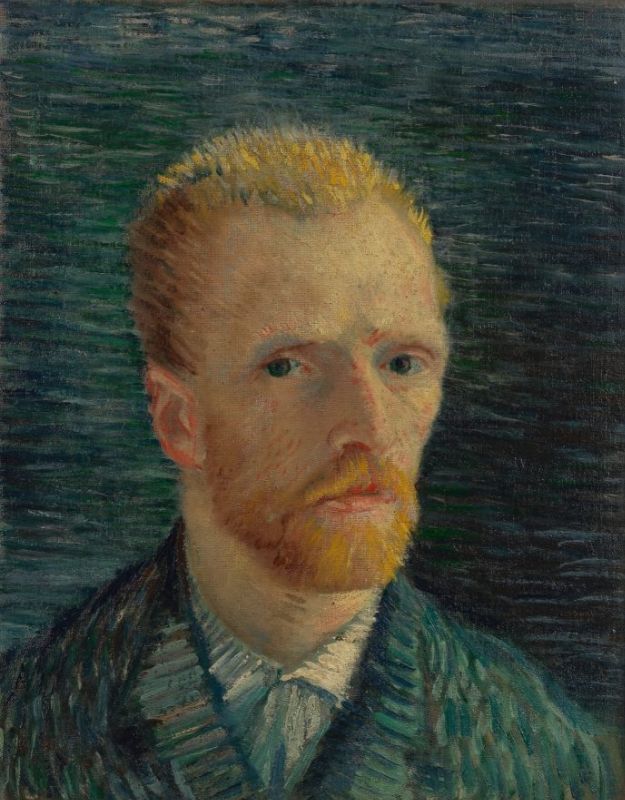 We've all seen Van Gogh's two or three most well-known self-portraits. The most famous of those, 1889's Self-Portrait With a Bandaged Ear (one of two painted that year), hints at the act of self-mutilation that followed one of his many quarrels with his friend and colleague Paul Gauguin. Held at the Courtauld Gallery, that painting doesn't appear on the Van Gogh Museum's site, but those that do reveal aspects of the painter (literally, in some cases) artistically unexplored by his more widely seen works.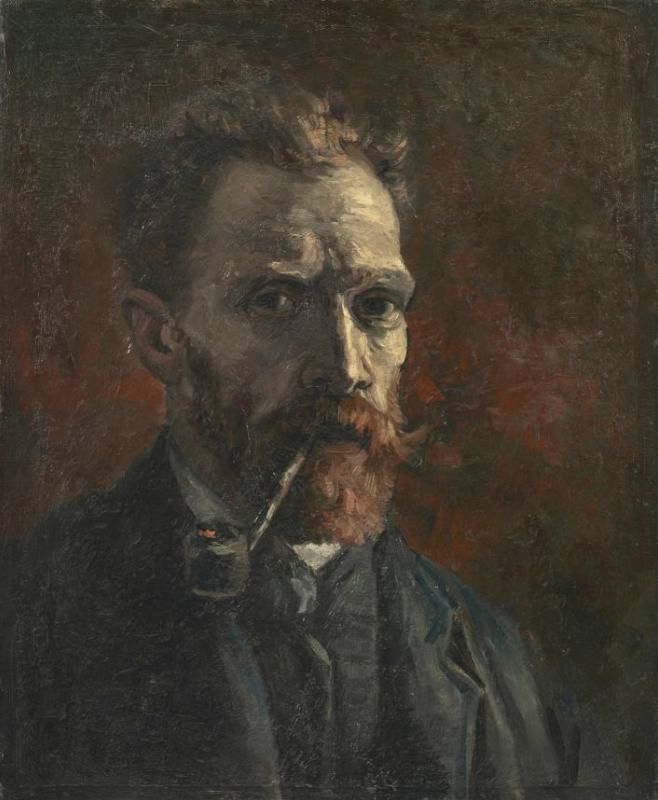 Take Self-Portrait as a Painter at the top of the post, an unusual depiction in that Van Gogh makes reference in it to his profession. Created between December 1887 and February 1888, this final Parisian work includes a palette, paintbrushes, and an easel, but the way in which Van Gogh painted it tells us something more: "He showed that he was a modern artist by using a new painting style, with bright, almost unblended colors," says the Van Gogh Museum's web site, "the blue of his smock, for instance, and the orange-red of his beard" chosen to intensify one another.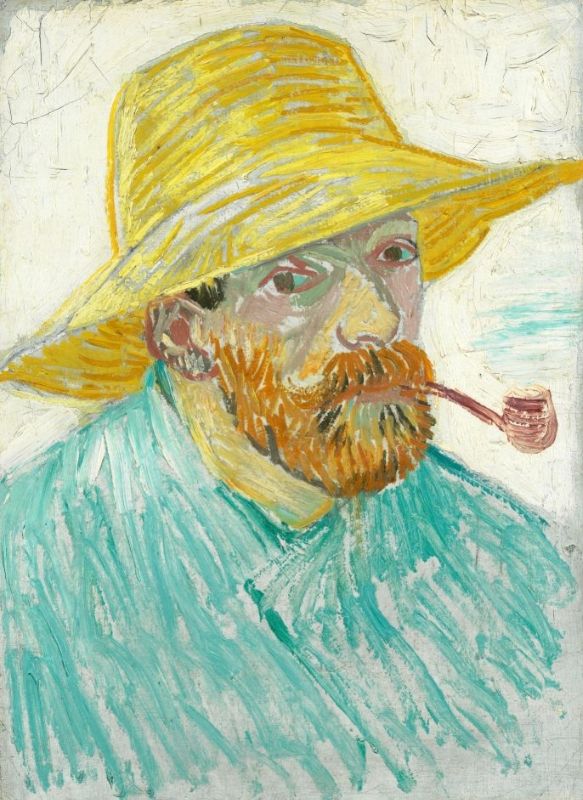 Different self-portraits emphasize different distinctive elements of Van Gogh's appearance and self-presentation. In 1887's Self-Portrait with Straw Hat he wears the titular piece of headwear that allows him to use his beloved color yellow, even as he "examines us with one blue and one green eye." In some self-portraits he goes not just without a hat but without any of the accoutrements of his work at all, including his artist's smock. In others, as in the Adolphe Monticelli-inspired example here, he smokes a pipe; in the clearly Impressionist-influenced self-portrait just above, he opts for both pipe and hat. Yet we can always recognize Van Gogh by the intensity of his expression — or as Douglas Coupland less reverently put it, his "selfie face."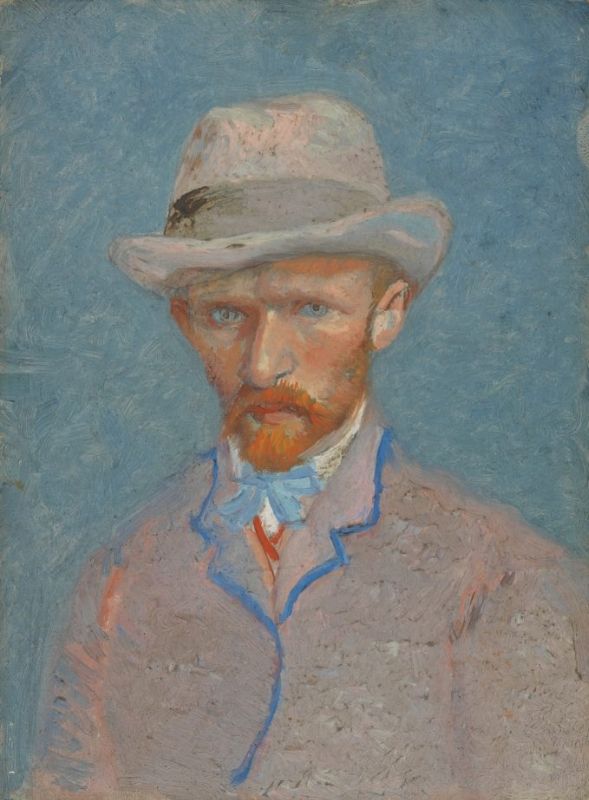 Related Content:
Explore 1400 Paintings & Drawings by Vincent van Gogh–and Much More–at the Van Gogh Museum's Online Collection
Download Hundreds of Van Gogh Paintings, Sketches & Letters in High Resolution
Experience the Van Gogh Museum in 4K Resolution: A Video Tour in Seven Parts
Watch as Van Gogh's Famous Self-Portrait Morphs Into a Photograph
Van Gogh's "Starry Night" and "Self Portrait" Painted on Dark Water, Using a Traditional Turkish Art Form
Discovered: The Only Known Picture of Vincent Van Gogh as an Adult Artist? (Maybe, Maybe Not)
Based in Seoul, Colin Marshall writes and broadcasts on cities, language, and culture. His projects include the book The Stateless City: a Walk through 21st-Century Los Angeles and the video series The City in Cinema. Follow him on Twitter at @colinmarshall, on Facebook, or on Instagram.