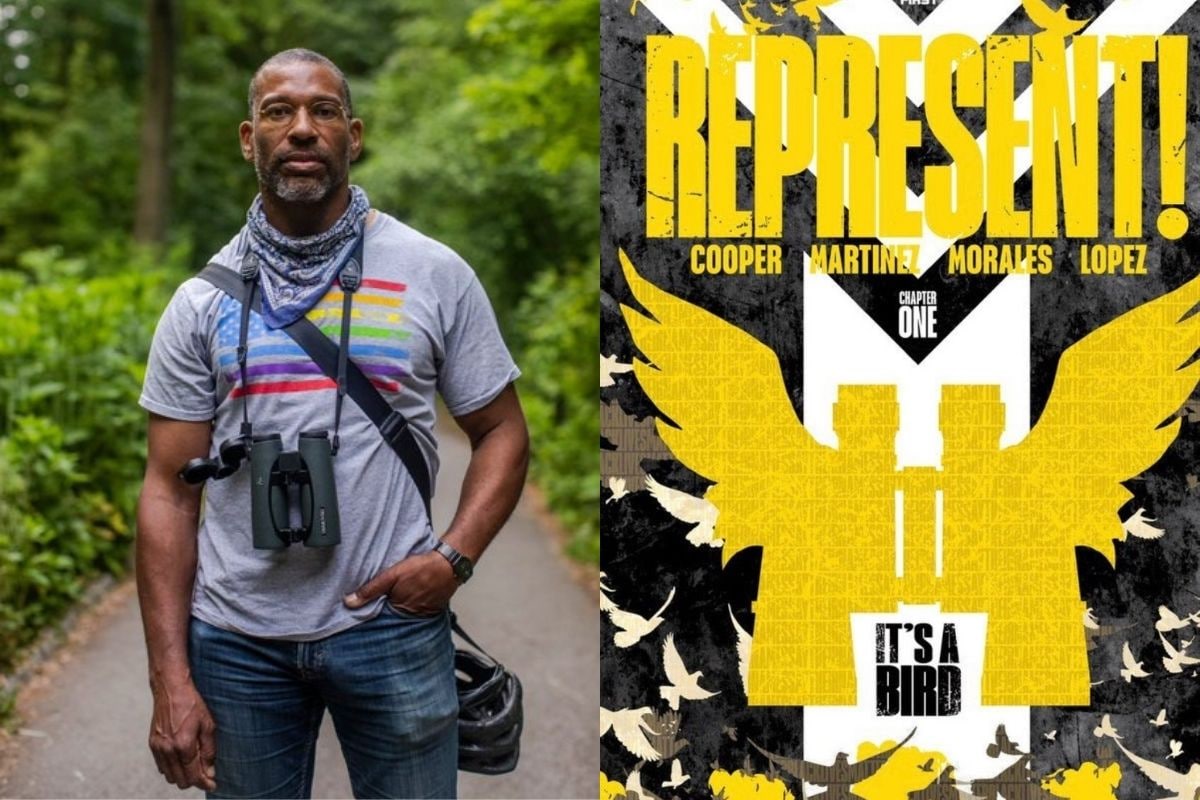 Write what you know.
It's oft-cit­ed advice for writ­ers both begin­ning and estab­lished.
Thus, Jules, the teenage boy at the cen­ter of Chris­t­ian Cooper's It's a Bird, the first entry in DC Comics' dig­i­tal-first anthol­o­gy series Rep­re­sent!, is a bird­watch­er, like the author.
And the binoc­u­lars that were a 50th birth­day gift from Cooper's father, a Kore­an War vet and Civ­il Rights activist, serve as mod­els for the ones Jules is none too thrilled to receive, despite his grandpa's belief that they pos­sess spe­cial pow­ers.
Coop­er, who was was Mar­vel's first open­ly gay writer and edi­tor, intro­duc­ing a num­ber of queer char­ac­ters before devot­ing him­self to sci­ence writ­ing, also draws on recent per­son­al his­to­ry that is more fraught.
Although the loca­tion has shift­ed from New York City's Cen­tral Park to a sub­ur­ban green space bor­dered with large, well-kept homes, includ­ing Jules', the young man's encounter with an indig­nant white woman and her off-leash dog should ring any num­ber of bells.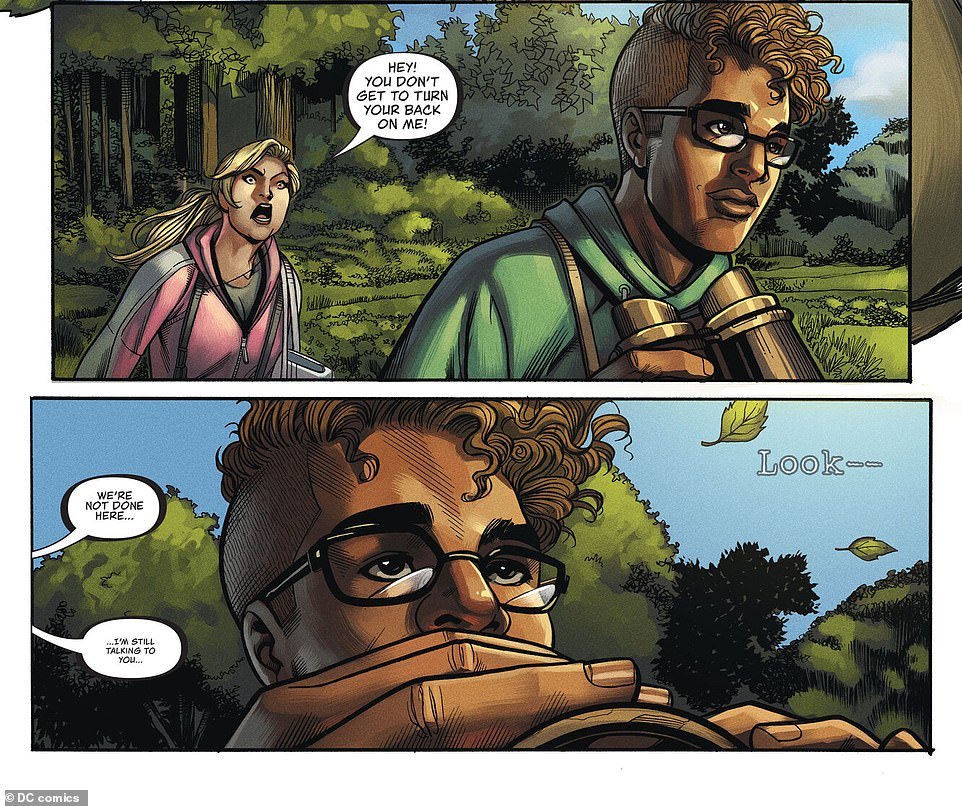 In late May, Coop­er became the sub­ject of nation­al news, when he con­front­ed Amy Coop­er (no rela­tion) over her vio­la­tion of park rules, tired of the hav­oc uncon­trolled dogs wreak on birds who call the park home. Ms. Coop­er esca­lat­ed things quick­ly by call­ing 911, claim­ing she was being threat­ened by an African-Amer­i­can man. Coop­er record­ed the inci­dent as a mat­ter of pro­to­col, and his sis­ter shared the video on social media lat­er that day.
The same day that George Floyd was killed by police in Min­neapo­lis, Min­neso­ta.
What Jules sees through the lens­es of his grand­fa­ther's binoc­u­lars con­tains an ele­ment of fan­ta­sy, but is also deeply root­ed in reality—the faces of Ami­dou Dial­lo, Bre­on­na Tay­lor, Floyd, and oth­er Black peo­ple who have died as a result of exces­sive, unwar­rant­ed police force.
When DC first approached him about tap­ping his expe­ri­ence for his first com­ic in over two decades, Coop­er was reluc­tant:
I thought, "I don't know, DC Comics? Super­heroes? Not sure how that's going to work." We kicked around a cou­ple of ideas. They said they had got­ten the title, I'm not sure exact­ly from who, but some­body pret­ty high up in the DC food chain: "It's a Bird." It took me half a beat. "Oh…I get what you did there." Once I had the title, the sto­ry wrote itself.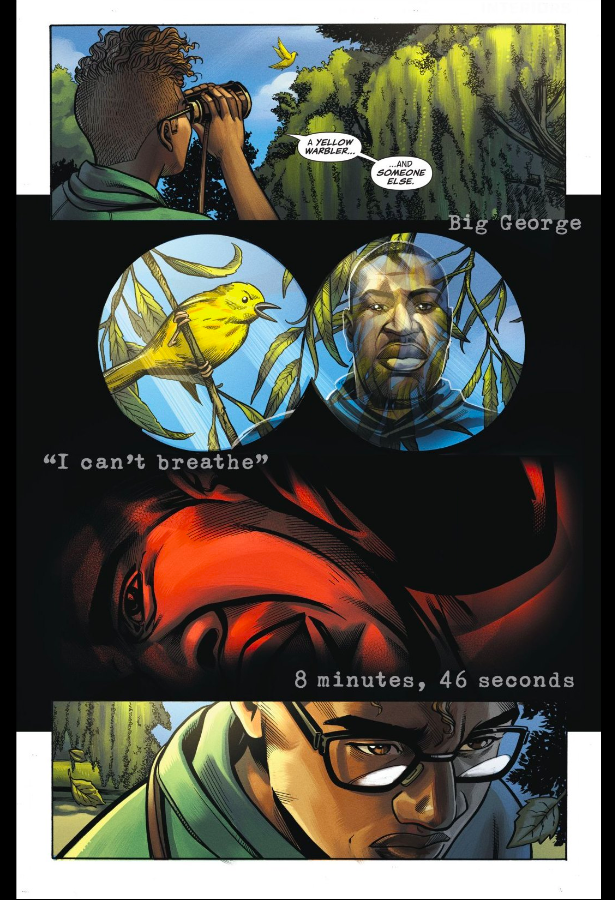 It's a Bird artist Aletha E. Mar­tinez, a pio­neer whose 20-year career has includ­ed ink­ing such super­hero heavy hit­ters as the Black Pan­ther, Iron Man, Bat­girl, and X‑Men, also pulled from per­son­al expe­ri­ence when ren­der­ing Jules' expres­sion after the binoc­u­lars reveal the cir­cum­stances of George Floyd's death:
I saw that look on my son's face three years ago after we left North Car­oli­na, and we were com­ing home to New York. We were stopped going into the air­port. We trav­el so often—cons, in and out of the coun­try. These two secu­ri­ty guards start­ed to harass us. They want­ed to take my purse. "Where are you from?" You hear my voice, there's no accent in my voice. It end­ed up with them say­ing, "You should trav­el with your pass­port." This is after back­ing us up in the cor­ner, and why? I'm an Amer­i­can cit­i­zen born on this soil, so is my son. I don't need a pass­port to trav­el with­in my coun­try. This is our day and age.
I watched my son's face change, and he nev­er quite walked up again look­ing hap­py going to the air­port. Now he has on armor. That face you see? That's my kid.
It's a Bird can be read for free on par­tic­i­pat­ing dig­i­tal plat­forms (see links below), and Coop­er is hope­ful that it will inspire young peo­ple to find out more about some of the real life char­ac­ters Jules spies through his binoc­u­lars. To that end, an appen­dix touch­es on some bio­graph­i­cal details:
We not only give the bare bones details of how they died, but also a lit­tle bit about them, because they were peo­ple. They weren't just want hap­pened to them. I hope young peo­ple (are) inspired to keep the focus where it needs to be, which is on those we have lost and how we keep from los­ing more. There are peo­ple who are invest­ed in dis­tract­ing us right now, and there are peo­ple who want to dis­tract us from their fail­ures on so many oth­er things. That's not what this moment is about. This moment is about the ones we've lost, and how we're going to keep from los­ing any more. And if you're not talk­ing about that, I don't want to hear it.
Read Rep­re­sent!: It's a Bird for free on readdc.com, Comixol­o­gy, Ama­zon Kin­dle, Apple Books, and oth­er par­tic­i­pat­ing dig­i­tal plat­forms.
Read an inter­view with Coop­er and Mar­tinez, from which the quotes in this post are drawn, on DC's blog.
Relat­ed Con­tent:
A New Dig­i­tal Archive Pre­serves Black Lives Mat­ter & COVID-19 Street Art
Read Mar­tin Luther King and The Mont­gomery Sto­ry: The Influ­en­tial 1957 Civ­il Rights Com­ic Book
Bat­man Stars in an Unusu­al Car­toon Adap­ta­tion of Dostoyevsky's Crime and Pun­ish­ment
Ayun Hal­l­i­day is an author, illus­tra­tor, the­ater mak­er and Chief Pri­ma­tol­o­gist of the East Vil­lage Inky zine. Fol­low her @AyunHalliday.