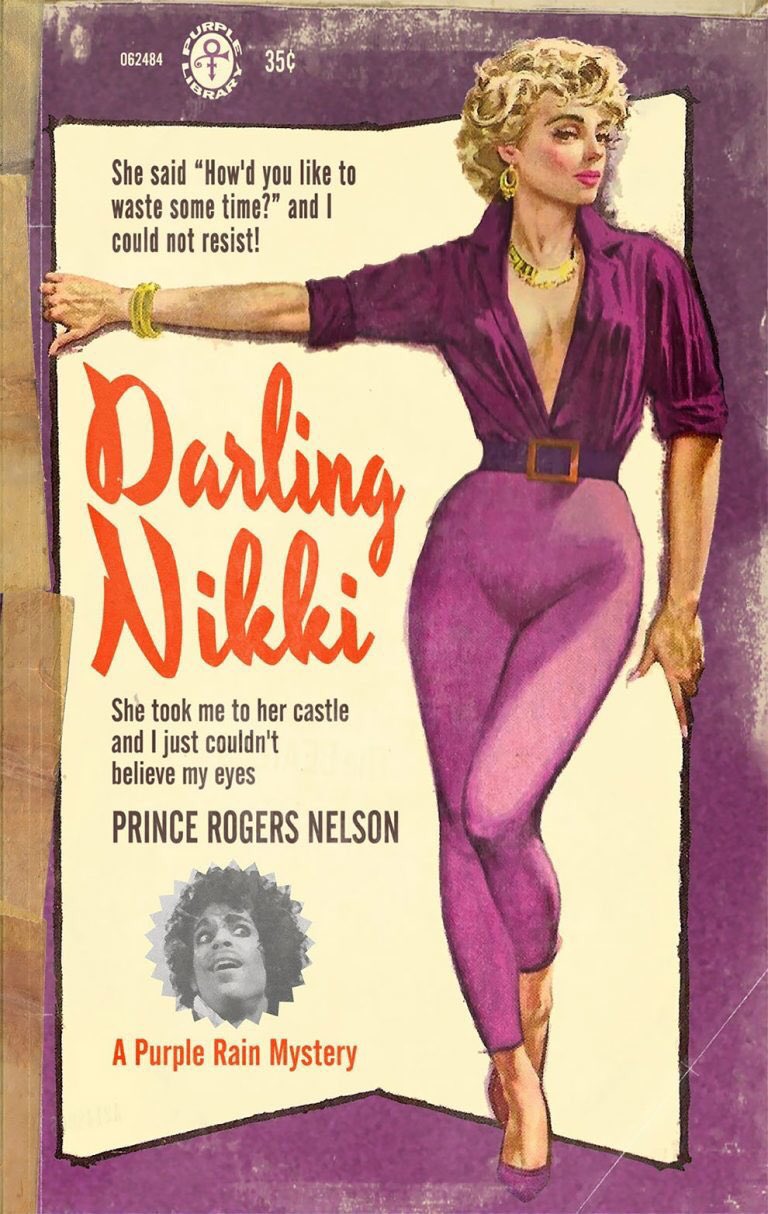 There's a book-lined Knowledge Room in the late Prince Rogers Nelson's Paisley Park, but the Prince-inspired faux-books that artist Todd Alcott imagines are probably better suited to the estate's purple-lit Relaxation Room.
The Knowledge Room was conceived of as a library where the world's most famous convert to Jehovah's Witnesses could delve into religious literature, reflect on the meaning of life, and study the Bible deep into the night.
Alcott's covers harken to an earlier stage in Prince's evolution—one the star eventually disavowed—as well as several bygone eras of book design.
Lyrically, there's no mistaking what Prince's notorious 1984 "Darling Nikki" is about. There's a direct line between it and the creation of parental advisory stickers for musical releases containing what is politely referred to as "mature content."
Alcott's 1950s pulp novel treatment, above, is similarly graphic. Those skintight purple curves are a promise that even purpler prose lays within, or would, were there any text couched behind that steamy cover.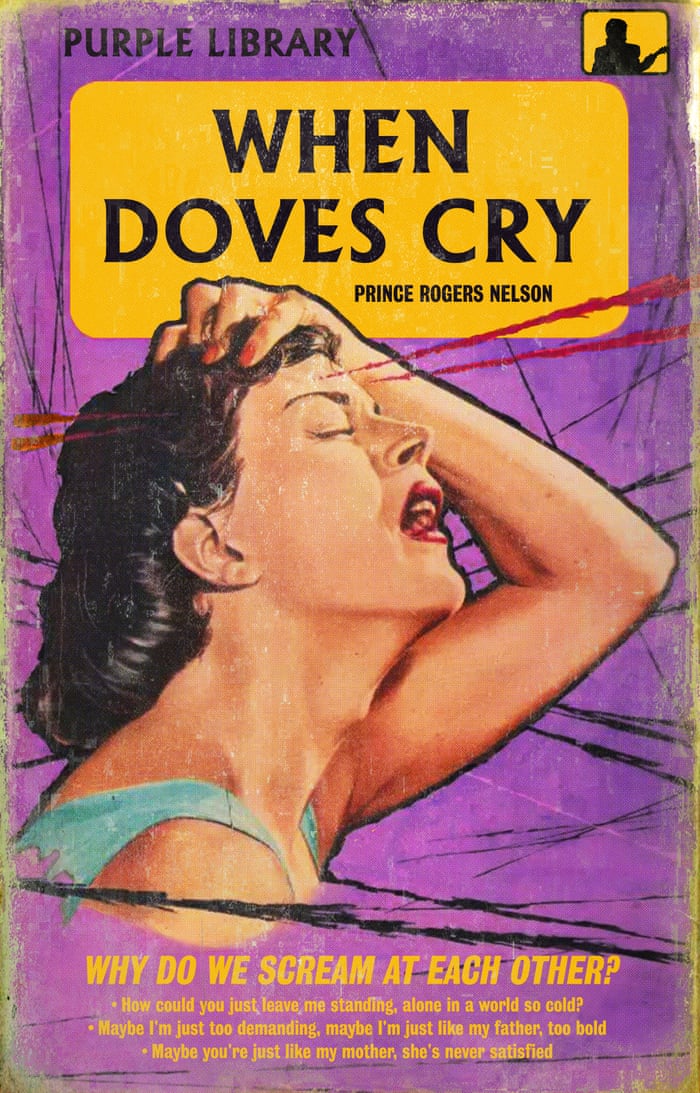 "When Doves Cry" makes for a pretty purple cover, too. In this case, the inspiration is a 1950s self-help book, enriched with some Freudian taglines from Prince's own pen. ("Maybe you're just like my mother, she's never satisfied.")
Alcott remembers Prince being "an incredibly liberating figure" when he burst onto the scene:
There was his flamboyant, outrageous sexuality, but also his musical omnivorousness; he played funk, rock, pop, jazz, everything. Purple Rain was the Sergeant Pepper's of its day, a wall-to-wall brilliant album that everyone could recognize as a remarkable achievement. I remember when I first saw Purple Rain, at the very beginning of the movie, before the movie has even begun, the Warner Bros logo came up and you heard the sound of an expectant crowd, and an announcer says "Ladies and Gentlemen, The Revolution," and the first shot is of Prince, backlit, silhouetted in purple against a dense mist, and he says "Dearly beloved, we have gathered here today to get through this thing called life." And I was instantly, incontrovertibly, a fan for life. The confidence of that opening, the sheer audacity of it, adopting the tone of a priest at a wedding, in his Hendrix outfit and hairdo, the sheer gutsiness of that statement, alone, just blew me away. And then he proceeded to play "Let's Go Crazy" which completely lived up to that opening. After that he could have run Buick ads for the rest of the movie and I'd still be a fan.

Decades later, I was sitting in a Subway restaurant at the end of a very, very long, tiring day, and was feeling completely exhausted and miserable, and out of nowhere, "When Doves Cry" came on the sound system. And I was reminded that the song, which was a huge hit in 1984, the song of the year, had no bass line. The arrangement of it made no sense. It was a song put together by force of will, with its metal guitar and its synth strings and its electronic drums. And in that moment, at the end of a long, tiring day, I was reminded that miracles are possible.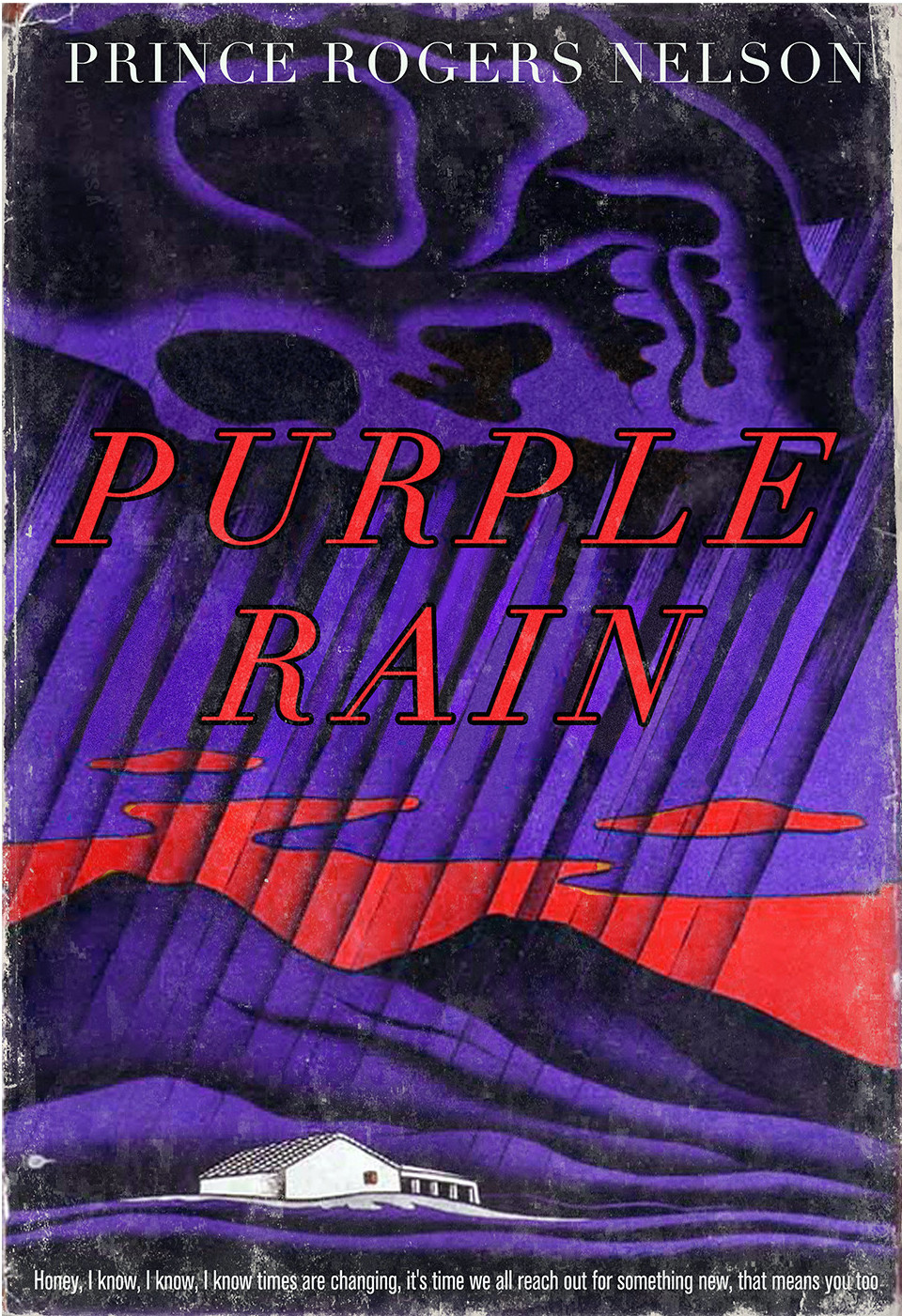 Alcott's miraculous graphic transformations are rounded out with a comparatively understated 1930s murder mystery, Purple Rain and an ingenious Little Red Corvette owner's manual dating to the mid-60s. Prints of Todd Alcott's Prince-inspired paperback covers are available in his Etsy shop.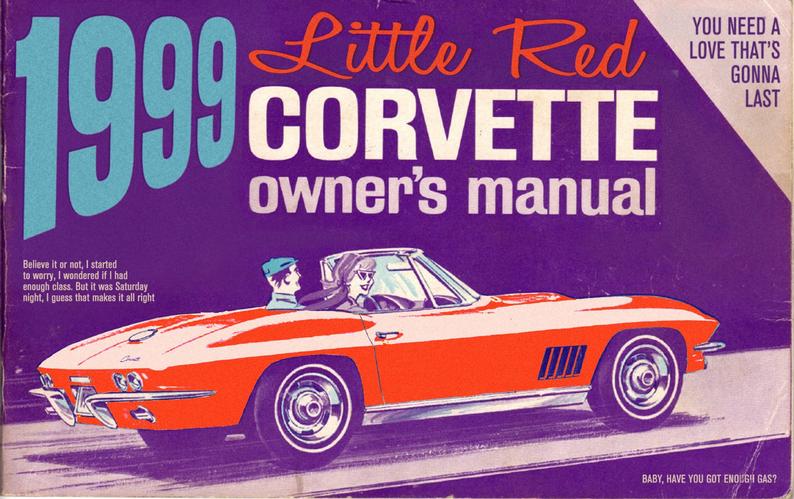 Related Content: 
Prince (RIP) Performs Early Hits in a 1982 Concert: "Controversy," "I Wanna Be Your Lover" & More
Classic Songs Re-Imagined as Vintage Book Covers During Our Troubled Times: "Under Pressure," "It's the End of the World as We Know It," "Shelter from the Storm" & More
Classic Radiohead Songs Re-Imagined as a Sci-Fi Book, Pulp Fiction Magazine & Other Nostalgic Artifacts
Ayun Halliday is an author, illustrator, theater maker and Chief Primatologist of the East Village Inky zine. Follow her @AyunHalliday.