Dorothea Lange's "Migrant Moth­er"…
Nick Ut's Pulitzer Prize-win­ning "The Ter­ror of War"…
Richard Drew's "The Falling Man"…
Through­out the years, a num­ber of icon­ic pho­tographs have tapped into the col­lec­tive uncon­scious, shap­ing our view of his­toric events, some­times to a degree that leads to social change.
These images are not depen­dent on know­ing the sub­jects' iden­ti­ties, though it's always inter­est­ing when more con­text leaks out, often as the result of some seri­ous sleuthing by reporters, archivists, or oth­er inter­est­ed par­ties.
1932's "Lunch atop a Sky­scraper (New York Con­struc­tion Work­ers Lunch­ing on a Cross­beam)" is one of the lighter-heart­ed pho­tos to cre­ate such a last­ing pub­lic impres­sion.
Eleven work­ers are depict­ed enjoy­ing their break, relax­ing on a gird­er a dizzy­ing 840-feet above New York City, unbur­dened by safe­ty har­ness­es or oth­er pro­tec­tive gear.
In the words of Rock­e­feller Cen­ter archivist Christi­na Rous­sel, who nar­rates the TIME Mag­a­zine 100 Pho­tos episode above, they are the "unsung heroes of con­struc­tion."
The unusu­al des­ig­na­tion may lead you to rack your brains for a sung hero of con­struc­tion.
Grandpa's cog-in-the-wheel con­tri­bu­tion to the erec­tion of an icon­ic land­mark can be a source of anec­do­tal pride for fam­i­lies, but it rarely leads to greater renown.
Loom­ing over this image is John D. Rock­e­feller, Jr, who mas­ter­mind­ed a 22 acre com­plex of 14 com­mer­cial build­ings in the Art Deco style. The project was a boost to the econ­o­my dur­ing the Great Depres­sion, employ­ing over 250,000 people—from truck­ers and quar­ry­men to glaziers and steel­work­ers and hun­dreds of oth­er jobs in between. It cre­at­ed an enor­mous amount of good­will and patri­ot­ic pride.
The Rock­e­feller orga­ni­za­tion cap­i­tal­ized on this pos­i­tive recep­tion, with a steady stream of staged pub­lic­i­ty pho­tos, includ­ing the dar­ing eleven shar­ing a nose­bleed seat on what was to become the 69th floor of the RCA Build­ing (now known as 30 Rock.)
As film crit­ic John Ander­son, review­ing the doc­u­men­tary Men at Lunch in The New York Times, wrote:
The pop­u­lar­i­ty of the pic­ture, which has been col­orized, sat­i­rized, bur­lesqued with the Mup­pets and turned into a life-size sculp­ture by Ser­gio Furnari, is part­ly about the casu­al reck­less­ness of its sub­jects: The beam on which they sit seems sus­pend­ed over an urban abyss, with the vast­ness of Cen­tral Park spread out behind them and noth­ing, seem­ing­ly below. But in fact a fin­ished floor of 30 Rock­e­feller Plaza was prob­a­bly just a few feet away.
The doc­u­men­tary helped con­firm the iden­ti­ties of sev­er­al of the men.
Irish immi­grants Mad­dy O'Shaughnessy and Son­ny Glynn hold down either end, as ver­i­fied by their sons.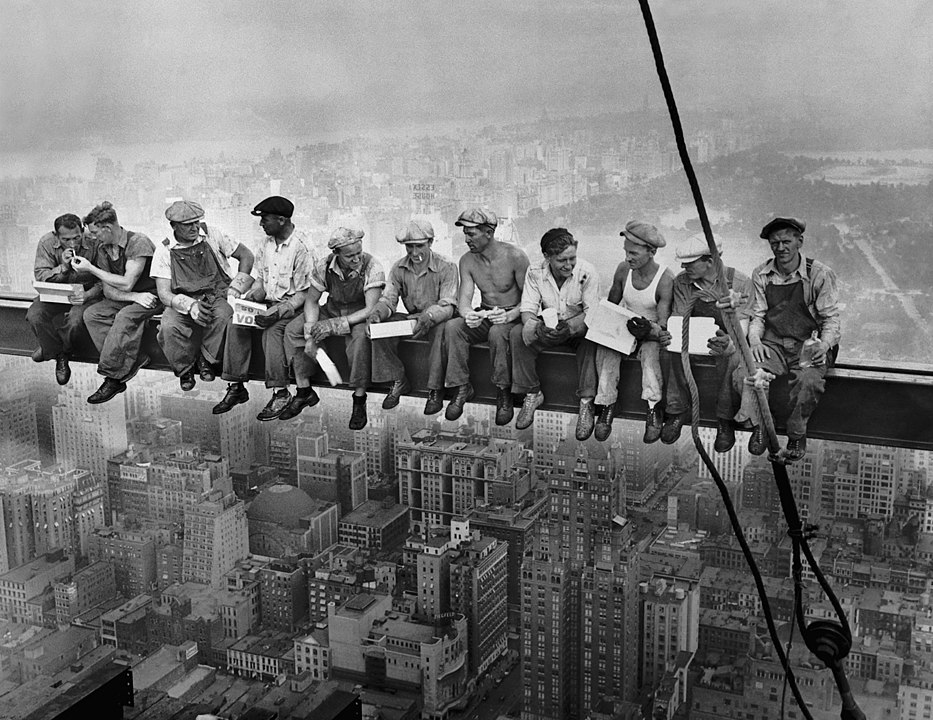 William Eck­n­er, third from left, and Joe Cur­tis, third from right, were named in a sim­i­lar­ly spir­it­ed anno­tat­ed pho­to tak­en around the same time.
The man seat­ed to Cur­tis' right may or may not be John Charles Cook of the St. Reg­is Mohawk Reser­va­tion.
The photographer's iden­ti­ty is also debat­able. It's most often cred­it­ed to Charles C. Ebbets but Tom Kel­ley and William Left­wich were also on hand that day, leather satchels of glass plates slung across their backs, as they, too, defied grav­i­ty, doc­u­ment­ing the com­ple­tion of archi­tect Ray­mond Hood's mas­ter plan.
Relat­ed Con­tent:
How Dorothea Lange Shot, Migrant Moth­er, Per­haps the Most Icon­ic Pho­to in Amer­i­can His­to­ry
Yale Presents an Archive of 170,000 Pho­tographs Doc­u­ment­ing the Great Depres­sion
Yale Presents an Archive of 170,000 Pho­tographs Doc­u­ment­ing the Great Depres­sion
Ayun Hal­l­i­day is an author, illus­tra­tor, the­ater mak­er and Chief Pri­ma­tol­o­gist of the East Vil­lage Inky zine. Fol­low her @AyunHalliday.