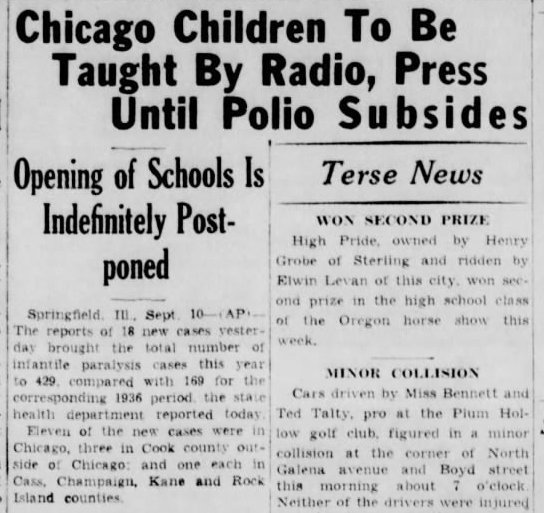 As all of us have noticed in recent months, liv­ing in a viral pan­dem­ic real­ly mess­es with your sense of time. A few months feels like a decade. Time slows to a crawl. If you're a par­ent, how­ev­er, you have before you walk­ing, talk­ing, grow­ing, com­plain­ing reminders that no mat­ter what's hap­pen­ing in the world, chil­dren still grow up just the same. They need new expe­ri­ences and new clothes just as before, and they need to keep their brains engaged and try, at least, to build on pri­or knowl­edge.
Maybe we're learn­ing new things, too. (Adult brains also need exer­cise.) Or not. We have some con­trol over the sit­u­a­tion; kids don't. "Learn­ing loss" over inac­tive months is real, and the gov­ern­ment still has the respon­si­bil­i­ty (for what the word is worth) to edu­cate them. Online learn­ing may feel like a bad com­pro­mise for many fam­i­lies, and its suc­cess seems large­ly dependent—as in reg­u­lar school—on par­ent involve­ment and access to resources. But it's bet­ter than eight months of the more mind­less kind of screen time.
It may help to know that remote learn­ing isn't new, even if we're still adjust­ing to tech­nol­o­gy that lets teach­ers (and boss­es) into our homes with cam­eras and micro­phones. The chal­lenges "may seem unprece­dent­ed," Stan­ford pro­fes­sor Michael Hines writes at The Wash­ing­ton Post, but "edu­ca­tors may be sur­prised to learn that almost 100 years ago Chicago's schools faced sim­i­lar cir­cum­stances" dur­ing the polio epi­dem­ic and met them in a sim­i­lar way. In 1937, an out­break forced the city to close schools, and prompt­ed "wide­spread alarm about lost instruc­tion­al time and stu­dents left to their own devices" (so to speak).
Admin­is­tra­tors were "deter­mined to con­tin­ue instruc­tions for the district's near­ly 325,000 ele­men­tary age stu­dents" through the only remote tech­nol­o­gy avail­able, radio, "still fair­ly new and large­ly untest­ed in edu­ca­tion in the 1930s." Accord­ing to Hines, a his­to­ri­an of edu­ca­tion in the U.S., the pro­gram was very well orga­nized, the lessons were engag­ing, and edu­ca­tors "active­ly sought to involve par­ents and com­mu­ni­ties" through tele­phone hot­lines they could call with ques­tions or com­ments. On the first day, they logged over 1,000 calls and added five addi­tion­al teach­ers.
You might be wondering—given dig­i­tal divide prob­lems of online learn­ing today—whether all the stu­dents served actu­al­ly owned a radio and tele­phone. Kather­ine Foss, a pro­fes­sor of Media Stud­ies at Mid­dle Ten­nessee State Uni­ver­si­ty, notes that in the late 1930s, "over 80% of U.S. house­holds owned at least one radio, though few­er were found in homes in the south­ern U.S., in rur­al areas and among peo­ple of col­or." Those who did­n't were left out, and school author­i­ties had no way to track atten­dance. "Access issues received lit­tle atten­tion" in the media. School Super­in­ten­dent William John­son had no idea how many stu­dents tuned in.
The local pro­gram last­ed less than three weeks before schools reopened. Some felt the instruc­tion moved too quick­ly and "stu­dents who need­ed more atten­tion or reme­di­a­tion strug­gled through one-size-fits-all radio lessons," notes Hines. Edu­ca­tors today will sym­pa­thize with the over­all sense at the time that those who ben­e­fit­ted most from the radio lessons were stu­dents who need­ed them least.
Learn more about the exper­i­ment in Hines' his­to­ry les­son (also see Foss' recent arti­cle), and con­sid­er the lessons we can apply to the present. Remote edu­ca­tion still has flaws, and par­ents still strug­gle to find time for involve­ment, but the tech­nol­o­gy has made it a viable option for much longer than three weeks, and maybe, giv­en future uncer­tain­ties, far longer than that.
Relat­ed Con­tent:
NBC Uni­ver­si­ty The­ater Adapt­ed Great Nov­els to Radio & Gives Lis­ten­ers Col­lege Cred­it : Hear 110 Episodes from a 1940s eLearn­ing Exper­i­ment
The His­to­ry of the 1918 Flu Pan­dem­ic, "The Dead­liest Epi­dem­ic of All Time": Three Free Lec­tures from The Great Cours­es
Dyson Cre­ates 44 Free Engi­neer­ing & Sci­ence Chal­lenges for Kids Quar­an­tined Dur­ing COVID-19
Free Online Draw­ing Lessons for Kids, Led by Favorite Artists & Illus­tra­tors
Josh Jones is a writer and musi­cian based in Durham, NC. Fol­low him at @jdmagness