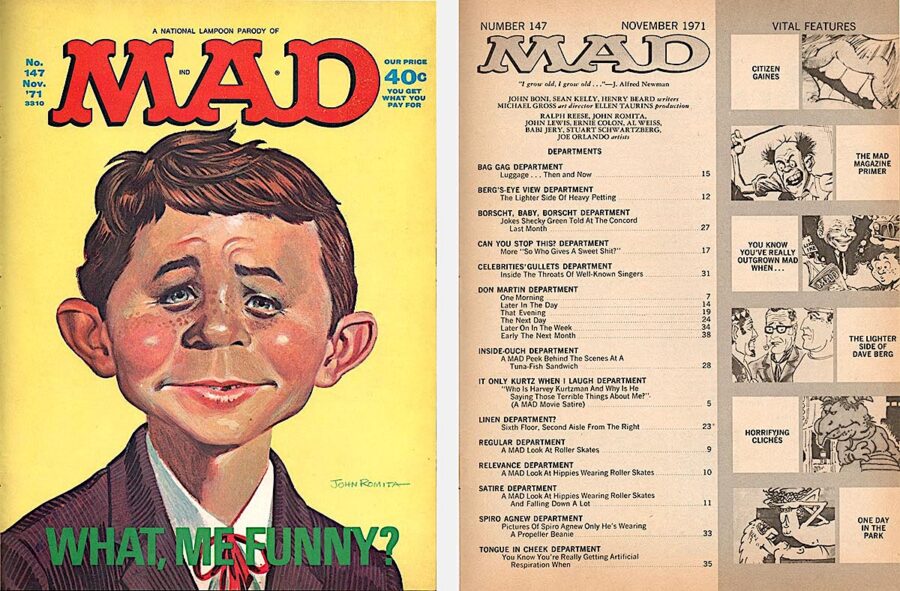 I grew up on Mad Mag­a­zine. It was the one mag­a­zine I made sure my par­ents got me every month. I bought the Super Spe­cials, the paper­back reprints, the flexi discs, and even the board game. When we'd go to swap meets, I'd bring home old­er issues from the 1960s, and try to fig­ure out the pol­i­tics from a decade before I was born. It was why this eight-year old kid knew any­thing about pol­i­tics, and knew that Nixon sucked, Ford sucked, Carter kind of sucked, and Rea­gan def­i­nite­ly sucked.
And then, I just grew out of it. Although the orig­i­nal Har­vey Kurtz­man-writ­ten issues from the 1950s still felt vital, the "Usu­al Gang of Idiots" felt, well, safe and bor­ing. I wouldn't have said a bad word against them if you asked, but I would not have told any of my teenage friends they absolute­ly need­ed to read it. Until its can­cel­la­tion in 2019, Mad would be a friend­ly sight on the news­stand, but I'd nev­er pick it up. Nobody *real­ly* had a bad word to say about Mad, did they?
Appar­ent­ly an unusu­al new gang of idiots at the Nation­al Lam­poon did, back in Octo­ber 1971. This 15-page satire on Mad is as vicious a take­down as they come, its veins puls­ing with the kind of vin­dic­tive glee only a true for­mer fan can muster.
The "What, Me Fun­ny?" issue is a col­lec­tive voice of child­hood betrayed, with spot-on par­o­dies of Mort Druck­er, Don Mar­tin, Dave Berg, Al Jaf­fee, Jack Davis, Paul Cok­er, and oth­ers, drawn by artists like Joe Orlan­do, John Romi­ta, and Ernie Colon, among oth­ers.
The main charge: after pub­lish­er William Gaines and Har­vey Kurtz­man had acri­mo­nious­ly split and gone sep­a­rate ways, Mad mag­a­zine grew embar­rassed of its com­ic book past, and sought out a more mid­dle-of-the-road audi­ence, with humor less "in a jugu­lar vein" and more in a juve­nile vein. Like Sat­ur­day Night Live for the last five? ten? twen­ty? years, it had for­got­ten what satire was and how it works.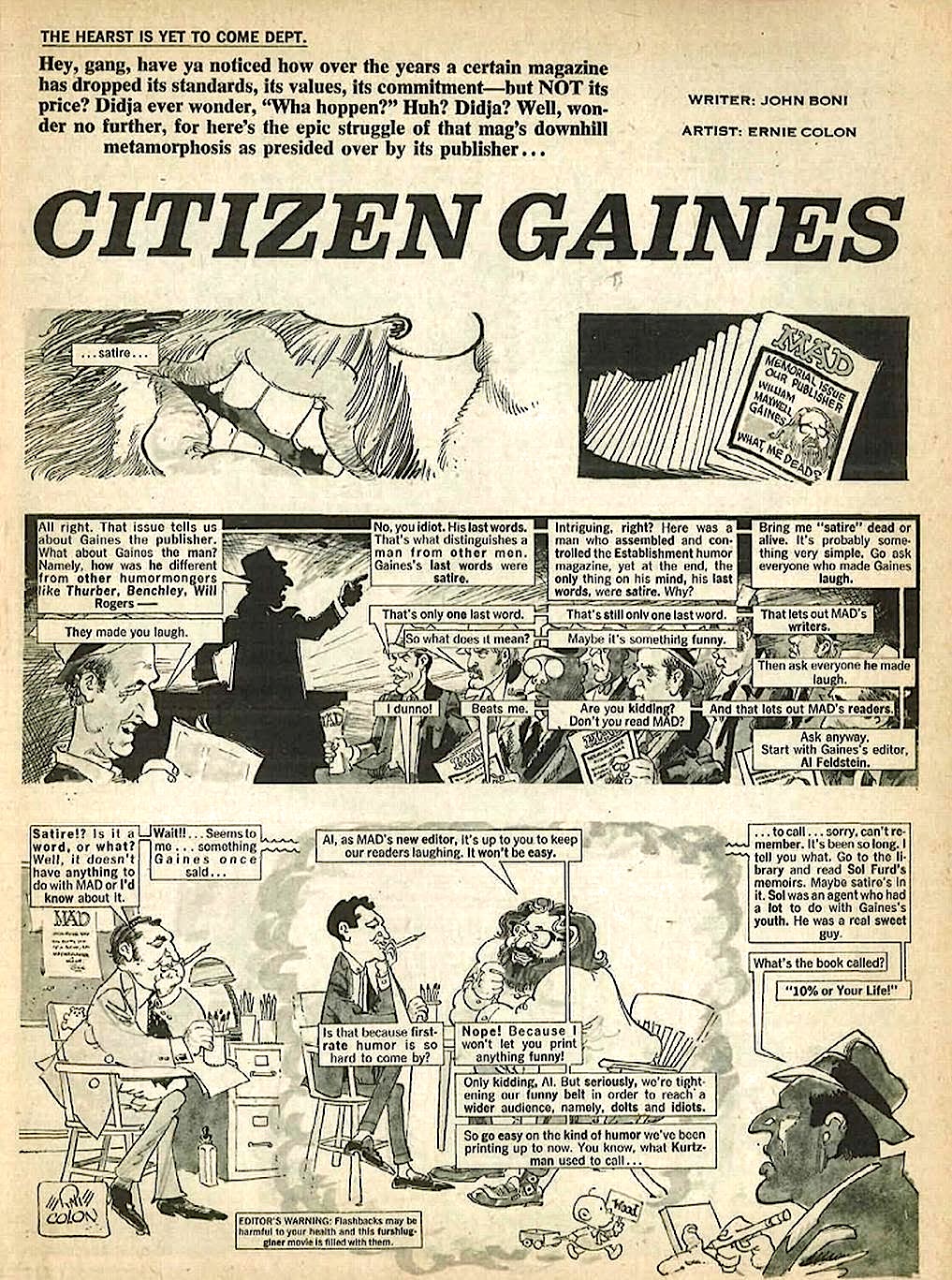 That's the heart of its cen­ter­piece, a Druck­er-style par­o­dy of Cit­i­zen Kane called "Cit­i­zen Gaines". The dying publisher's last "Rose­bud" word is "satire." Like in the film, an anony­mous reporter goes in search of clues to the word's mean­ing, inter­view­ing cur­rent edi­tor Al Feld­stein, writer Gary Belkin, and the "usu­al gang of idiots" who say things like "I only draw what they give me". But the Jede­di­ah Leland char­ac­ter in all this is Kurtz­man, who Gaines betrays in a sim­i­lar Kane fashion…for the mon­ey and pow­er.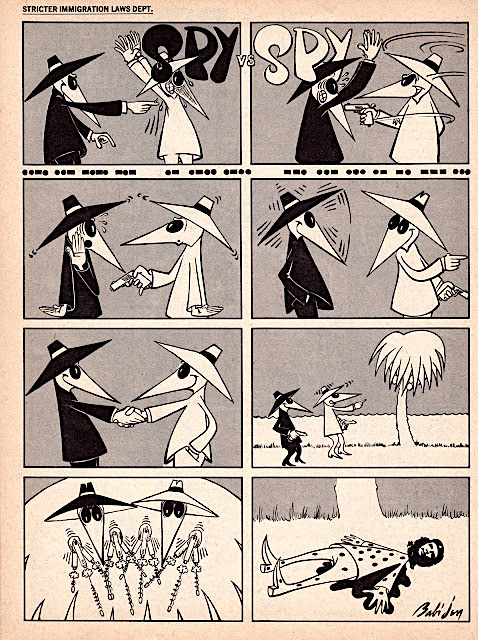 Else­where, Anto­nio Pro­hias' "Spy vs. Spy" gets a realpoltik update, Don Mar­tin-style vio­lence is used to illus­trate police bru­tal­i­ty, and Dave Berg gets assailed for being a wishy-washy lib­er­al in a satire of his "Lighter Side" strip. In fact, years lat­er a fan used exact­ly the punch­line ("Boy, are you an ass­hole") when he met Dave Berg at a con­ven­tion. (Berg had no idea about the par­o­dy.)
Over the years the fresh faces at Lam­poon would also lose their satir­ic edge and a com­pa­ny that called Mad "juve­nile" would lat­er churn out end­less T&A straight-to-video come­dies. All stu­dents even­tu­al­ly become the mas­ter that they once took down. It's as much a part of nature as portze­bie.
Scan through the pages of the Nation­al Lam­poon par­o­dy here.
Relat­ed Con­tent:
The End of an Era: MAD Mag­a­zine Will Pub­lish Its Last Issue With Orig­i­nal Con­tent This Fall
Every Cov­er of MAD Mag­a­zine, from 1952 to the Present: Behold 553 Cov­ers from the Satir­i­cal Pub­li­ca­tion
When MAD Mag­a­zine Ruf­fled the Feath­ers of the FBI, Not Once But Three Times
Al Jaf­fee, Icon­ic Mad Mag­a­zine Car­toon­ist, Retires at Age 99 … and Leaves Behind Advice About Liv­ing the Cre­ative Life
Ted Mills is a free­lance writer on the arts who cur­rent­ly hosts the Notes from the Shed pod­cast and is the pro­duc­er of KCR­W's Curi­ous Coast. You can also fol­low him on Twit­ter at @tedmills, and/or watch his films here.