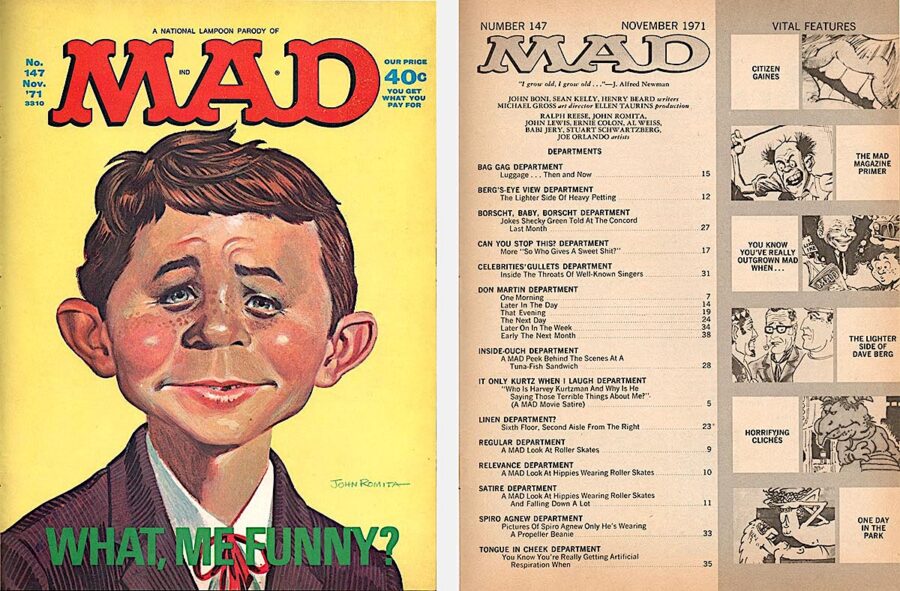 I grew up on Mad Magazine. It was the one magazine I made sure my parents got me every month. I bought the Super Specials, the paperback reprints, the flexi discs, and even the board game. When we'd go to swap meets, I'd bring home older issues from the 1960s, and try to figure out the politics from a decade before I was born. It was why this eight-year old kid knew anything about politics, and knew that Nixon sucked, Ford sucked, Carter kind of sucked, and Reagan definitely sucked.
And then, I just grew out of it. Although the original Harvey Kurtzman-written issues from the 1950s still felt vital, the "Usual Gang of Idiots" felt, well, safe and boring. I wouldn't have said a bad word against them if you asked, but I would not have told any of my teenage friends they absolutely needed to read it. Until its cancellation in 2019, Mad would be a friendly sight on the newsstand, but I'd never pick it up. Nobody *really* had a bad word to say about Mad, did they?
Apparently an unusual new gang of idiots at the National Lampoon did, back in October 1971. This 15-page satire on Mad is as vicious a takedown as they come, its veins pulsing with the kind of vindictive glee only a true former fan can muster.
The "What, Me Funny?" issue is a collective voice of childhood betrayed, with spot-on parodies of Mort Drucker, Don Martin, Dave Berg, Al Jaffee, Jack Davis, Paul Coker, and others, drawn by artists like Joe Orlando, John Romita, and Ernie Colon, among others.
The main charge: after publisher William Gaines and Harvey Kurtzman had acrimoniously split and gone separate ways, Mad magazine grew embarrassed of its comic book past, and sought out a more middle-of-the-road audience, with humor less "in a jugular vein" and more in a juvenile vein. Like Saturday Night Live for the last five? ten? twenty? years, it had forgotten what satire was and how it works.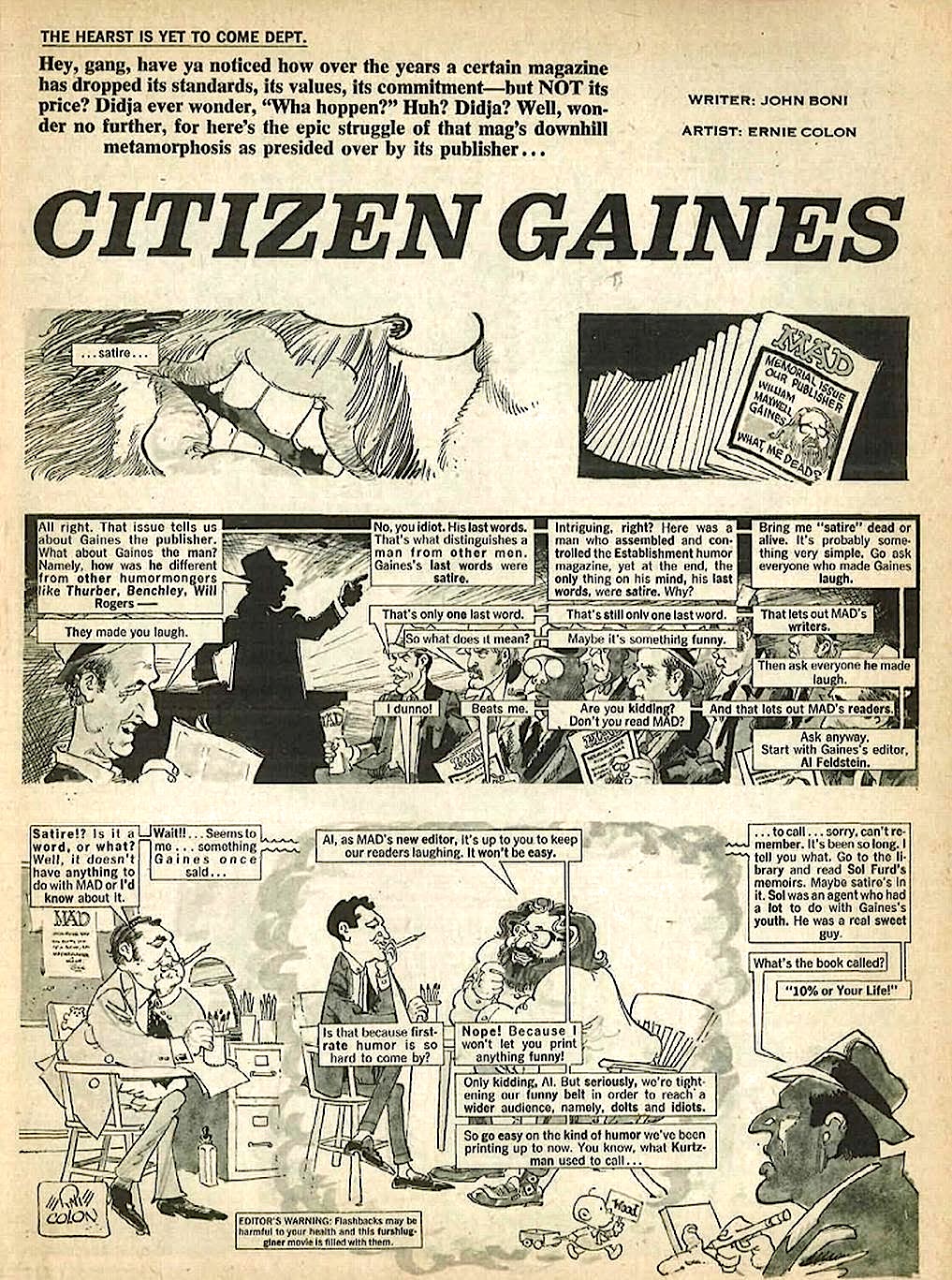 That's the heart of its centerpiece, a Drucker-style parody of Citizen Kane called "Citizen Gaines". The dying publisher's last "Rosebud" word is "satire." Like in the film, an anonymous reporter goes in search of clues to the word's meaning, interviewing current editor Al Feldstein, writer Gary Belkin, and the "usual gang of idiots" who say things like "I only draw what they give me". But the Jedediah Leland character in all this is Kurtzman, who Gaines betrays in a similar Kane fashion…for the money and power.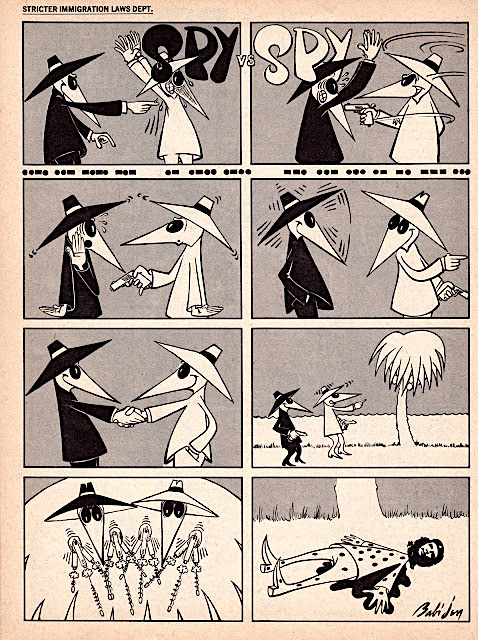 Elsewhere, Antonio Prohias' "Spy vs. Spy" gets a realpoltik update, Don Martin-style violence is used to illustrate police brutality, and Dave Berg gets assailed for being a wishy-washy liberal in a satire of his "Lighter Side" strip. In fact, years later a fan used exactly the punchline ("Boy, are you an asshole") when he met Dave Berg at a convention. (Berg had no idea about the parody.)
Over the years the fresh faces at Lampoon would also lose their satiric edge and a company that called Mad "juvenile" would later churn out endless T&A straight-to-video comedies. All students eventually become the master that they once took down. It's as much a part of nature as portzebie.
Scan through the pages of the National Lampoon parody here.
Related Content:
The End of an Era: MAD Magazine Will Publish Its Last Issue With Original Content This Fall
Every Cover of MAD Magazine, from 1952 to the Present: Behold 553 Covers from the Satirical Publication
When MAD Magazine Ruffled the Feathers of the FBI, Not Once But Three Times
Al Jaffee, Iconic Mad Magazine Cartoonist, Retires at Age 99 … and Leaves Behind Advice About Living the Creative Life
Ted Mills is a freelance writer on the arts who currently hosts the Notes from the Shed podcast and is the producer of KCRW's Curious Coast. You can also follow him on Twitter at @tedmills, and/or watch his films here.