Have you ever wondered what generations hundreds or thousands of years hence will make of our strip malls, office parks, and sports arenas? Probably not much, since there probably won't be much left. How much medium-density fibreboard is likely to remain? The colorful structures that make the modern world seem solid, the grocery shelves, fast food counters, and shiny product displays, will return to the sawdust from which they came.
Back in antiquity, on the other hand, things were built to last, even through the fires and devastation of the eruption of Mount Vesuvius in 79 AD. Archaeologists will be discovering for many more years everyday features of Pompeii that survived a historic disaster and the ordinary ravages of time. In 2019, a team fully unearthed what is known as a thermopolium, a fancy Greek word for a snack bar that "would have served hot food and drinks to locals in the city," the BBC reports. The find was only unveiled this past Saturday.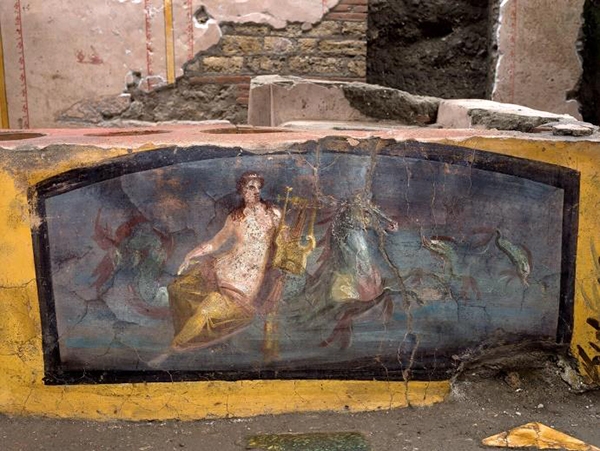 You can see the excavation in a subtitled virtual tour at the top conducted by Massimo Osanna, Pompeii's general director and the "mastermind," Smithsonian writes, behind the Great Pompeii Project, a "$140 million conservation and restoration program launched in 2012."
Richly decorated with brightly-colored paintings, preserved by ash, the Thermopolium of Regio V, as it's known, features a scene of a nereid riding a sea-horse. Surrounding her on all sides of the counter are illustrations of the food for sale, including "two mallard ducks shown upside down, ready to be cooked and eaten," notes the official Pompeii site, "a rooster," and "a dog on a lead, the latter serving as a warning in the manner of the famed Cave Canem."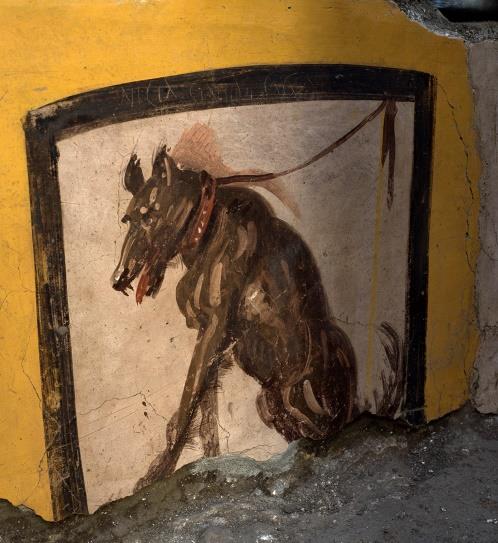 Undeterred and spurred on by the Romans' famed love of graffiti, someone scratched a "mocking inscription" into the frame around the dog: "NICIA CINAEDE CACATOR—literally 'Nicias (probably a freedman from Greece) Shameless Shitter!'" The message may have been left by a disgruntled worker, "who sought to poke fun at the owner." Also found at the site were bone fragments in containers belonging to the animals pictured, as well as human bones and "various pantry and transport materials" such as amphorae, flasks, and other typical Roman containers.
Despite its elaborate design and the excitement of its discoverers, the thermopolium was nothing special in its day. Such counters were like Starbucks, "widespread in the Roman world, where it was typical to consume the prandium (the meal) outside the house. In Pompeii alone there are eighty of them." Will future archaeologists thrill over the discovery of a Cinnabon in a thousand years' time? We'll never know, but somehow I doubt it. Learn much more about this discovery at the official site for Pompeii, which hopes to reopen to visitors in the Spring of 2021. All images come via Pompeiisites.org.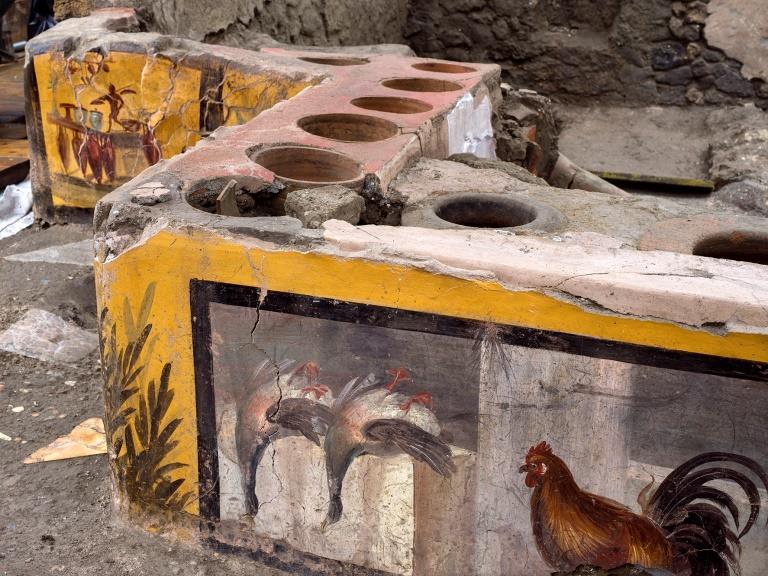 Related Content: 
Watch the Destruction of Pompeii by Mount Vesuvius, Re-Created with Computer Animation (79 AD)
See the Expansive Ruins of Pompeii Like You've Never Seen Them Before: Through the Eyes of a Drone
High-Resolution Walking Tours of Italy's Most Historic Places: The Colosseum, Pompeii, St. Peter's Basilica & More
Josh Jones is a writer and musician based in Durham, NC. Follow him at @jdmagness