Given recent events, the prospect of hundreds of young men meeting on Facebook, then traveling from around the country to a central U.S. location might sound like reasonable cause for alarm. Yet a recent convention fitting that description had nothing to do with political violence but, rather, a celebration and appreciation of the name "Josh" (full disclosure: this writer did not attend). The gathering of the Joshes this past April in Nebraska could not have been more peaceful, including its finishing battle royale, conducted with pool noodles. (Winner: adorable 4-year-old Josh Vinson, Jr., or "Little Josh," from Lincoln, NE).
The Joshes had no concern for proper pool-noodle-wielding technique, if there is such a thing. But groups of people who gather around the country to stage medieval-style battles in live-action role playing (LARP) games with weapons both real and fake might benefit from pointers.
So, too, might those who choreograph sword fights on stage and screen. Where can serious historical re-creators learn how to wield a real blade in historically accurate combat? One resource can be found at Wiktenauer, a wiki devoted to collecting "all of the primary and secondary source literature that makes up the text of historical European Martial arts (HEMA) research."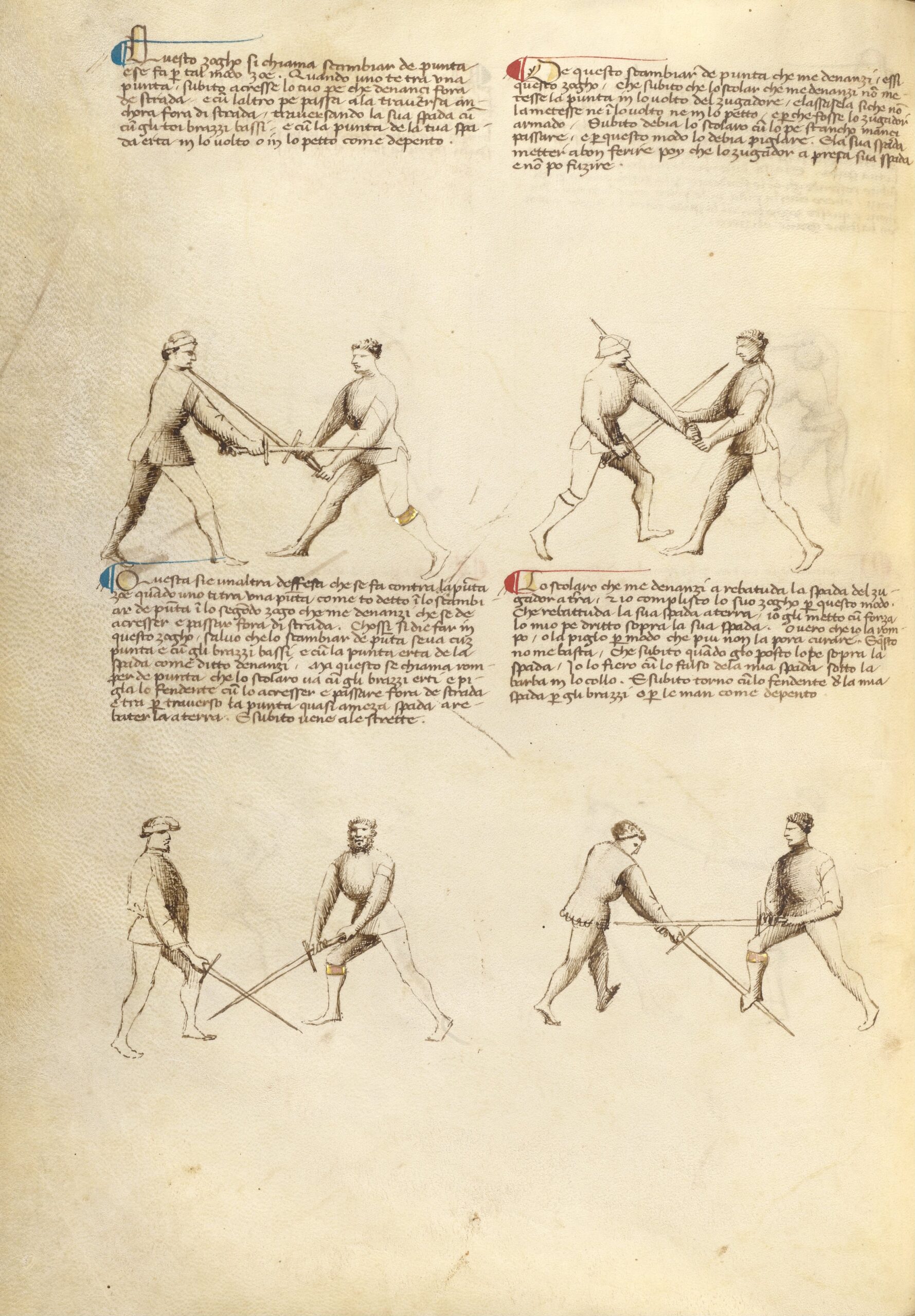 The Fior di Battaglia ("Flower of Battle") — an Italian fencing manual by Fiore de'i Liberi dating from circa 1404 — offers richly- and copiously-illustrated demonstrations of medieval Italian longsword fighting techniques. In the original manuscript, seen here and at The Getty, "the illustrations are inked sketches with gold leafing on the crowns and garters," notes the Wiktenauer entry. They dominate the text, which "takes the form of descriptive paragraphs set in poor Italian verse, which are nevertheless fairly clear and informative." So clear, indeed, the brooding young men of Akademia Szermierzy — a Polish group that recreates medieval sword-fighting techniques — can more than convincingly mimic the moves in the video at the top.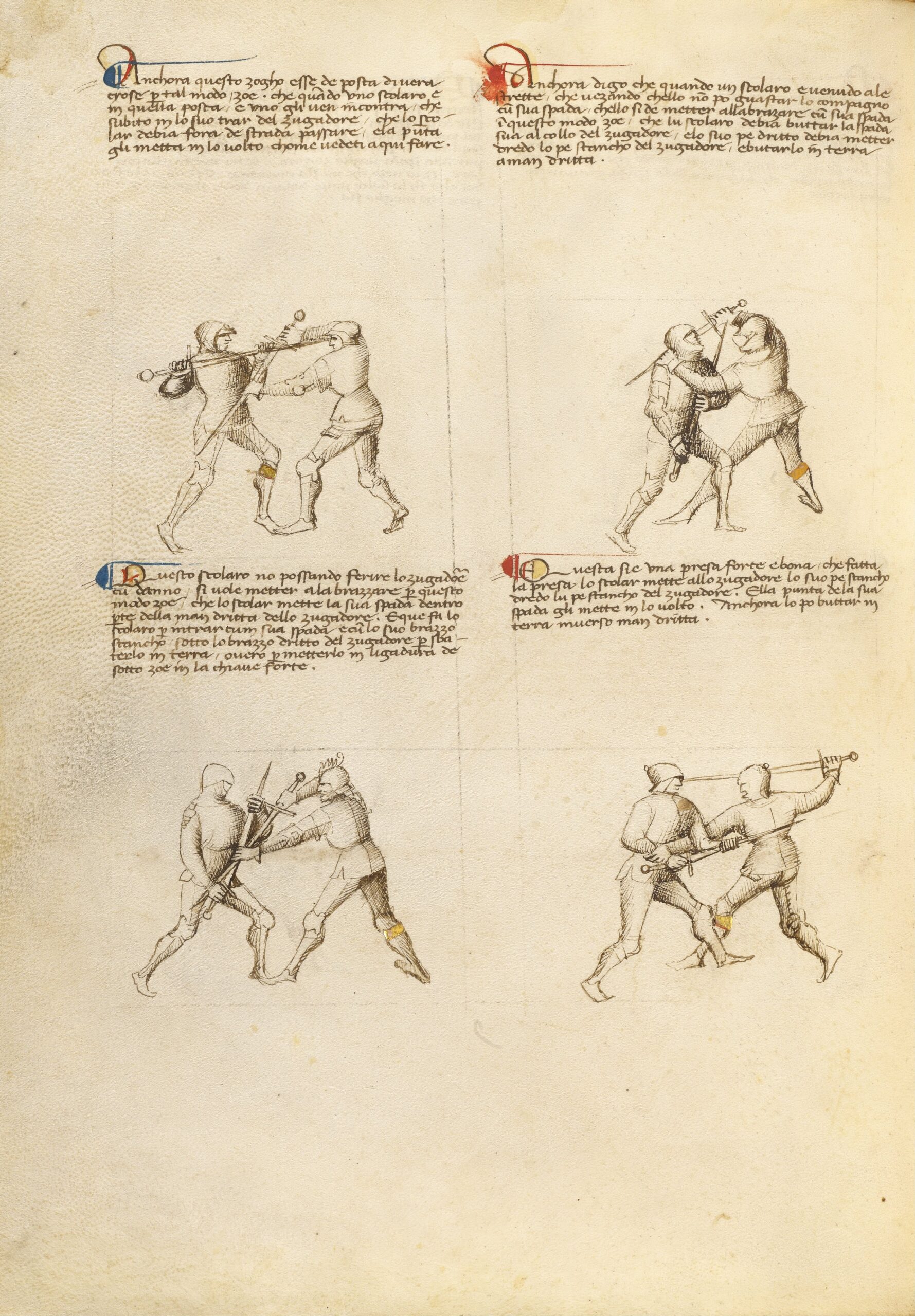 Once they get going, after some requisite pre-fight rigamarole, it's impressive stuff, maybe already familiar to modern fencers and certain members of the Society for Creative Anachronism, the LARP-ing organization of amateurs recreating everything from the Middle Ages and the Renaissance. But for those who think all live-action role-playing is the equivalent of the Battle of the Joshes (or off-brand Nazis running through the streets in homemade armor), the sheer ballet of historical sword-fighting may come as a surprise — and maybe inspire a few more people to pull on the doublet and hose. See more medieval sword-fighting recreations from Akademia Szermierzy here, and the full text of the Fior di Battaglia here.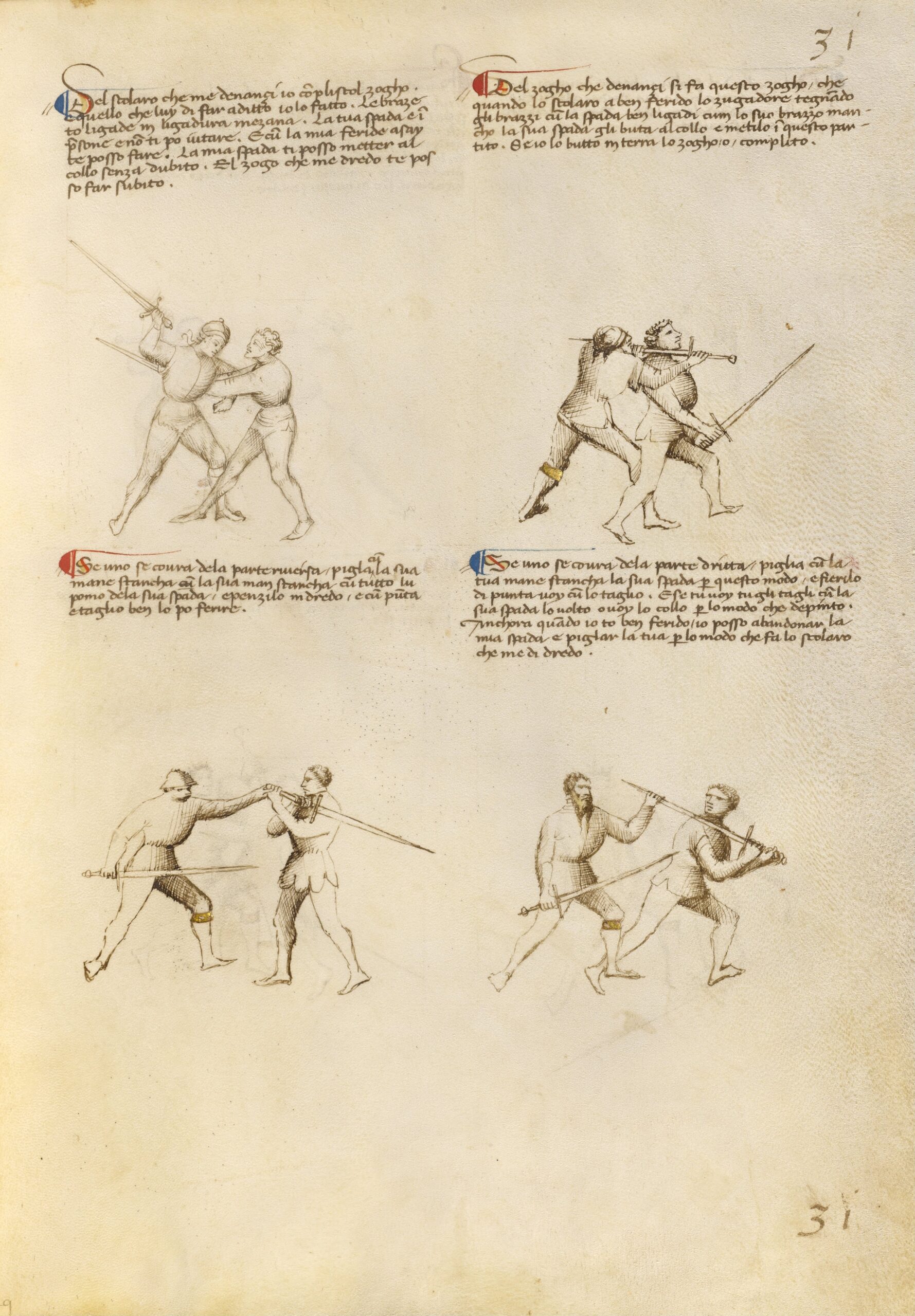 Related Content: 
Renaissance Knives Had Music Engraved on the Blades; Now Hear the Songs Performed by Modern Singers
A Hypnotic Look at How Japanese Samurai Swords Are Made
The Last Duel Took Place in France in 1967, and It's Caught on Film
Josh Jones is a writer and musician based in Durham, NC. Follow him at @jdmagness