It's maybe a lit­tle unfair to com­pare 1972's "Bull Island" Fes­ti­val to Fyre Fest, the music fes­ti­val scam so egre­gious it war­rant­ed duel­ing doc­u­men­taries on Hulu and Net­flix. But "Bull Island" — or what was orig­i­nal­ly called the Erie Canal Soda Pop Fes­ti­val — was an epic cat­a­stro­phe, maybe the worst in music fes­ti­val his­to­ry, and well deserv­ing of its own media fran­chise. Still, its orga­niz­ers had every inten­tion of fol­low­ing through on the event. What hap­pened wasn't entire­ly their fault, but part­ly the result of a cam­paign to route thou­sands of hip­pies out of the state of Indi­ana.
Pro­mot­ers Tom Dun­can and Bob Alexan­der had pre­vi­ous­ly staged a suc­cess­ful fes­ti­val, the Bosse Field Free­dom Fest, in Evans­ville, an event fea­tur­ing Tina Turn­er, Edgar Win­ter, Dr. John, Howl­in' Wolf, and John Lee Hook­er. Eager to top them­selves and bring a "bigger-than-Woodstock"-sized hap­pen­ing to the Mid­west, they booked "a block­buster col­lec­tion of artists" for their next event, writes Patrick Cham­ber­lain at Ever­fest, "includ­ing Black Sab­bath, The All­man Broth­ers, Fleet­wood Mac, Ravi Shankar, The Eagles, and even Cheech and Chong."
Before secur­ing all the per­mits, they placed ads and start­ed sell­ing tick­ets. The two eager 20-some­thing orga­niz­ers both suf­fered from the trag­ic flaw of youth­ful over­con­fi­dence, which blind­ed them to the fact that there was no way their next fes­ti­val was going to hap­pen in Evans­ville, or any­where in Indi­ana, for that mat­ter. The error led to what may be, as Band­splain­ing explains above, the worst music fes­ti­val of all time. "The lack of pre­pared­ness, the law­less­ness, the des­per­a­tion of the crowd; it's like the bad-acid trip ver­sion of Wood­stock where [spoil­er] every­thing burns down. [/spoiler]."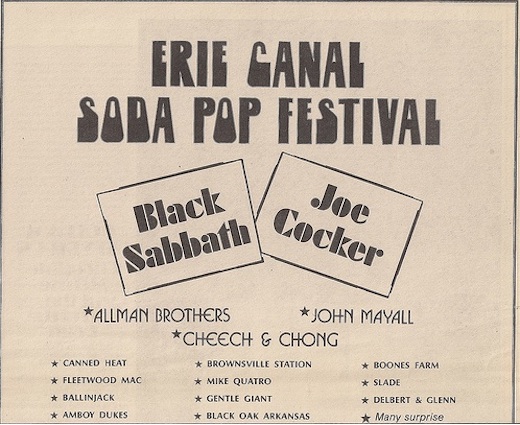 Although reports from locals most­ly char­ac­ter­ized the duo's pre­vi­ous out­door fes­ti­val at Bosse Field as peace­ful, Evans­ville May­or Rus­sell Lloyd vowed it would nev­er hap­pen again. Yet Dun­can and Alexan­der plowed ahead with plan­ning the Eerie Canal Soda Pop Fes­ti­val, as Sean Mcde­vitt writes at the Couri­er & Press:
Con­tracts were signed, heli­copters were rent­ed, and holes were being dug for some 500 portable toi­lets. More than 30 rock groups were booked, and tick­ets went on sale in sev­er­al cities around the coun­try.
Obliv­i­ous to their fate, the orga­niz­ers sold almost 9,000 tick­ets. "Just eight days after its announce­ment, a restrain­ing order was issued against the event," fol­lowed by a string of sim­i­lar ordi­nances in neigh­bor­ing coun­ties as oth­er locales got wind of the pro­ject­ed 50,000 to 60,000 atten­dees expect­ed to show up. Soon, those num­bers swelled to the hun­dreds of thou­sands. Alexan­der and Dun­can went on TV and begged author­i­ties to let the show pro­ceed to pre­vent mass civ­il unrest.
Forced to move the fes­ti­val out of state, they set­tled on a place called Bull Island, "not in fact an island, but rather a col­lec­tion of swampy fields," Cham­ber­lain notes, "under the legal juris­dic­tion of the town of Car­mi, Illi­nois, but only acces­si­ble through Indi­ana." When 200,000 hip­pies arrived on Labor Day week­end, it caused a traf­fic jam 30 miles long, and they were forced to aban­don their cars and hike for miles on foot, resem­bling "a defeat­ed army," NBC Night­ly News reporter Edwin New­man put it.
Some of the acts — includ­ing Ravi Shankar, Ted Nugen­t's Amboy Dukes, and Black Oak Arkansas — did make it, chop­per­ing in to play a set, then swift­ly leav­ing. "Cheech and Chong were heli­coptered in, per­formed for fif­teen min­utes in a del­uge of rain, cut their set short," and got out, sure­ly sens­ing bad vibes every­where, caused by strych­nine-laced acid. Big acts like Rod Stew­art and Black Sab­bath had already can­celed, leav­ing long stretch­es of silence between sets.
For most fes­ti­val atten­dees, the open-air drug mar­kets stood out most in their mem­o­ries. "The dope dis­trict looked like dou­ble rows of fish stands at the coun­ty fair!" one remem­bers. "It was eas­i­er to buy drugs than it was to buy water," recalled anoth­er attendee. The police, vast­ly out­num­bered, left well enough alone and stayed out­side the fence. Jemayel Khawa­ja at Ozy paints the scene:
Inside, chaos was already in full swing. The stage was half con­struct­ed, and the camp­grounds — crammed with over four times as many peo­ple as expect­ed — were lined with open drug mar­kets. Hawk­ers set up stalls sell­ing mar­i­jua­na, mesca­line, LSD and hero­in. "I nev­er saw so many drugs in my life," attendee Ray Kessler recalled to local news­pa­per The Mount Ver­non Demo­c­rat. With only six out­hous­es and half-dug wells to serve as san­i­ta­tion, thou­sands instead took to reliev­ing them­selves en masse in what became known as "The Turd Fields" and bathing in the Wabash Riv­er.
What hap­pened was sure­ly inevitable. Price goug­ing caused atten­dees, rabid with hunger and thirst, to attack ven­dors. Some caught pneu­mo­nia in the tor­ren­tial rains on the third day. One attendee drowned in the Wabash, anoth­er was run over by a truck but sur­vived, many were beat­en and robbed, one over­dosed, one gave birth. By that evening, "the crowd had endured enough," Cham­ber­lain writes. "The last­ing image many have of the fes­ti­val is the crowd set­ting the stage on fire. It was a fit­ting end­ing. By this point, the pop­u­lous turned to mass exo­dus, dur­ing which com­mon themes were intox­i­ca­tion, break­downs, theft, long dri­ves, and come­downs."
Relat­ed Con­tent:
Lis­ten Online to Every Minute of the Orig­i­nal Wood­stock Fes­ti­val
Leg­endary Protest Songs from Wood­stock: Hen­drix, Jef­fer­son Air­plane, Coun­try Joe & More Per­form Protest Songs Dur­ing the Music Fes­ti­val That Launched 50 Years Ago This Week
Revis­it the Infa­mous Rolling Stones Free Fes­ti­val at Alta­mont: The Ill-Fat­ed Con­cert Took Place 50 Years Ago
Josh Jones is a writer and musi­cian based in Durham, NC. Fol­low him at @jdmagness