It's maybe a little unfair to compare 1972's "Bull Island" Festival to Fyre Fest, the music festival scam so egregious it warranted dueling documentaries on Hulu and Netflix. But "Bull Island" — or what was originally called the Erie Canal Soda Pop Festival — was an epic catastrophe, maybe the worst in music festival history, and well deserving of its own media franchise. Still, its organizers had every intention of following through on the event. What happened wasn't entirely their fault, but partly the result of a campaign to route thousands of hippies out of the state of Indiana.
Promoters Tom Duncan and Bob Alexander had previously staged a successful festival, the Bosse Field Freedom Fest, in Evansville, an event featuring Tina Turner, Edgar Winter, Dr. John, Howlin' Wolf, and John Lee Hooker. Eager to top themselves and bring a "bigger-than-Woodstock"-sized happening to the Midwest, they booked "a blockbuster collection of artists" for their next event, writes Patrick Chamberlain at Everfest, "including Black Sabbath, The Allman Brothers, Fleetwood Mac, Ravi Shankar, The Eagles, and even Cheech and Chong."
Before securing all the permits, they placed ads and started selling tickets. The two eager 20-something organizers both suffered from the tragic flaw of youthful overconfidence, which blinded them to the fact that there was no way their next festival was going to happen in Evansville, or anywhere in Indiana, for that matter. The error led to what may be, as Bandsplaining explains above, the worst music festival of all time. "The lack of preparedness, the lawlessness, the desperation of the crowd; it's like the bad-acid trip version of Woodstock where [spoiler] everything burns down. [/spoiler]."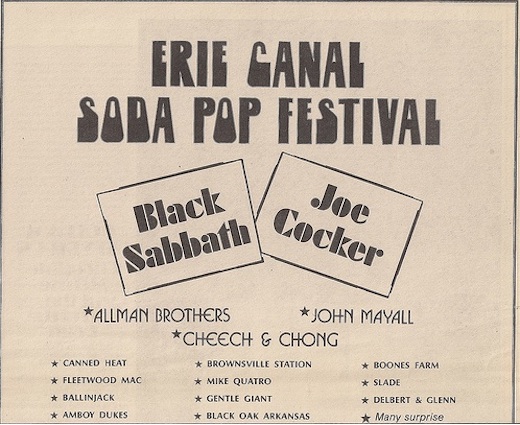 Although reports from locals mostly characterized the duo's previous outdoor festival at Bosse Field as peaceful, Evansville Mayor Russell Lloyd vowed it would never happen again. Yet Duncan and Alexander plowed ahead with planning the Eerie Canal Soda Pop Festival, as Sean Mcdevitt writes at the Courier & Press:
Contracts were signed, helicopters were rented, and holes were being dug for some 500 portable toilets. More than 30 rock groups were booked, and tickets went on sale in several cities around the country.
Oblivious to their fate, the organizers sold almost 9,000 tickets. "Just eight days after its announcement, a restraining order was issued against the event," followed by a string of similar ordinances in neighboring counties as other locales got wind of the projected 50,000 to 60,000 attendees expected to show up. Soon, those numbers swelled to the hundreds of thousands. Alexander and Duncan went on TV and begged authorities to let the show proceed to prevent mass civil unrest.
Forced to move the festival out of state, they settled on a place called Bull Island, "not in fact an island, but rather a collection of swampy fields," Chamberlain notes, "under the legal jurisdiction of the town of Carmi, Illinois, but only accessible through Indiana." When 200,000 hippies arrived on Labor Day weekend, it caused a traffic jam 30 miles long, and they were forced to abandon their cars and hike for miles on foot, resembling "a defeated army," NBC Nightly News reporter Edwin Newman put it.
Some of the acts — including Ravi Shankar, Ted Nugent's Amboy Dukes, and Black Oak Arkansas — did make it, choppering in to play a set, then swiftly leaving. "Cheech and Chong were helicoptered in, performed for fifteen minutes in a deluge of rain, cut their set short," and got out, surely sensing bad vibes everywhere, caused by strychnine-laced acid. Big acts like Rod Stewart and Black Sabbath had already canceled, leaving long stretches of silence between sets.
For most festival attendees, the open-air drug markets stood out most in their memories. "The dope district looked like double rows of fish stands at the county fair!" one remembers. "It was easier to buy drugs than it was to buy water," recalled another attendee. The police, vastly outnumbered, left well enough alone and stayed outside the fence. Jemayel Khawaja at Ozy paints the scene:
Inside, chaos was already in full swing. The stage was half constructed, and the campgrounds — crammed with over four times as many people as expected — were lined with open drug markets. Hawkers set up stalls selling marijuana, mescaline, LSD and heroin. "I never saw so many drugs in my life," attendee Ray Kessler recalled to local newspaper The Mount Vernon Democrat. With only six outhouses and half-dug wells to serve as sanitation, thousands instead took to relieving themselves en masse in what became known as "The Turd Fields" and bathing in the Wabash River.
What happened was surely inevitable. Price gouging caused attendees, rabid with hunger and thirst, to attack vendors. Some caught pneumonia in the torrential rains on the third day. One attendee drowned in the Wabash, another was run over by a truck but survived, many were beaten and robbed, one overdosed, one gave birth. By that evening, "the crowd had endured enough," Chamberlain writes. "The lasting image many have of the festival is the crowd setting the stage on fire. It was a fitting ending. By this point, the populous turned to mass exodus, during which common themes were intoxication, breakdowns, theft, long drives, and comedowns."
Related Content: 
Listen Online to Every Minute of the Original Woodstock Festival
Legendary Protest Songs from Woodstock: Hendrix, Jefferson Airplane, Country Joe & More Perform Protest Songs During the Music Festival That Launched 50 Years Ago This Week
Revisit the Infamous Rolling Stones Free Festival at Altamont: The Ill-Fated Concert Took Place 50 Years Ago
Josh Jones is a writer and musician based in Durham, NC. Follow him at @jdmagness