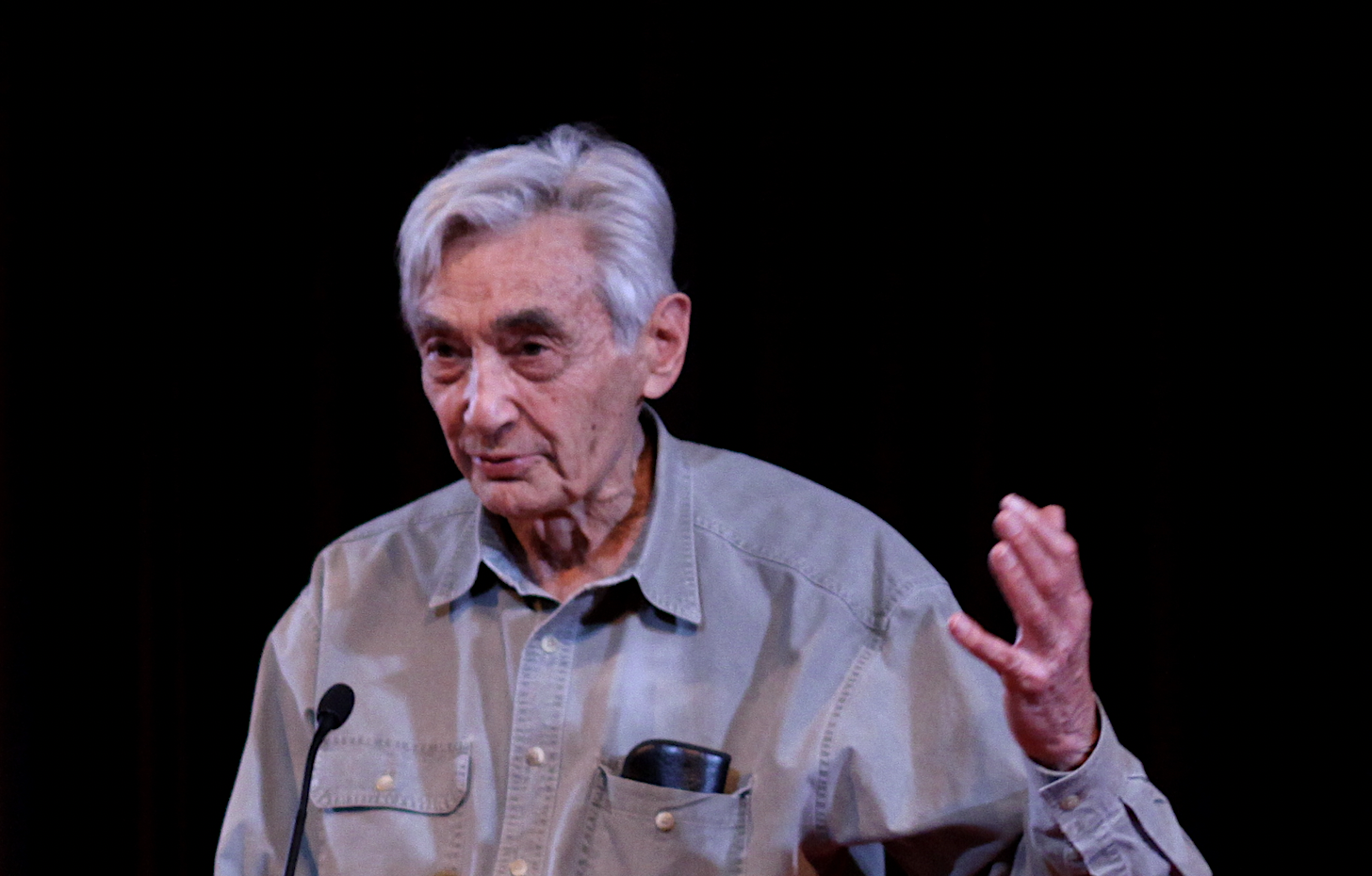 Image by via Wikimedia Commons
Back in college, I spotted A People's History of the United States in the bags and on the bookshelves of many a fellow undergraduate. By that time, Howard Zinn's alternative telling of the American story had been popular reading material for a couple of decades, just as it presumably remains a couple more decades on. Even now, a dozen years after Zinn's death, his ideas about how to approach U.S. history through non-standard points of view remain widely influential. Just last month, Radical Reads featured the reading list he originally drew up for the Socialist Worker, pitched at "activists interested in making their own history."
Zinn's recommendations naturally include the work of other historians, from Gary Nash's Red, White and Black: The Peoples of Early America ("a pioneering work of 'multiculturalism' dealing with racial interactions in the colonial period") to Vincent Harding's There Is a River: The Black Struggle for Freedom in America (an "excellent start on Black history") to Samuel Yellen's American Labor Struggles (which "brings to life the great labor conflicts of American history").
His suggested books cover not just the 20th century but eras like the Civil War, and even, extensively, the time of Christopher Columbus. For those who take their analyses of the past in comically illustrated form, Zinn also highlights Larry Gonick's The Cartoon History of the United States as "funny and remarkably rich in its content."
Certain Zinn picks stand out as being of special interest to Open Culture readers. These include Noam Chomsky's Year 501, in which "the nation's most distinguished intellectual rebel gives us huge amounts of information about recent American foreign policy"; Richard Hofstadter's The American Political Tradition, with its "iconoclastic view of American political leaders, including Jefferson, Jackson, Lincoln, Wilson and the two Roosevelts, suggesting more consensus than difference at the top of the political hierarchy"; and W.E.B. DuBois' Black Reconstruction, "a direct counter to the traditional racist accounts of Reconstruction, presenting the narrative from the Black point of view." Zinn also praises The Sixties, "a vivid history, well-written, thoughtful, by one of the activists of that era": Todd Gitlin, who died earlier this month.
Despite its understandable inclination toward nonfiction, Zinn's list also has room for several classic American novels like John Steinbeck's The Grapes of Wrath, Richard Wright's Black Boy, and Zora Neale Hurston's Their Eyes Were Watching God. You may remember some of these books from your own high-school and university days, but whatever you got out of them back then, you'll experience them more richly by revisiting them now, deeper into your own intellectual journey. As Zinn's own life and work demonstrated, you can always find more angles from which to view the political, social, and cultural history of your county — the farther removed from those you were shown in school, the better.
via Radical Reads
Related content:
Matt Damon Reads Howard Zinn's "The Problem is Civil Obedience," a Call for Americans to Take Action
African-American History: Modern Freedom Struggle (A Free Course from Stanford)
Howard Zinn's "What the Classroom Didn't Teach Me About the American Empire": An Illustrated Video Narrated by Viggo Mortensen
American Literature, From the Beginnings to the Civil War: A Free Online Course from NYU
Noam Chomsky Defines What It Means to Be a Truly Educated Person
Adorn Your Garden with Howard the Zinn Monk
Based in Seoul, Colin Marshall writes and broadcasts on cities, language, and culture. His projects include the Substack newsletter Books on Cities, the book The Stateless City: a Walk through 21st-Century Los Angeles and the video series The City in Cinema. Follow him on Twitter at @colinmarshall or on Facebook.