Some peo­ple talk to plants.
The Carnegie Muse­um of Art's chief con­ser­va­tor Ellen Bax­ter talks to the paint­ings she's restor­ing.
"You have to …tell her she's going to look love­ly," she says, above, spread­ing var­nish over a 16th-cen­tu­ry por­trait of Isabel­la de' Medici pri­or to start­ing the labo­ri­ous process of restor­ing years of wear and tear by inpaint­ing with tiny brush­es, aid­ed with pipettes of var­nish and sol­vent.
Isabel­la had been wait­ing a long time for such ten­der atten­tion, con­cealed beneath a 19th-cen­tu­ry over­paint­ing depict­ing a dain­tier fea­tured woman reput­ed to be Eleanor of Tole­do, wife of Cosi­mo I de' Medici, the sec­ond Duke of Flo­rence.
Louise Lip­pin­cott, the CMA's for­mer cura­tor of fine arts, ran across the work in the museum's base­ment stor­age. Record named the artist as Bronzi­no, court painter to Cosi­mo I, but Lip­pin­cott, who thought the paint­ing "awful", brought it to Ellen Bax­ter for a sec­ond opin­ion.
As Cristi­na Rou­valis writes in Carnegie Mag­a­zine, Bax­ter is a "rare mix of left- and right-brained tal­ent", a painter with a bachelor's degree in art his­to­ry, minors in chem­istry and physics, and a master's degree in art con­ser­va­tion:

(She) looks at paint­ings dif­fer­ent­ly than oth­er peo­ple, too—not as flat, sta­t­ic objects, but as three-dimen­sion­al com­po­si­tions lay­ered like lasagna.
The minute she saw the oil paint­ing pur­port­ed to be of Eleanor of Tole­do… Bax­ter knew some­thing wasn't quite right. The face was too bland­ly pret­ty, "like a Vic­to­ri­an cook­ie tin box lid," she says. Upon exam­in­ing the back of the paint­ing, she identified—thanks to a trusty Google search—the stamp of Fran­cis Leed­ham, who worked at the Nation­al Por­trait Gallery in Lon­don in the mid-1800s as a "relin­er," trans­fer­ring paint­ings from a wood pan­el to can­vas mount. The painstak­ing process involves scrap­ing and sand­ing away the pan­el from back to front and then glu­ing the paint­ed sur­face lay­er to a new can­vas.
An X‑Ray con­firmed her hunch, reveal­ing extra lay­ers of paint in this "lasagna".
Care­ful strip­ping of dirty var­nish and Vic­to­ri­an paint in the areas of the por­trait's face and hands began to reveal the much stronger fea­tures of the woman who posed for the artist. (The Carnegie is bank­ing on Bronzino's stu­dent, Alessan­dro Allori, or some­one in his cir­cle.)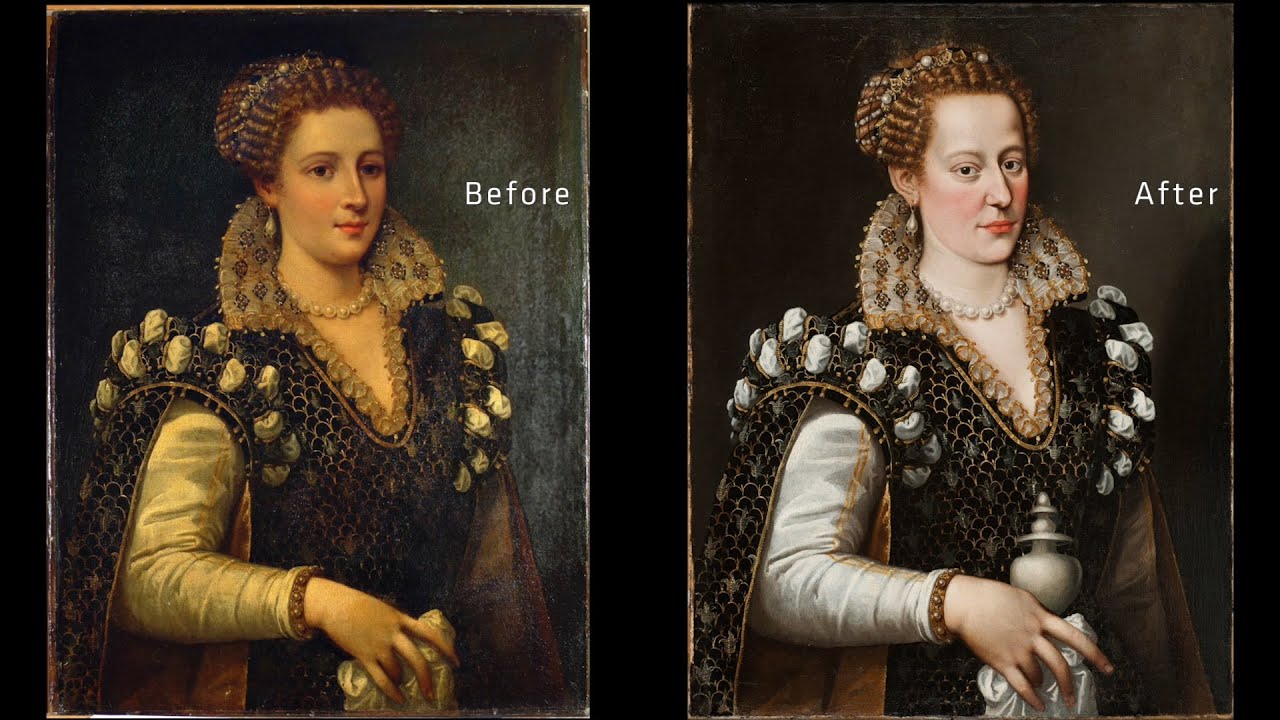 Lip­pin­cott was also busi­ly sleuthing, find­ing a Medici-com­mis­sioned copy of the paint­ing in Vien­na that matched the dress and hair exact­ly. Thus­ly did she learn that the sub­ject was Eleanor of Toledo's daugh­ter, Isabel­la de' Medici, the apple of her father's eye and a noto­ri­ous, ulti­mate­ly ill-fat­ed par­ty girl.
The His­to­ry Blog paints an irre­sistible por­trait of this mav­er­ick princess:
Cosi­mo gave her an excep­tion­al amount of free­dom for a noble­woman of her time. She ran her own house­hold, and after Eleanor's death in 1562, Isabel­la ran her father's too. She threw famous­ly rau­cous par­ties and spent lav­ish­ly. Her father always cov­ered her debts and pro­tect­ed her from scruti­ny even as rumors of her lovers and excess­es that would have doomed oth­er soci­ety women spread far and wide. Her favorite lover was said to be Troi­lo Orsi­ni, her hus­band Paolo's cousin.
Things went down­hill fast for Isabel­la after her father's death in 1574. Her broth­er Francesco was now the Grand Duke, and he had no inter­est in indulging his sister's pec­ca­dil­loes. We don't know what hap­pened exact­ly, but in 1576 Isabel­la died at the Medici Vil­la of Cer­re­to Gui­di near Empoli. The offi­cial sto­ry released by Francesco was that his 34-year-old sis­ter dropped dead sud­den­ly while wash­ing her hair. The unof­fi­cial sto­ry is that she was stran­gled by her hus­band out of revenge for her adul­tery and/or to clear the way for him to mar­ry his own mis­tress Vit­to­ria Acco­ram­boni.
Bax­ter not­ed that the urn Isabel­la holds was not part of the paint­ing to begin with, though nei­ther was it one of Leedham's revi­sions. Its resem­blance to the urn that Mary Mag­da­lene is often depict­ed using as she annoints Jesus' feet led her and Lip­pin­cott to spec­u­late that it was added at Isabella's request, in an attempt to redeem her image.
"This is lit­er­al­ly the bad girl see­ing the light," Lip­pin­cott told Rou­valis.
Despite her fond­ness for the sub­ject of the lib­er­at­ed paint­ing, and her con­sid­er­able skill as an artist, Bax­ter resist­ed the temp­ta­tion to embell­ish beyond what she found:
I'm not the artist. I'm the con­ser­va­tor. It's my job to repair dam­ages and loss­es, to not put myself in the paint­ing.
Relat­ed Con­tent
The Art of Restor­ing a 400-Year-Old Paint­ing: A Five-Minute Primer
Watch a 17th-Cen­tu­ry Por­trait Mag­i­cal­ly Get Restored to Its Bril­liant Orig­i­nal Col­ors
A Restored Ver­meer Paint­ing Reveals a Por­trait of a Cupid Hid­den for Over 350 Years
How an Art Con­ser­va­tor Com­plete­ly Restores a Dam­aged Paint­ing: A Short, Med­i­ta­tive Doc­u­men­tary
Watch the Renais­sance Paint­ing, The Bat­tle of San Romano, Get Brought Beau­ti­ful­ly to Life in a Hand-Paint­ed Ani­ma­tion
Free Course: An Intro­duc­tion to the Art of the Ital­ian Renais­sance
– Ayun Hal­l­i­day is the Chief Pri­ma­tol­o­gist of the East Vil­lage Inky zine and author, most recent­ly, of Cre­ative, Not Famous: The Small Pota­to Man­i­festo and Cre­ative, Not Famous Activ­i­ty Book. Fol­low her @AyunHalliday.