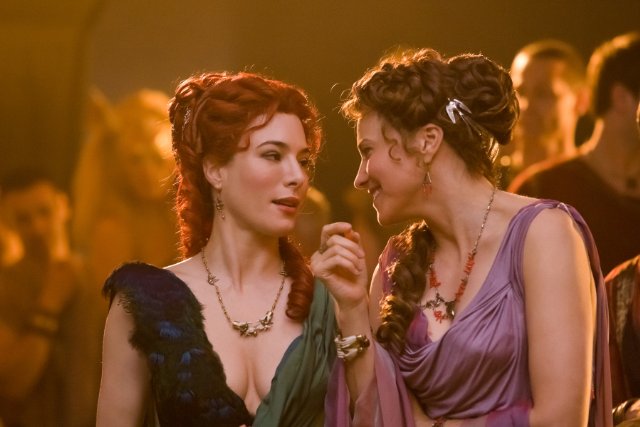 Lucy Lawless (Star of Xena the Warrior Princess and notable contributor to such shows as Spartica, Battlestar Galactica, and Parks & Recreation) previously appeared on the Partially Examined Life Philosophy Podcast in Fall 2012. And, in Spring 2013, she sang with me (under my musician moniker Mark Lint) on an original song called "Things We Should Do Before We Die." Now she's joined fellow PEL host Wes Alwan ("The Valet") and me to create an audioplay of Jean-Paul Sartre's 1944 play "No Exit," where she plays the working class, hostile lesbian Inès Serrano with a pretty hilarious off-the-cuff generically European accent against my relatively deadpan Joseph Garcin.
The third damned soul in our one-room hell was played by a delightfully shrieky Jaime Murray, friend and Spartacus co-star of Lucy's. You likely know Jaime for her role as Lila, the psychotic main guest star in Season 2 of Dexter, and right now she appears in the sci-fi shows Defiance and Warehouse 13.
The play is about three dead people stuck in a room together, any two of which would probably reach some equilibrium. But, as a threesome, they enter into a toxic dynamic where none can get what he or she needs out of the others.
To hear Lucy, Jamie and me perform "No Exit," click below or listen at Partiallyexaminedlife.com.
The recording was made in support of the Partially Examined Life episode discussing Sartre, covering this play as well as his essays "Existentialism is a Humanism" (1946), and "Bad Faith," (which constitutes part 1, chapter 2 of Being & Nothingness, 1943). These convey the essence of Sartre's existentialism and give a picture of his view of man's radical freedom (we're condemned to be free!) and what for him serves as some semblance of an ethics.
For the Sartre episode, click below or listen at Partiallyexaminedlife.com.
The audioplay is the second in a series, with the first being the PEL Players' performance of Plato's dialogue, The Gorgias.
For those with who want more, PEL offers access to an outtakes reel. The picture above features both actresses in Spartacus.
Mark Linsenmayer is the head honcho at The Partially Examined Life, the #1 downloaded philosophy podcast on the planet, which provides amusing, in-depth discussions of philosophers old and new. Mark is also a musician who wrote a song just for this audioplay.
Related Content:
Jean-Paul Sartre's No Exit: A BBC Adaptation Starring Harold Pinter (1964)
Walter Kaufmann's Classic Lectures on Nietzsche, Kierkegaard and Sartre (1960)
The Existentialism Files: How the FBI Targeted Camus, and Then Sartre After the JFK Assassination
100 Free Online Philosophy Courses