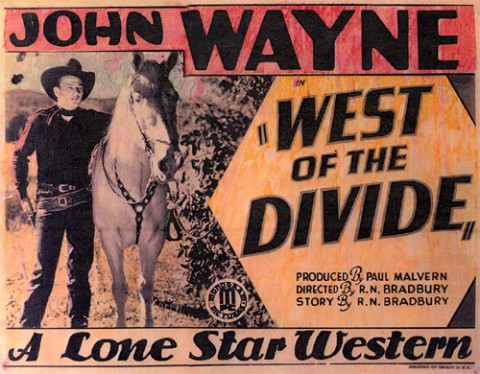 32 years after his death, John Wayne (né Marion Morrison) remains a tremendously popular movie star. According to a Harris Poll taken earlier this month (January 2011), Americans still rank The Duke as their third most favorite actor, putting him right behind Johnny Depp and Denzel Washington. No doubt about it, the legend of John Wayne continues to grow. And happily you can find a gold mine of John Wayne Western films online – all free. Today, we have pulled together a list of 25 films that span five decades of work, moving from the 1930s to the 1970s. You can find them all otherwise listed in our collection of Free Movies Online.
Angel and the Badman – Free – A black and white Western starring John Wayne and Gail Russell. Considered a radical departure from the Western genre at the time. Find Internet Archive version here. (1947)
Blue Steel – Free – John Wayne plays a U.S. Marshal trying to capture the Polka Dot Bandit. Some consider it the best of the John Wayne Lone Star films. (1934)
Born to the West – Free – Can Dare Rudd prove he is responsible enough to win the heart of Judy and also outwit the crooked saloon owner? Stars John Wayne, Marsha Hunt and John Mack Brown.
If you would like to sign up for Open Culture's free email newsletter, please find it here.
If you would like to support the mission of Open Culture, consider making a donation to our site. It's hard to rely 100% on ads, and your contributions will help us continue providing the best free cultural and educational materials to learners everywhere. You can contribute through PayPal, Patreon, and Venmo (@openculture). Thanks!